Architectural railings add safety and security to commercial spaces, and they can also add a design element that can be seamlessly integrated with the overall architectural goals of the project. Choosing between glass, metal, or cable railing systems depends on the needs of the project, both functional and aesthetic.

GLASS

Glass railing systems are incredibly versatile, and can accommodate even the most challenging designs.

A Place to Gather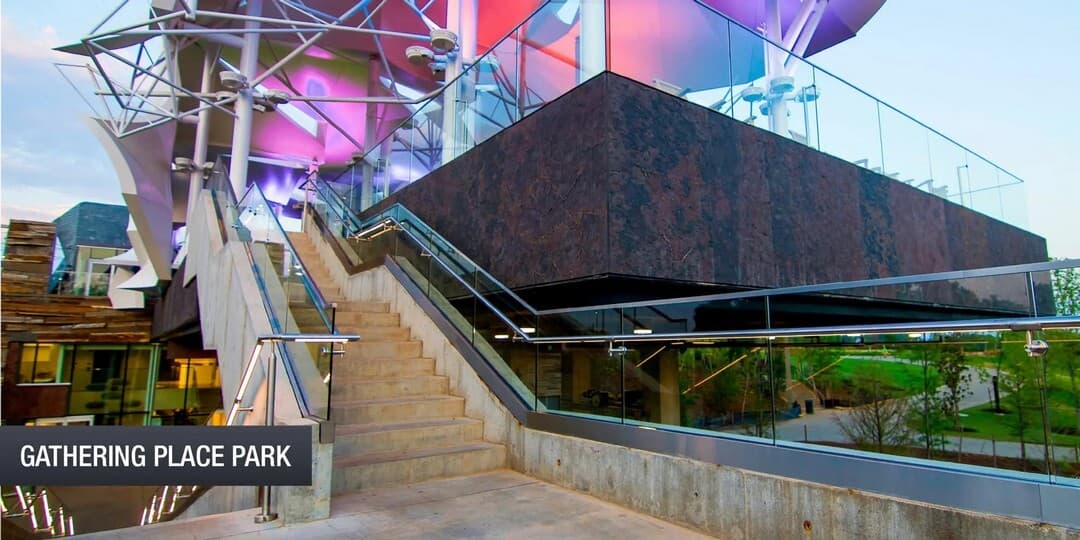 Gathering Place Park in Tulsa, OK incorporated our iRAILTM Illuminated Railings, FSRTM Free Standing Rail System, and SHOETM Glass Railing System into the architectural stair railing design of the Boathouse Restaurant and Williams Lodge, part of a massive project that includes 100 acres of outdoor space and that puts on daily events.

Reaching New Heights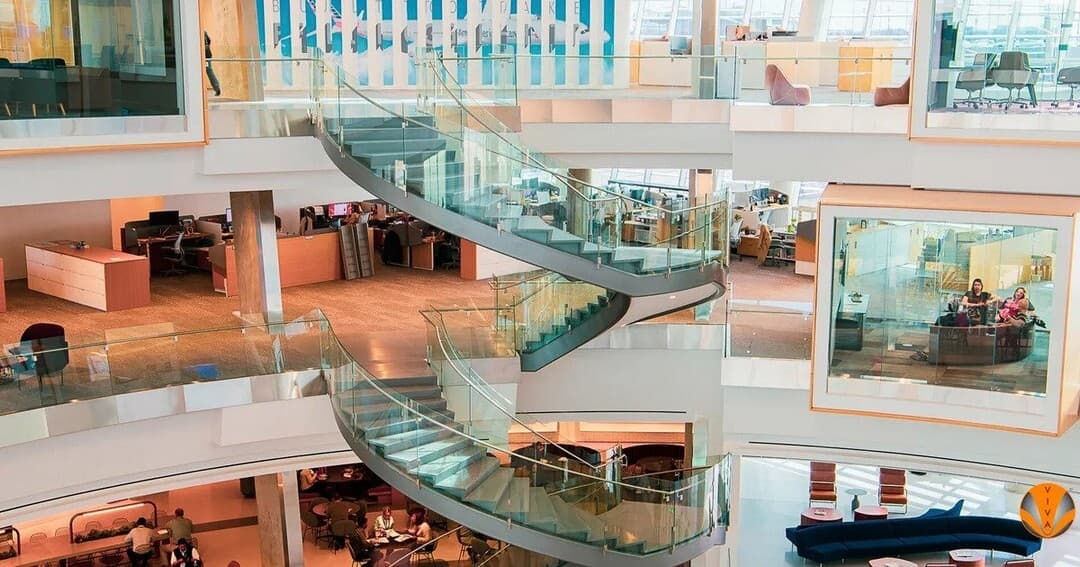 At the American Airlines Headquarters in Fort Worth, TX our SOLOTMGlass Railing System was up to the task of curving around their winding staircase to provide unobstructed views. Featuring a custom powder coated finish, these railings created a leaning glass effect in certain areas to enhance the feel of forward motion.

Etched to Perfection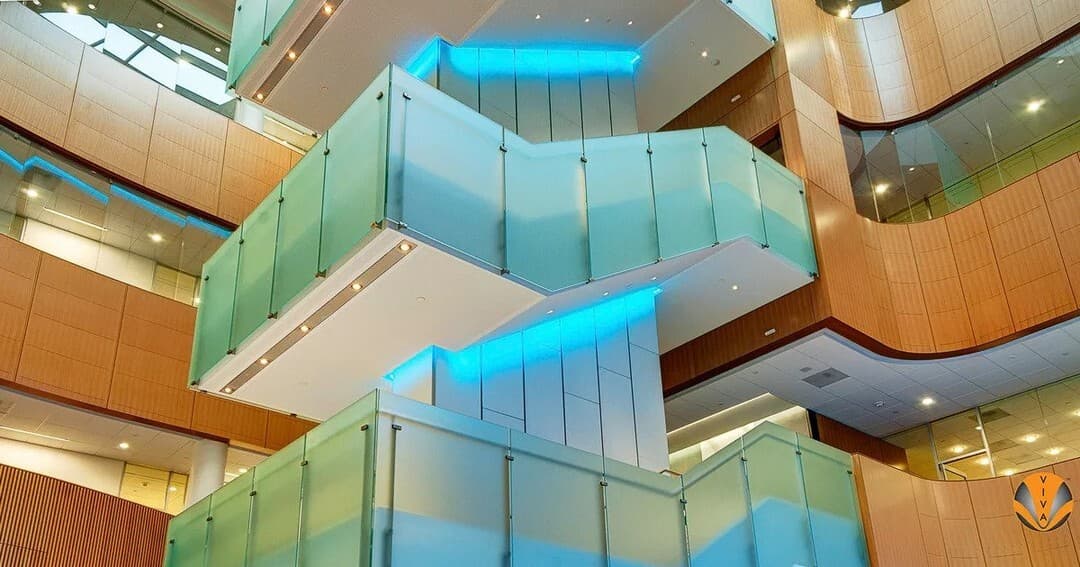 With over 350 linear feet of our SoloTM Glass Railing System, the University of Minnesota Biomedical Genomics Center in Minneapolis, MN used acid etched glass paired with hidden LED lights to create a bioluminescent effect that perfectly highlights the mission of the program.

In Our DNA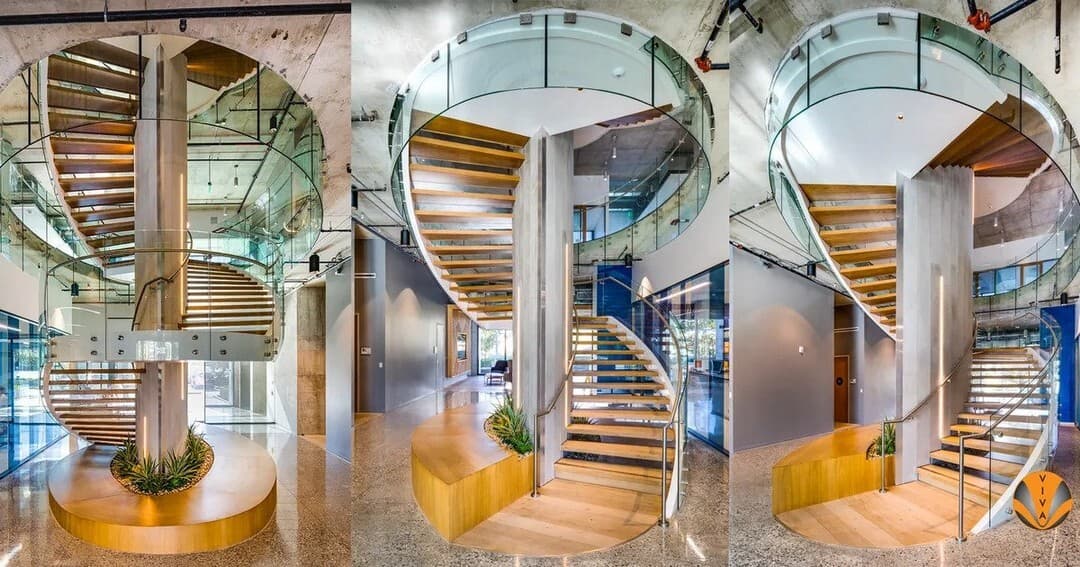 The curved VIEWTM Glass Railing System is reminiscent of the structure of DNA, and paired with a SMOKE BAFFLETM System, these systems allow the Esplanade Otonomy Lab in San Diego, CA to meet building and fire codes while also creating a stunning design.

Make the Most of the Features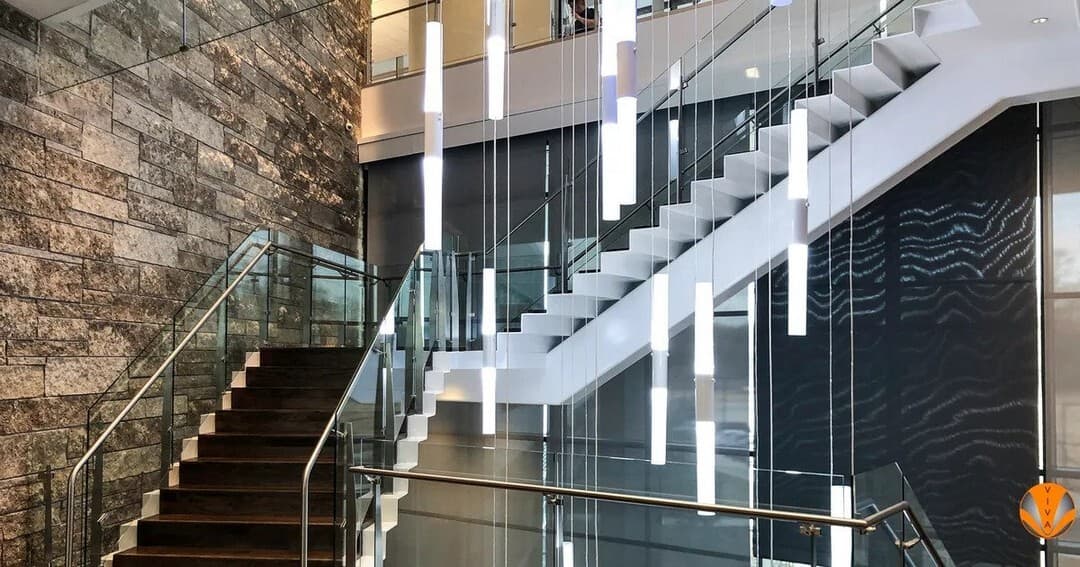 Glass railing systems, like the SOLOTM Glass Railing System used in the TD Ameritrade DFW Campus building design, allow for other features to stand out. The lighting installation featured in the center of this stairwell is enhanced by the glass railings that surround it.

Turn Heads
The fascia mounted VIEWTM Glass Railing System is sure to turn heads in the Sheraton Hotels - Dallas. This railing system not only adds safety and code compliance, but as a focal feature of the lobby, it is sure to turn heads.

Up in the Air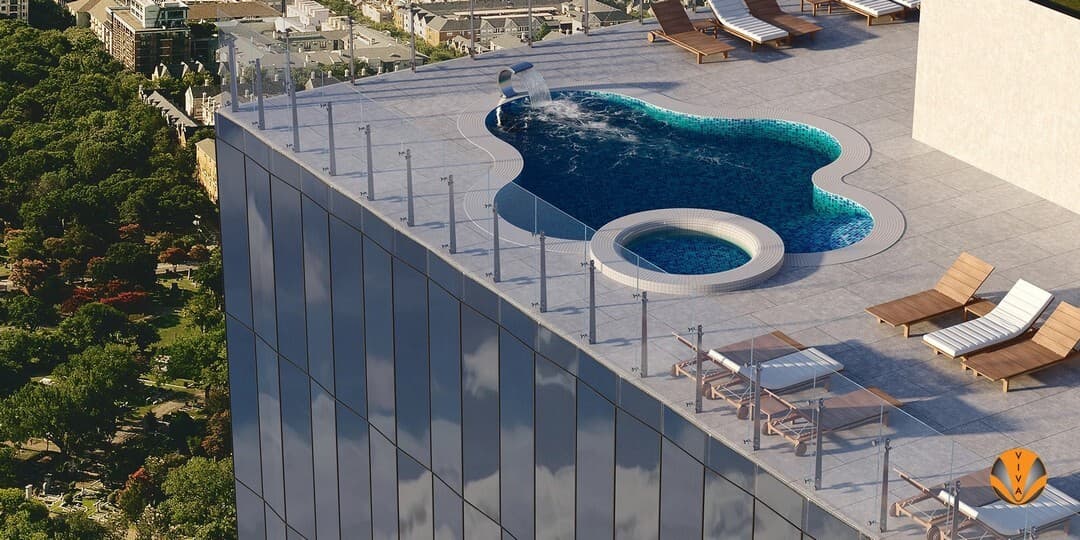 As more and more commercial projects take advantage of rooftop space for amenities, we're glad to offer the SS WINDWALLTM Glass Screen System. This custom engineered system is specifically designed to handle the wind loads and other needs of rooftop spaces.

CABLE
Cable railing systems offer a streamlined look while also providing the necessary safety and security needed from architectural railing systems in a commercial space.

Simple Yet Timeless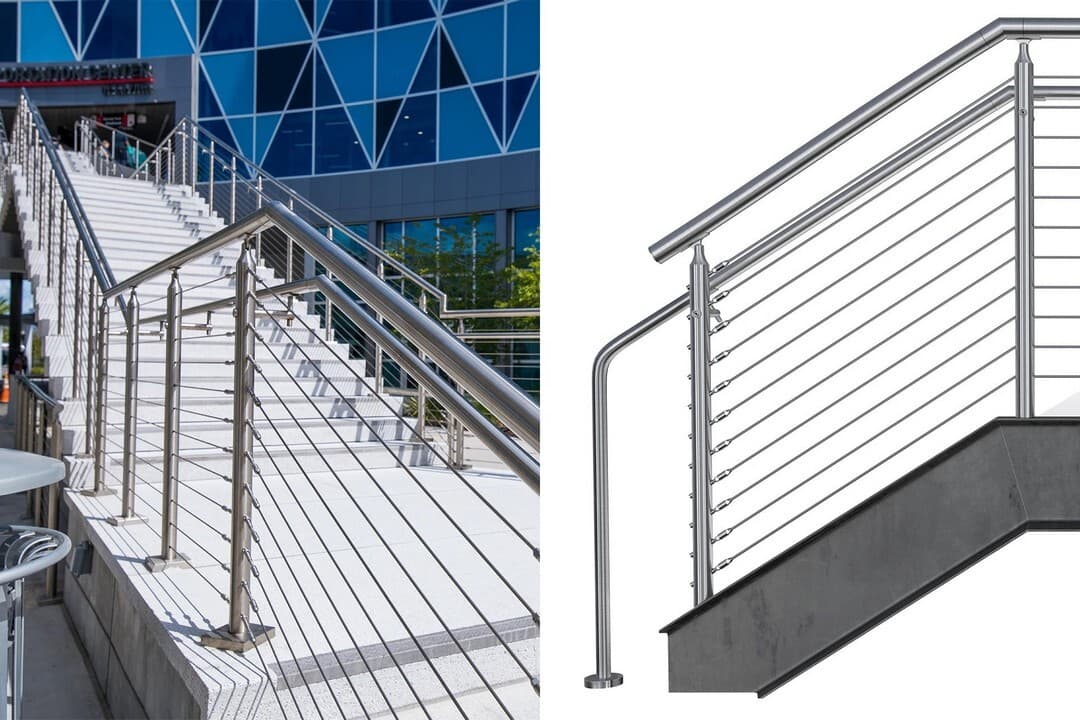 Circa cable
Sometimes simple is best, especially when other design elements are intended to take center stage. Luckily, our CIRCA® Cable Railing System can still steal the spotlight with its low-maintenance, high-visibility infill.

Take Advantage of Your Options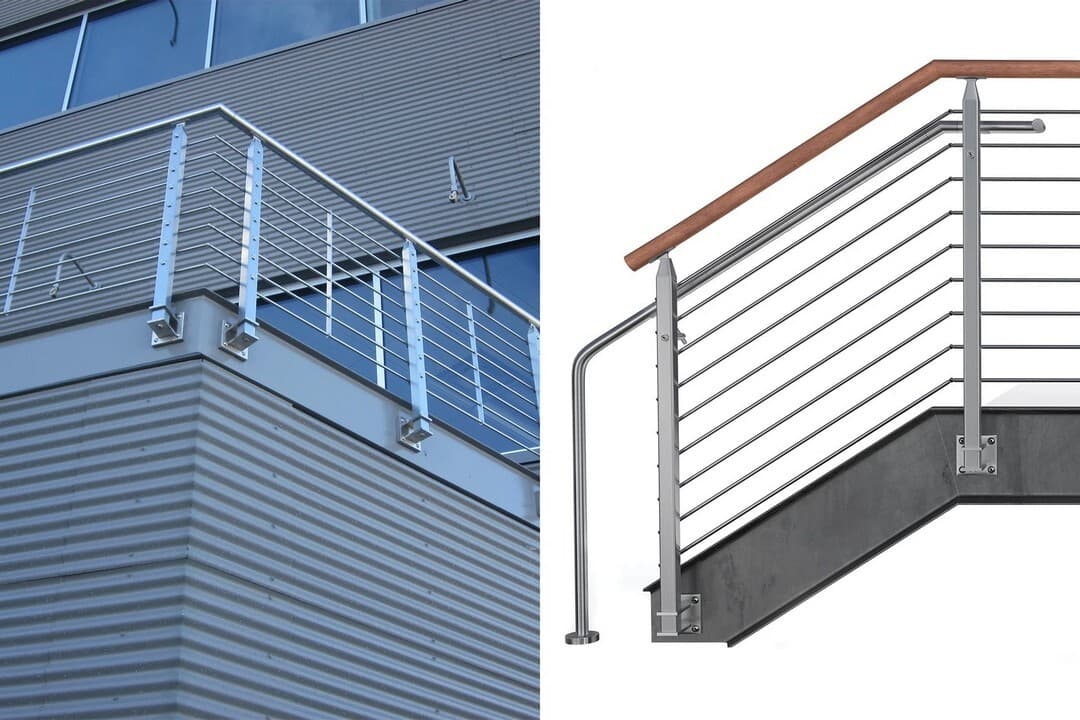 Cube multiline
Like many of our other systems, the CUBETM Multiline Railing System offers a choice of handrail materials as well as powder coating options that allow you to create a more customized architectural railing design.

Choose Your Color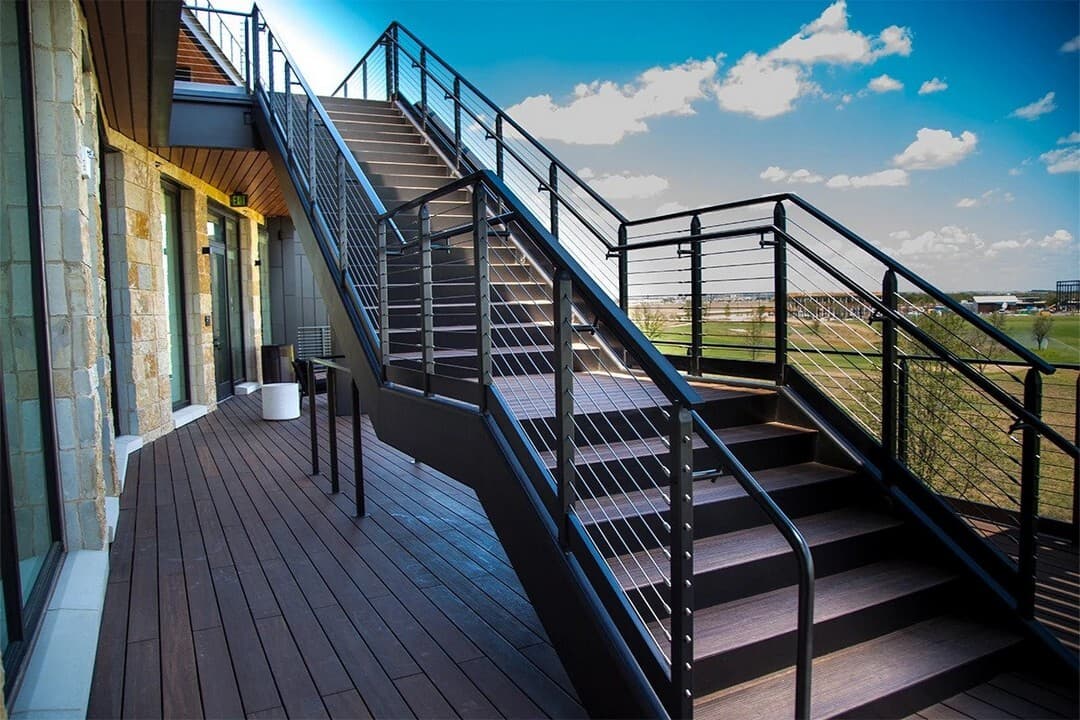 Cube cable metal
Powder coating options for the CUBETM Multiline Railing System include Semi Gloss Black, Redwood, Charcoal Grey, Teal, Chartreuse, and more. It is also available in metallic colors like Gold Nugget and Textured Black Chrome, so you can use the architectural railing to complement the aesthetic of the commercial space.

Perfect for Exterior Applications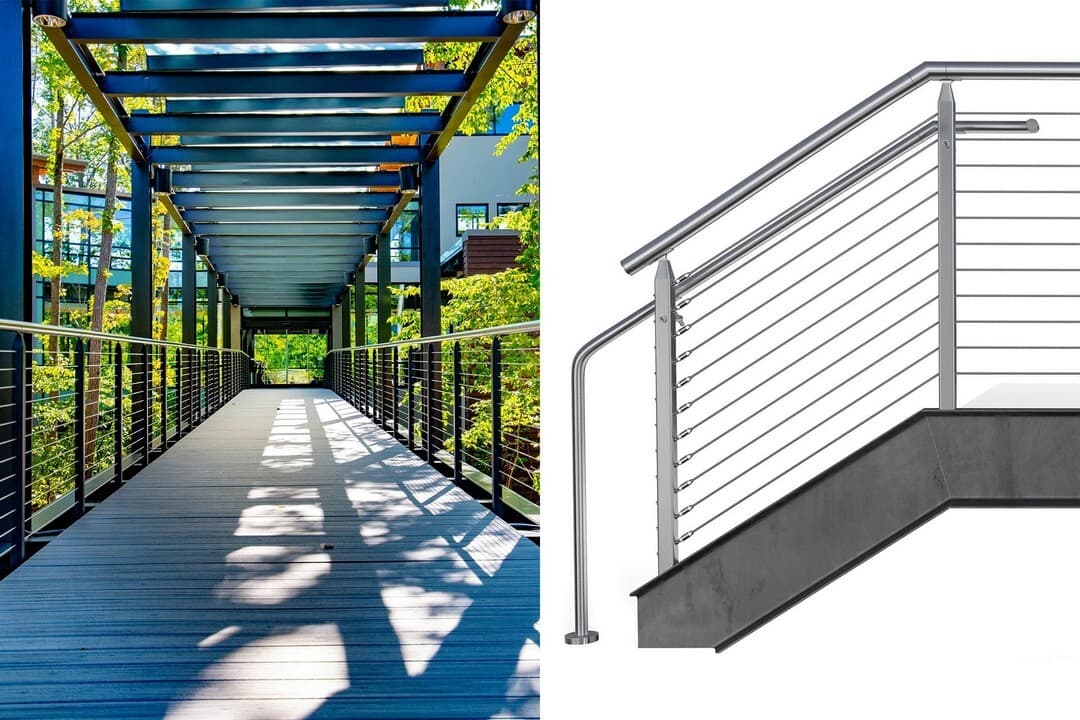 Cube cable metal
Our durable cable metal architectural railing components are ideal for exterior as well as interior applications. The sleek lines of the CUBETM Metal Railing System work particularly well on long walkways where they can show off a little.

PERFORATED METAL
For stunning railing architecture, you can choose from our line of perforated metal railing systems. They offer a bold appearance and your choice of pattern to allow light to filter through while maintaining safety and code compliance.

Make a Bold Statement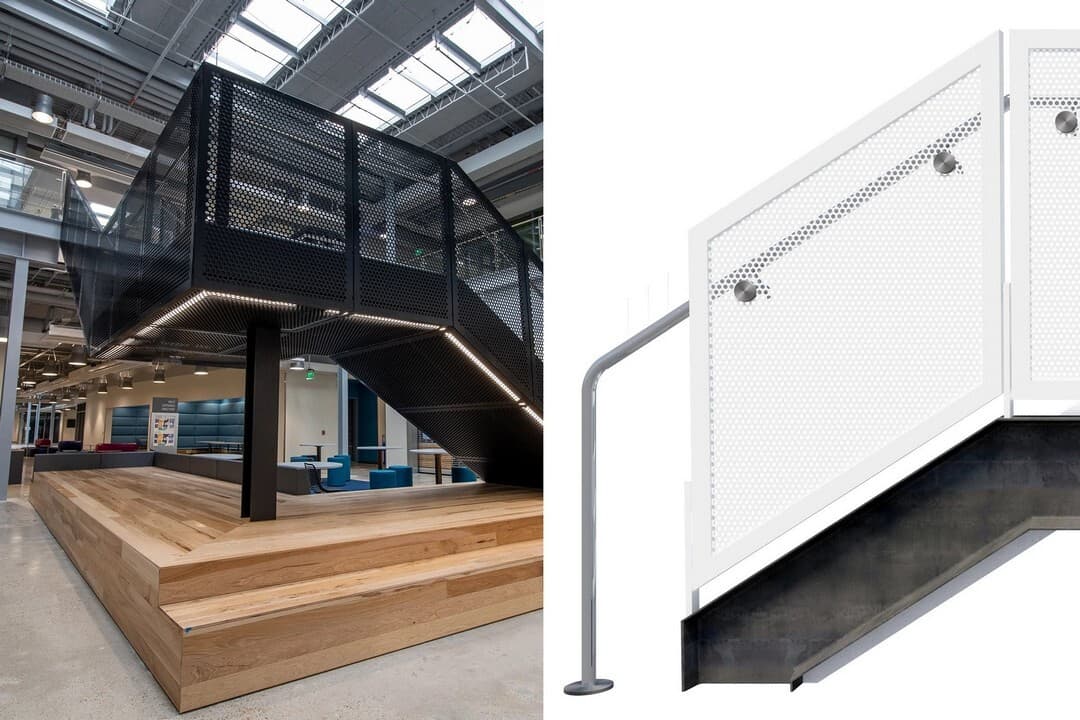 FRAME metal panel
The imposing perforated metal panels of the FRAMETM Metal Panel Railing System are framed with wide edges, while the base is nearly imperceptible. For even more safety, you can add handrails and iRailTM LED Illuminated Railings.

Follow the Path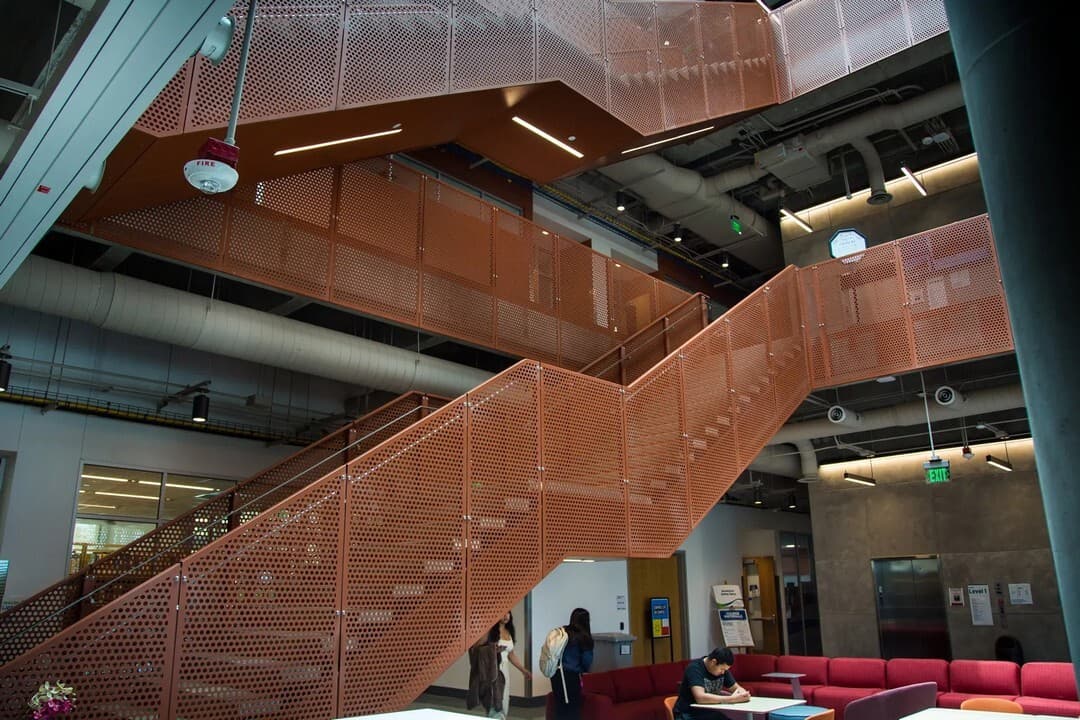 With a seemingly endless list of CNC laser cut primary pattern options, the FOLDTM Metal Panel Railing System can also be powder coated to fully create the desired aesthetic in the architecture railings and to support people as they walk or climb to their destination.

VIVA Railings for Architectural Railing Solutions
Whether you're looking for architectural glass railings or unique rails architecture patterns, VIVA will likely have what you're looking for. If we don't, we offer custom architecture railings to meet the needs of a wide range of commercial spaces.

Contact the experts at VIVA Railings today to discuss our architectural railing offerings!