Exterior glass railing systems offer many benefits in both commercial and residential settings. Their modern appearance allows for unobstructed lines of sight to surrounding areas, so the view isn't obscured and they can enhance the design of the space.
For patios, balconies, and decks, exterior glass railing systems must meet commercial building codes as well as ADA standards for accessibility. VIVA Railings offers outdoor glass railing systems in a variety of styles with multiple mounting options. All of our railing systems are ADA compliant and meet International Building Code (IBC) regulations, so once they're installed, all that's left to do is enjoy the space.

Create a Unique Design with an Exterior Glass Railing System

Provide Unobstructed Views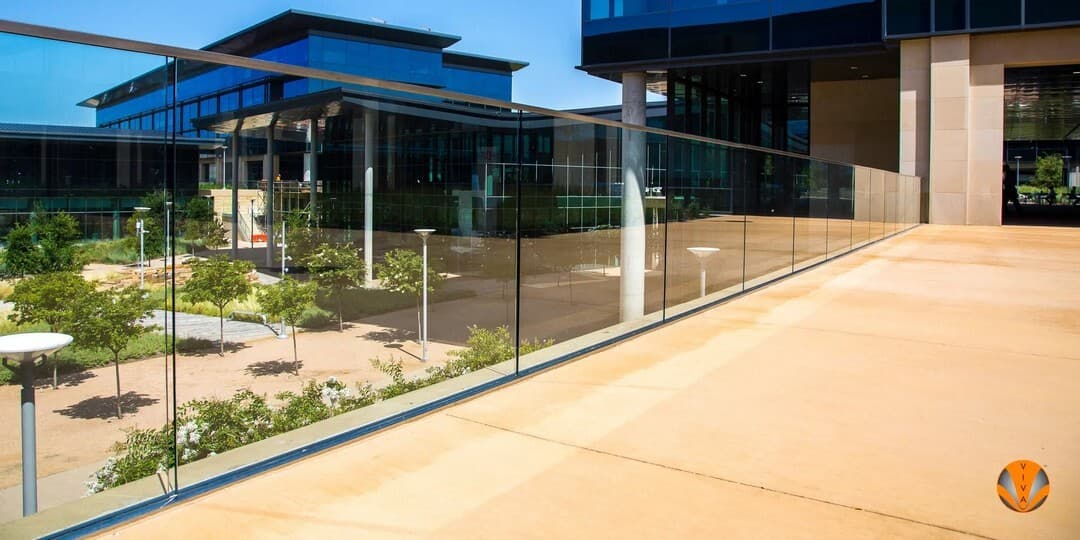 11,500 linear ft of glass and metal railing solutions by VIVA Railings were installed at the Toyota North American Headquarters in Plano, TX for their interior and exterior spaces. The SHOETM Glass Railing System, used for the exterior glass railings, features a patented compression set and aluminum base shoe system.

On this vast campus, this glass railing provides unobstructed views of the area while also meeting standards and requirements for fall protection. With this system, the glass panels are easy to replace and can be reconfigured in order to reduce long-term maintenance costs and allow for changes to the design down the road.

Tackle Custom Designs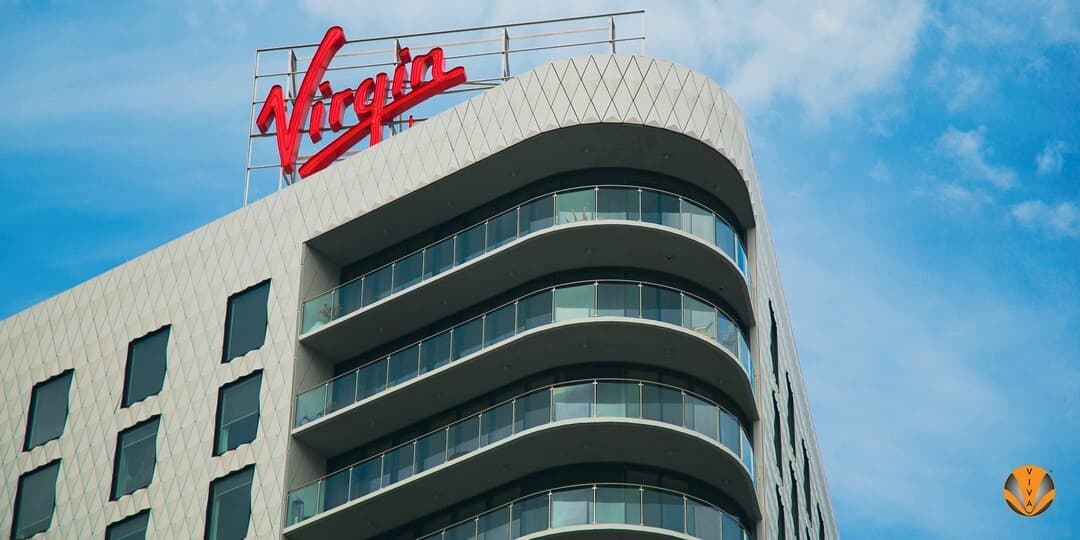 Rising above the Dallas Design District, the Virgin Hotel is a stunning addition whose perforated angular aluminum diamond facade and unique rounded corner renders a balanced design. To provide safety on the hotel balconies, the designers opted for a custom VIVA Railings system. The rounded balcony railing follows the curve of the corner and allows for unobstructed views of the landscape and surrounding city.

Stick to the Budget Without Compromising Quality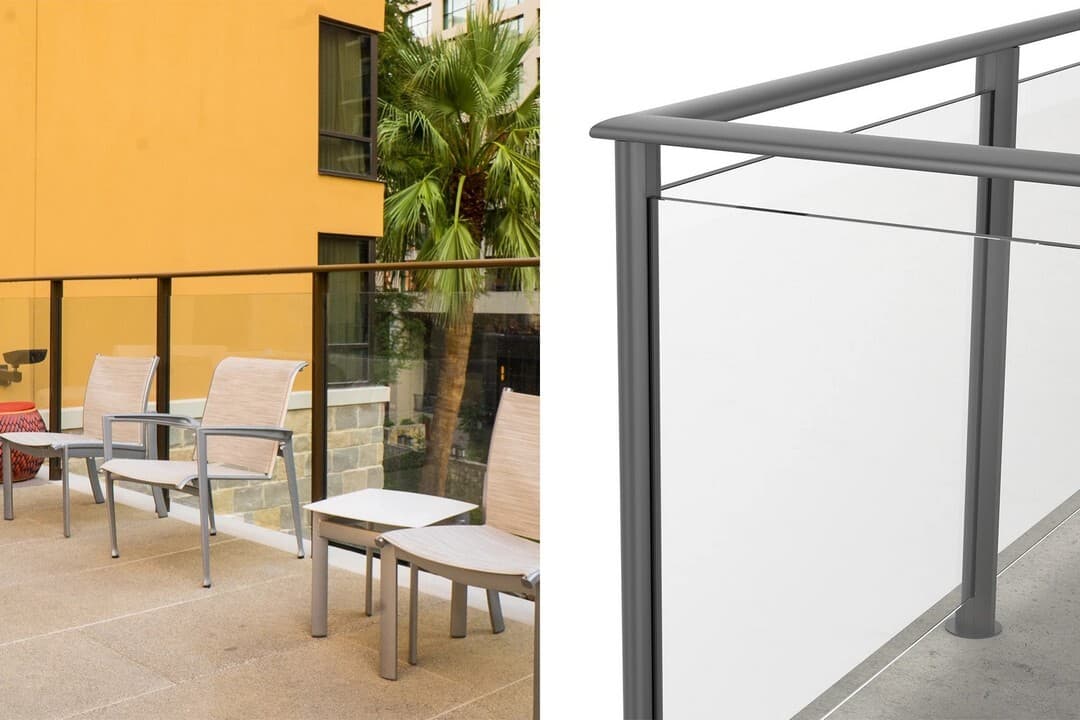 At the Home2 Suites by Hilton in San Antonio, TX, our ECO ELLIPSETM Glass Railing System was used in a number of different capacities and provides fall protection in accordance with the IBC and ADA requirements in every area it's featured. This economically-conscious railing system was used for room balconies, walkways, and to surround the pool deck and BBQ area.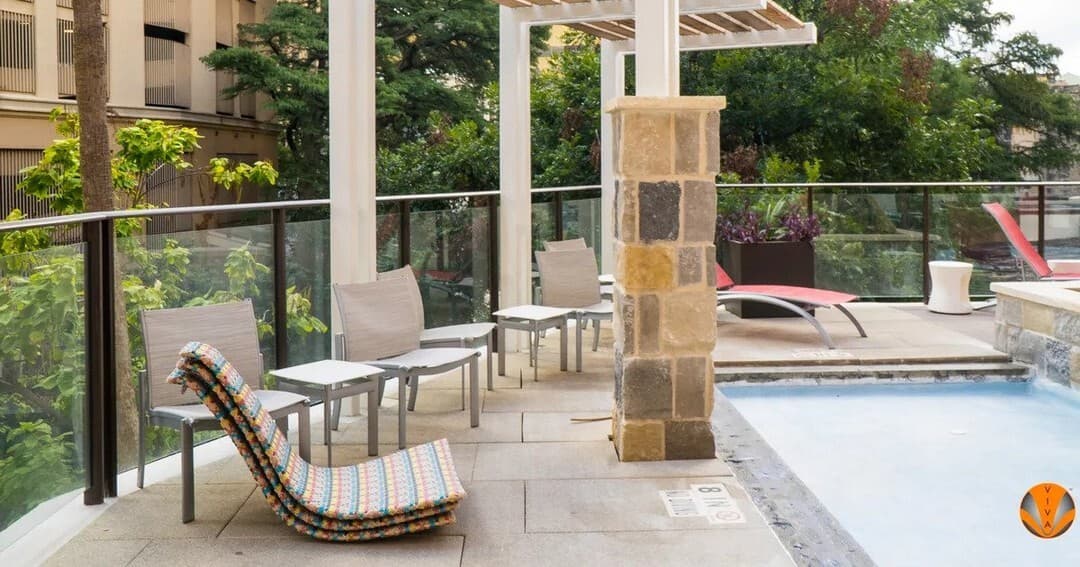 The exterior glass railing design consists of slender posts and a top rail with a rounded profile. It is used as a guard in most areas, so no handrail was included. The tempered glass infill creates a view of the surrounding areas.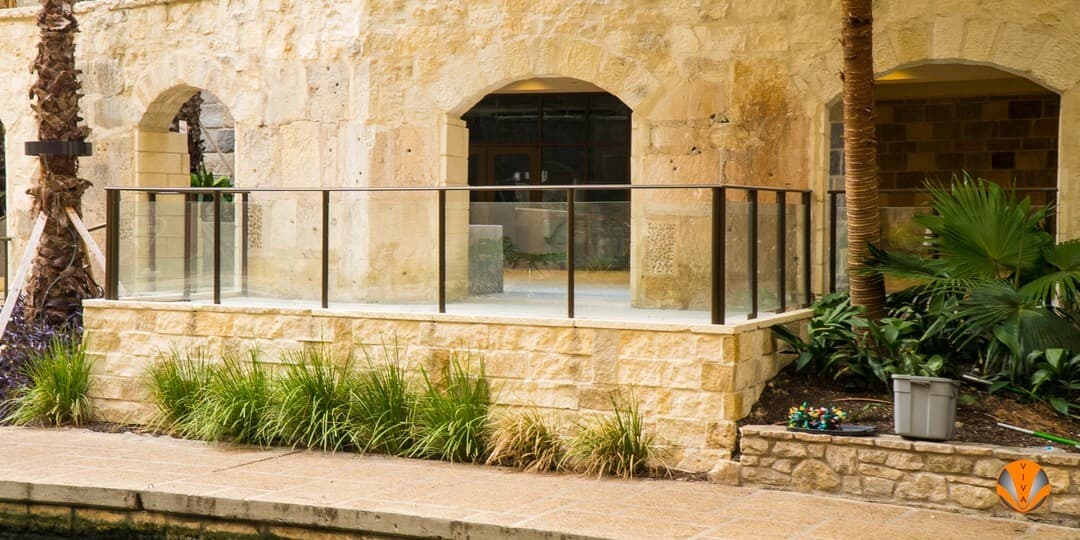 Create a Safe Surround for Entertainment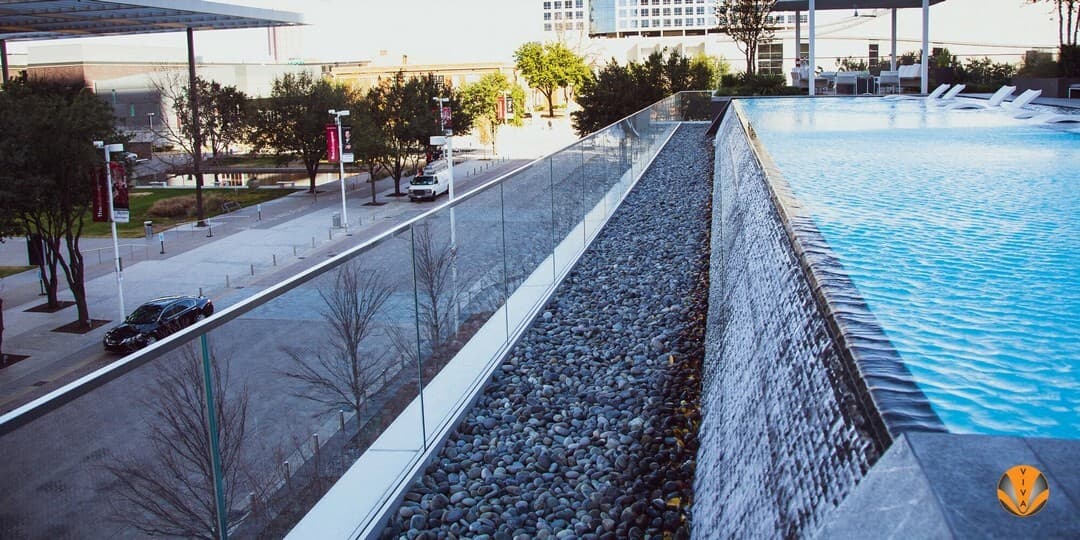 The Hall Arts Hotel in Dallas, TX is a vibrant multi-use space that includes a rooftop pool, putting green, and BBQ area all surrounded by VIVA's SHOETM Structural Glass Railing System. The aluminum glass exterior railing system allows hotel guests to enjoy the amenities and soak up views of the surrounding Arts District.

Take Advantage of Vertical Space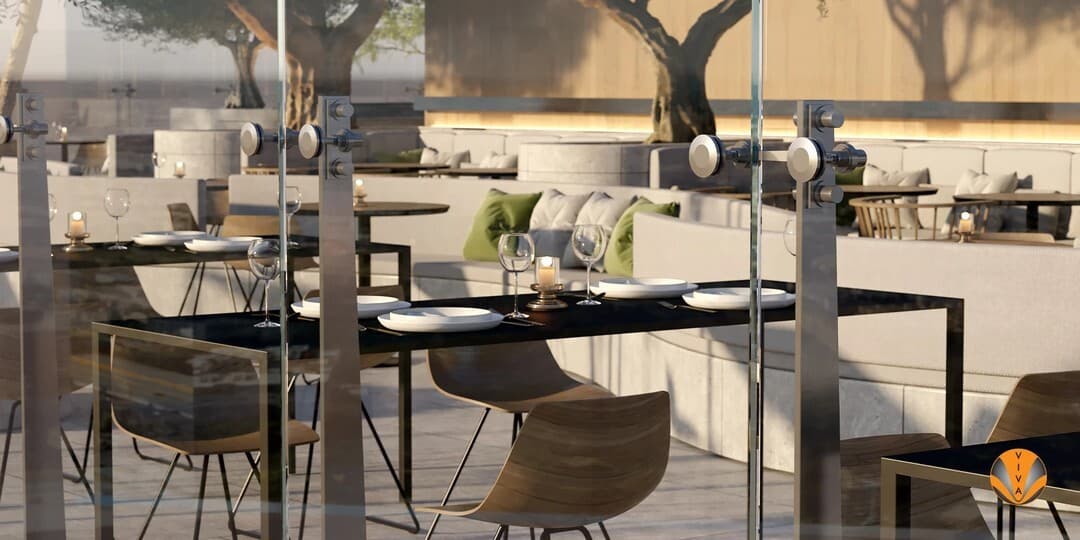 For rooftop applications, custom solutions are often needed to deal with each space's individual wind loads, layout, floor elevation, and location. Our Stainless Steel WINDWALLTM Glass Screen System offers all glass elevation and floating glass corners for unobstructed views.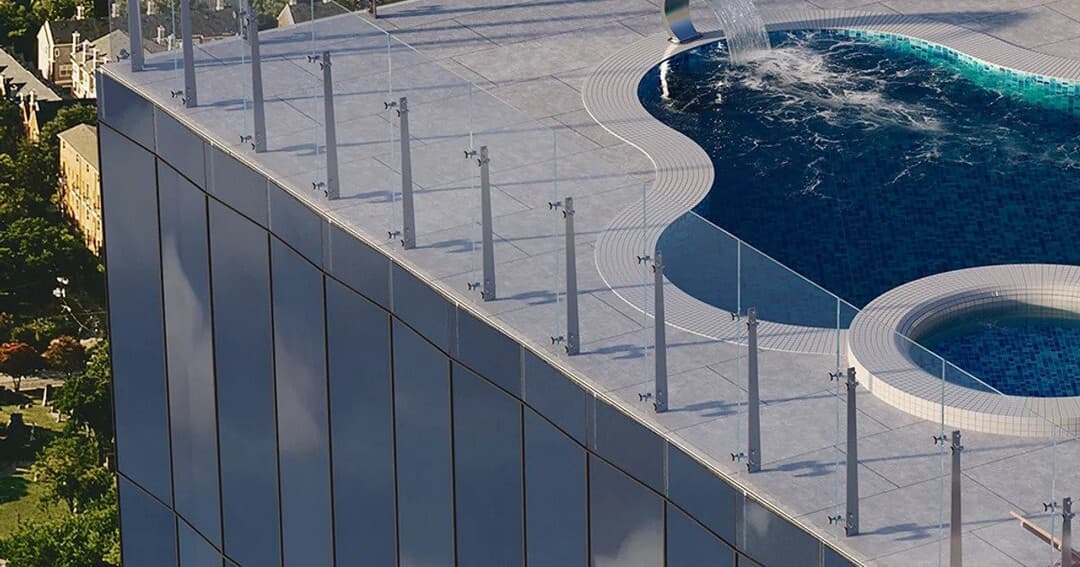 The tempered glass infill is available in colored, patterned, or frosted glass and can be up to 6' tall in applications up to 850' above ground and 8' tall in applications up to 315' above ground.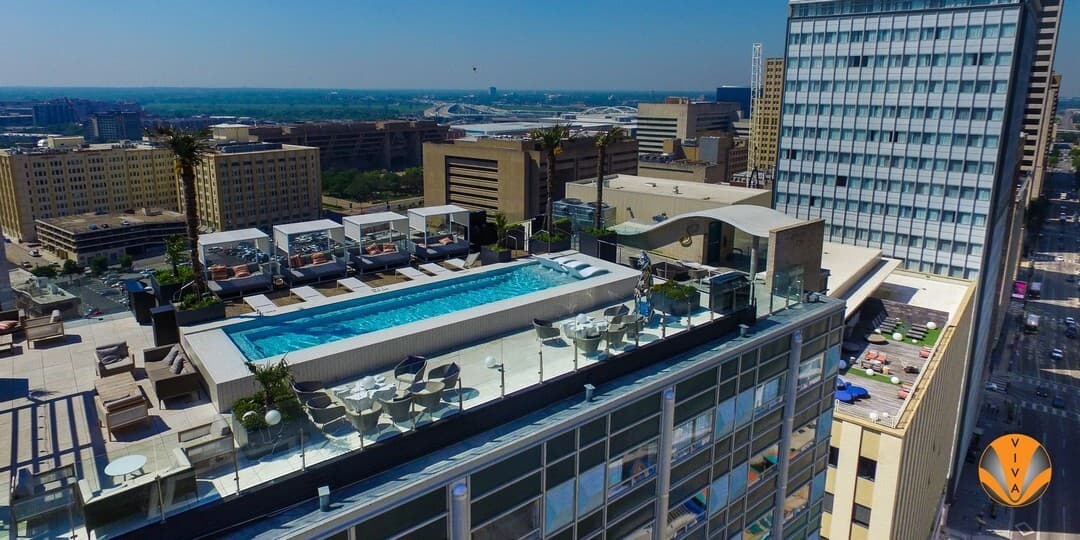 Infuse the Space with Color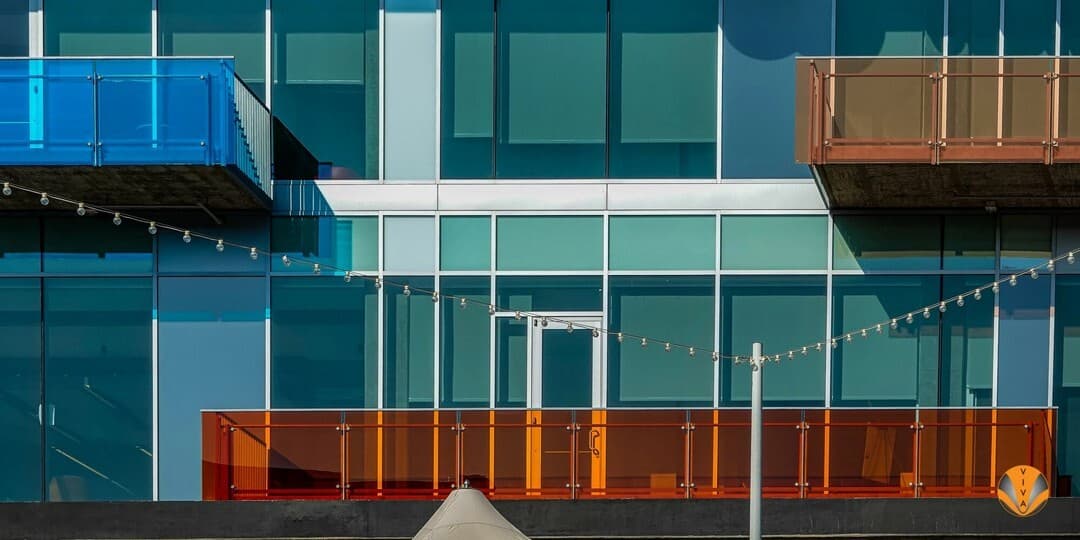 The Runway at Playa Vista, a massive multi-use retail, living, and workspace, is located in the heart of Los Angeles and offers many amenities for those both living in and visiting the area. The outdoor glass railings, designed with our SOLOTM Glass Railing System, delivers on unique design needs by including transparent-colored tempered glass infill that plays off of the lively graffiti mural included on the building.

Create Custom Solutions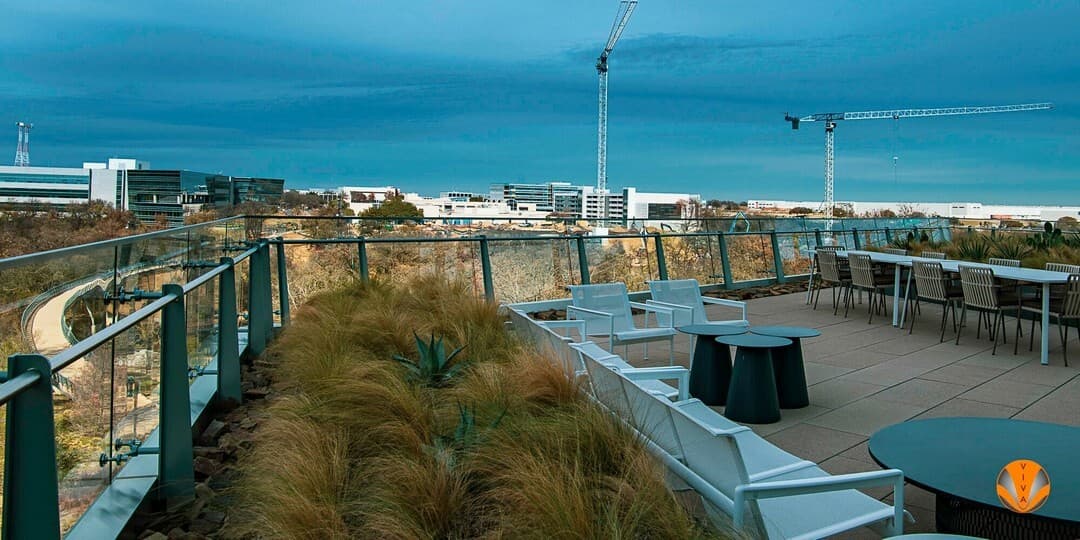 The American Airlines Headquarters in Fort Worth, TX is a dizzying array of buildings settled in a landscape of trees, that features a waterway, training and conference center, museum, and buildings for leadership and support staff. To achieve a beautiful patio space, VIVA railings created a customized version of our SHOETM Glass Railing System that provides the necessary safety without compromising the view of the campus.

VIVA Railings Offer the Top Exterior Glass Railing Systems
VIVA Railings has been providing railing solutions since we began manufacturing modular stainless steel railings in 2005. Our products are the ideal choice for a wide range of applications, from business center balconies to rooftop pool exterior glass railings. Customization options include colored, frosted, or patterned glass, powder coated railing options, our FSRTM Freestanding Rail System, and handrail options in metal and wood.

Contact the experts at VIVA Railings today to see how our exterior glass railing panels and systems can create a beautiful and functional space!