Toyota is the world's top automaker. Over the past half century, Toyota built 25 million cars and trucks in North America. About 85 percent of its vehicles delivered during the last 15 years are still on the road today.
In 2014, Toyota announced plans to move its North American headquarters to Plano, Texas. This followed 57 years in Los Angeles. Toyota would do more than build a new headquarters. It would consolidate key elements of its North American operations through a plan called "One Toyota." Unified operations promote timely decision-making and enhanced collaboration.
The grand opening of the billion-dollar, 100-acre Toyota headquarters ushered in a new era. The new campus is home to different disciplines. Financial services, marketing, and quality engineering combine with corporate offices. The seven-building complex can accommodate up to 6,000 employees. Workers enjoy amenities like a fitness center, a large food court, and even a rock wall.
Toyota's North American headquarters is part of Legacy West. The $3 billion, 240-acre mixed-use development also hosts the headquarters of the FedEx Office. It is home to the regional campuses of JP Morgan Chase and Liberty Mutual Insurance as well. Employees and visitors enjoy ready access to high-end retail shops and restaurants. It also offers multifamily housing and hotel accommodations.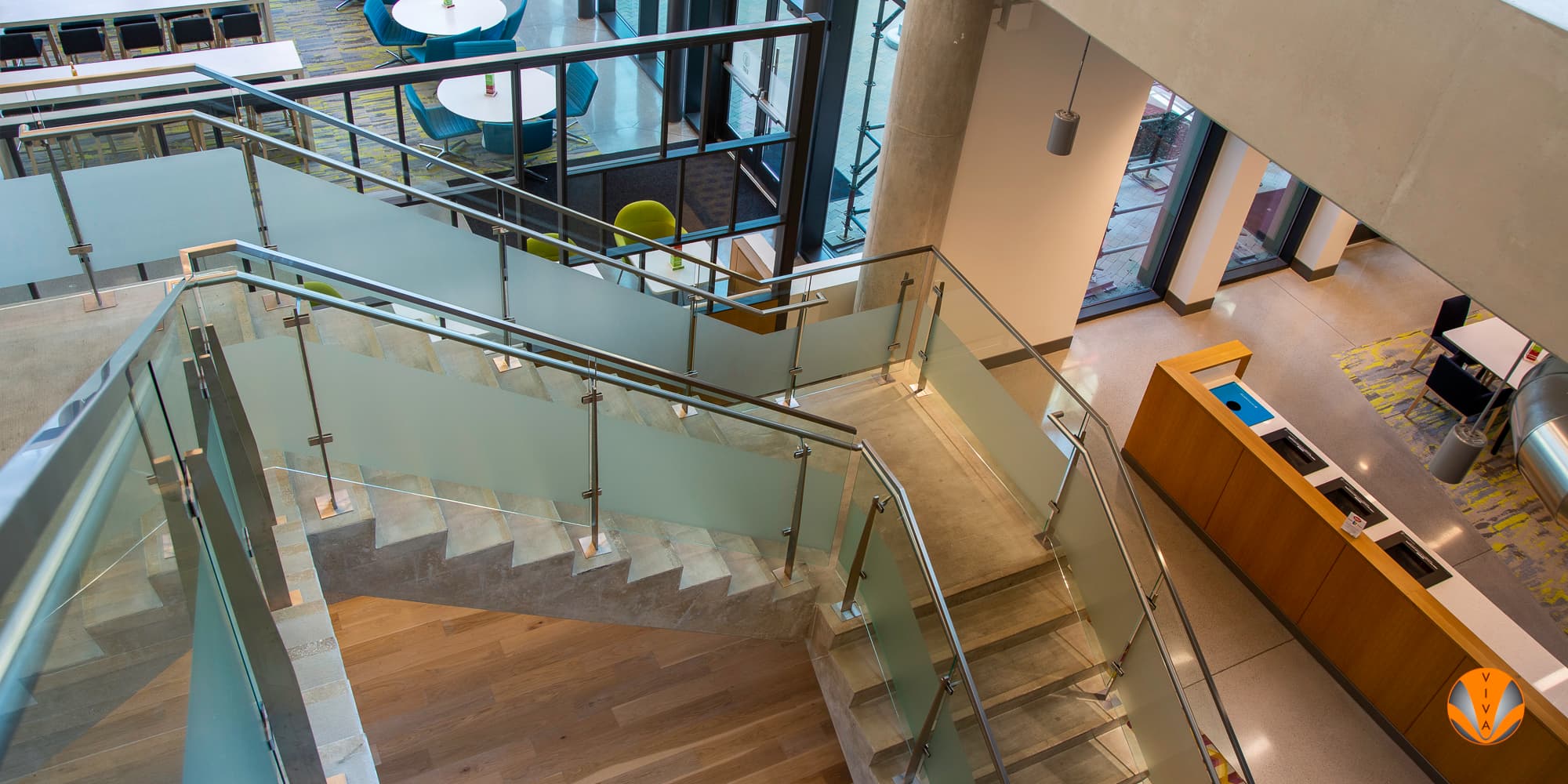 Project Requirements
Aesthetics, safety, and branding demanded the use of first-rate materials. The use of glass, steel, and stone delivers a crisp, timeless feel consistent with the look of modern Toyota products. The design team sought highly durable, wear-resistant components consistent with the Toyota brand. At the same time, compliance with every safety standard was essential. An investment in low- and no-maintenance materials would reduce costs for years to come. Toyota also wanted its new location to be a model for energy efficiency and sustainability. The initiative is consistent with the Toyota Environmental Challenge 2050. The goal is a net positive impact on the planet.
Two Miles of Railings
VIVA provided the interior and exterior railing systems at the Toyota headquarters. The 2.1 million-square-foot project included 11,500 linear feet of Viva products. Viva's designers invested more than 2,800 hours in the project. Expert installation consumed another 12,000 hours. Toyota North American Headquarters was Viva's largest project to date.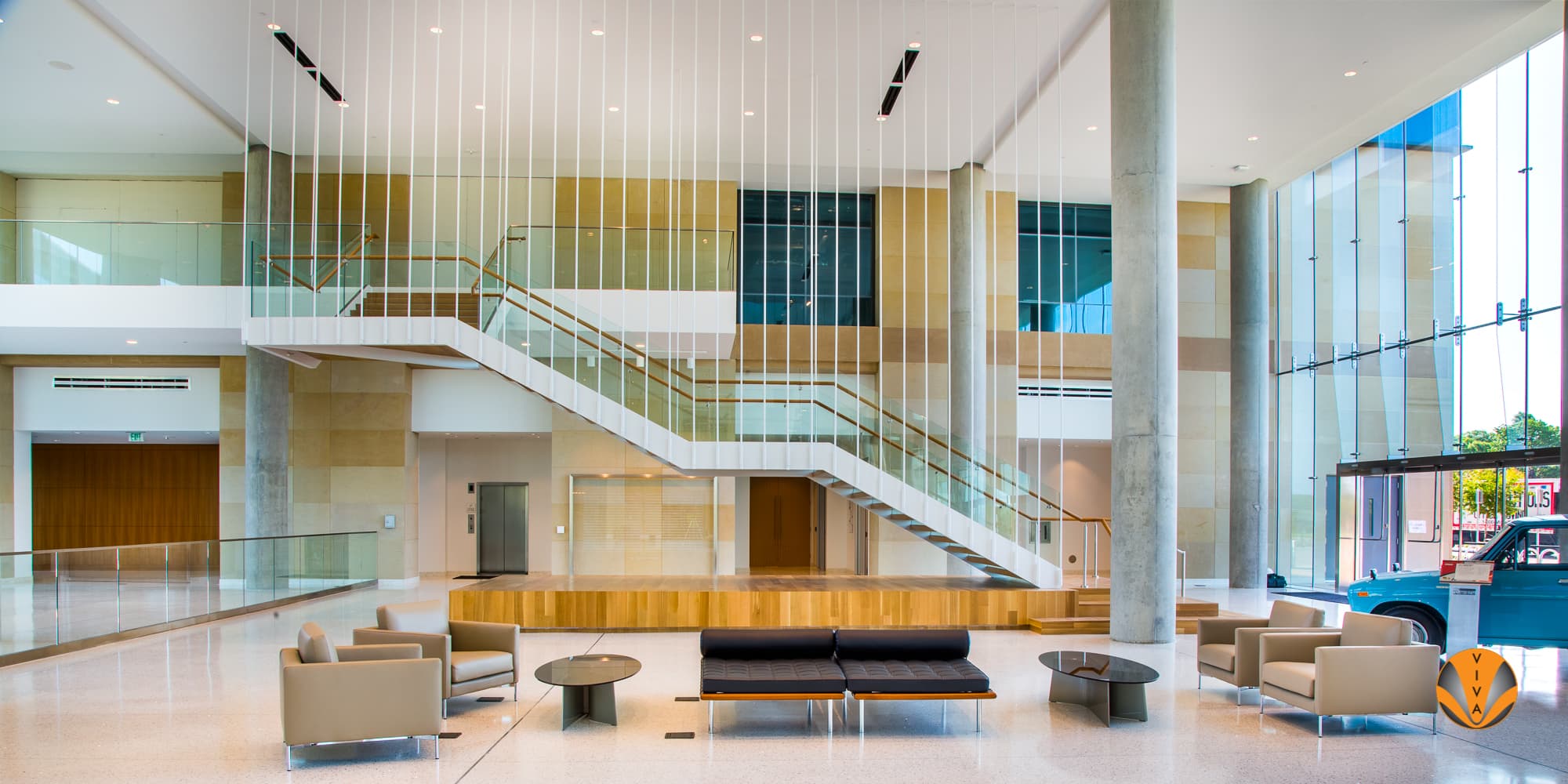 Design Partners
Dallas-based Corgan Associates, Inc. was the lead architect for the project. Corgan is one of America's leading architecture and interior design firms. Austin Commercial is one of the largest, most diversified builders in the country.
Solutions from VIVA Railings
Commercial railing systems had to meet the same high standards. They had to be safe, aesthetically pleasing, and extremely durable.
The design team recognized key advantages when specifying VIVA Railing Systems. Cutting-edge products, some patented, were clear advantages. Proximity was also a factor. VIVA's 65,000 sq ft facility in Lewisville, TX, is just 20 miles west of the Toyota campus.
The Toyota project provided an opportunity to showcase two of VIVA's most popular railing systems, SHOE™ and SOLO™. The two-fold solution met key needs both indoors and out. Stringent performance testing and exhaustive structural calculations ensured safety compliance.
SHOE™ Exterior Railing System
SHOE™ is a structural glass balustrade system. It is appropriate for both interior and exterior applications. SHOE is also used in balcony and stair railing applications. Railings are available in stainless steel or anodized aluminum cladding. They are top or fascia-mounted.
Designers specified an exterior SHOE™ installation was for the Toyota project. This modern alternative to unsightly barriers delivers unobstructed views throughout the Toyota campus. At the same time, it is fully compliant with safety requirements for fall protection.
The design team for the Toyota project took advantage of VIVA's ability to deliver diverse laminated glass film designs. They selected a custom opaque film for the glass. With SHOE™, installers have the option of either wet-set or dry-set installations. The Toyota project featured the former. Easy-to-replace glass panels reduce long-term maintenance costs. Simple reconfigurations address potential changes years from now.
The base shoe comes in stainless steel or anodized aluminum cladding. VIVA's patented compression set aluminum base shoe system is one option. Waterproof SHOE systems are perfect for the right applications.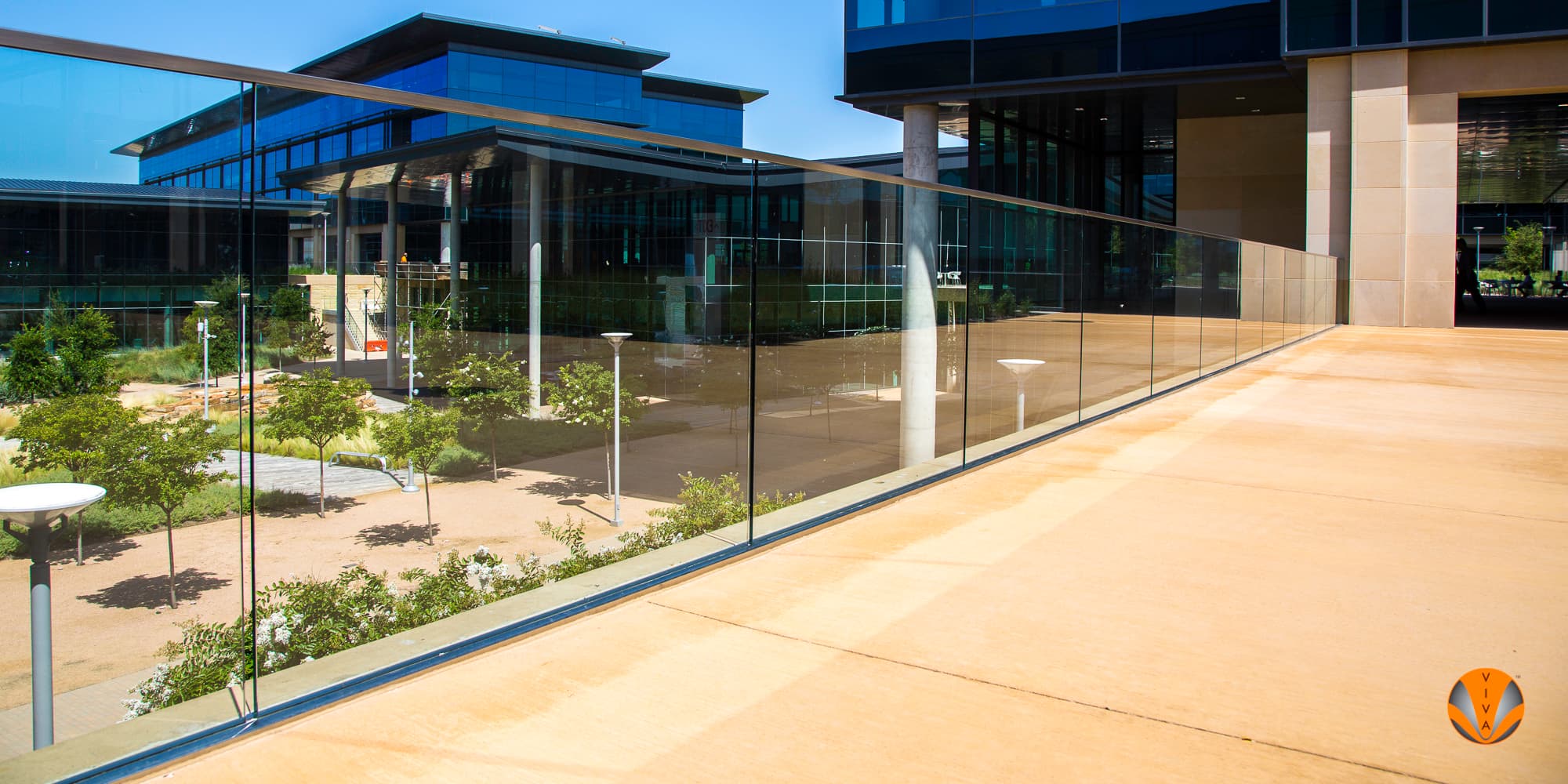 SOLO™ Interior Railing System
SOLO™ is ideal for architects seeking a discreet ornamental glass railing system. The minimalist look is aesthetically pleasing yet safe and durable. An interior SOLO™ system perfectly complements the overall design goals at Toyota. It delivers clean lines and unobstructed views.
The design team selected a variety of Viva's available finishes: #6 Satin, #8 Mirror, ECM, and powder coat. #6 satin is the result of a two-step abrasive polishing process. This results in shorter directional polishing lines. It is a common choice in stainless steel architectural applications, as in the Toyota project. By comparison, the #8 mirror is a more reflective finish. Polishing makes grit lines far more subtle.
Electrochemical machining (ECM) takes abrasion resistance and weather resistance to a higher level. ECM is based on the principle of reverse electroplating. The process occurs in a vacuum chamber, yielding a tough finish only a few microns thick. Highly durable powder coat finishes are yet another option for VIVA railing systems.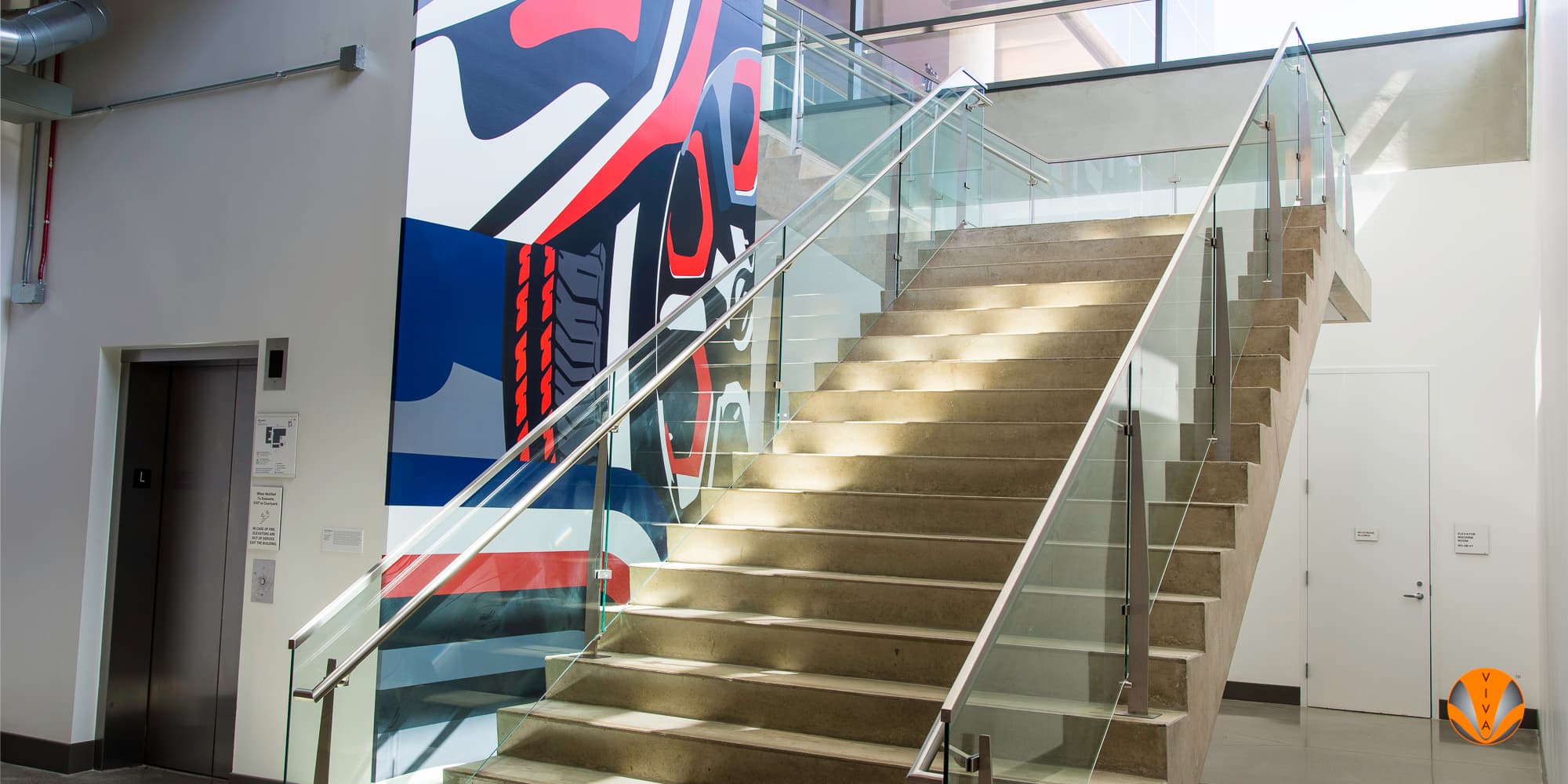 Additional Products
Designers for this project specified additional VIVA Railings products as well. These included iRAIL™, FSR™, and SMOKE BAFFLE™.
iRAIL™ allows for the addition of LED illumination to the handrail, top cap, or base. LED lighting in the SHOE™ base or top cap imparts a glow to the glass panels. Etched patterns or logos catch emitted light to dramatic effect. iRAIL™ is ETL-certified.
VIVA's FSR™ (Free-standing rail) system was also part of the Toyota project. Designers use them as stair centerline rails, landscape rails, building entrance rails, and more. iRAIL with LED illumination is available with the system.
Today's commercial fire codes often require smoke curtains. These barriers confine smoke to more manageable areas. SMOKE BAFFLE™ is an inconspicuous smoke barrier. It is deployed between level changes, slab openings, and other architectural elements. The system also optimizes the design of smoke alarm systems and fire sprinkler systems.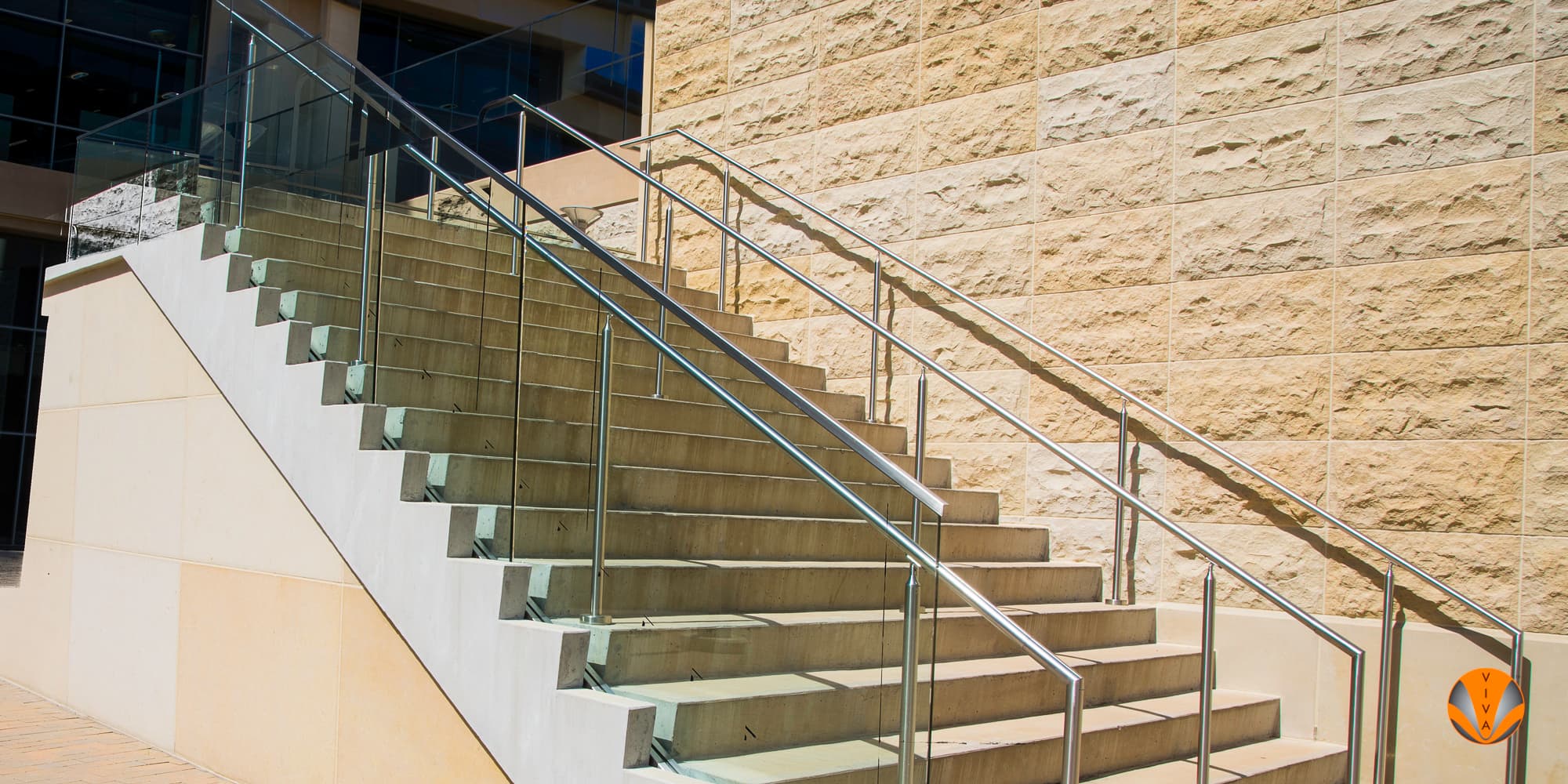 LEED Platinum Status
The sprawling 2.1 million-square-foot Toyota facility is a testament to the design team's capacity for dramatic architecture. The surrounding landscape features a 100-year-old oak tree and 80 mature trees. Another 1,300 trees were planted during the development of the property. Preserved wetlands contribute to a habitat ideal for Monarch butterflies and endangered pollinators.
The U.S. Green Building Council (USGBC) evaluated the project. It named the Toyota North American Headquarters a LEED Platinum facility. Environmentally-friendly features include:
20,000 solar panels
Rainwater harvesting
Drought-tolerant indigenous plants
99% of construction waste recycled
The solar installation supplies up to a third of the campus's electricity. The rainwater storage system holds up to 400,000 gallons. This is equal to a three-month water supply for irrigation. Toyota's new headquarters is the largest commercial LEED Platinum project in Texas.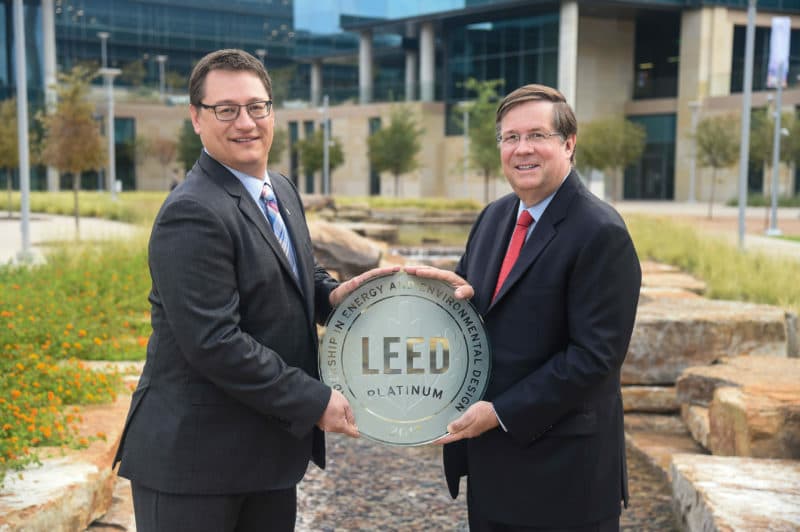 Contact Us
VIVA Railings designs, fabricate, and installs architectural railing systems for diverse commercial projects. We deliver end-to-end solutions from designing and engineering to fabrication and installation. Custom fabrications utilize affordable, superior-quality materials. Our team demonstrates an unwavering commitment to quality, safety, and customer satisfaction. VIVA Railings wants to become your railing solutions partner. Please contact us today!