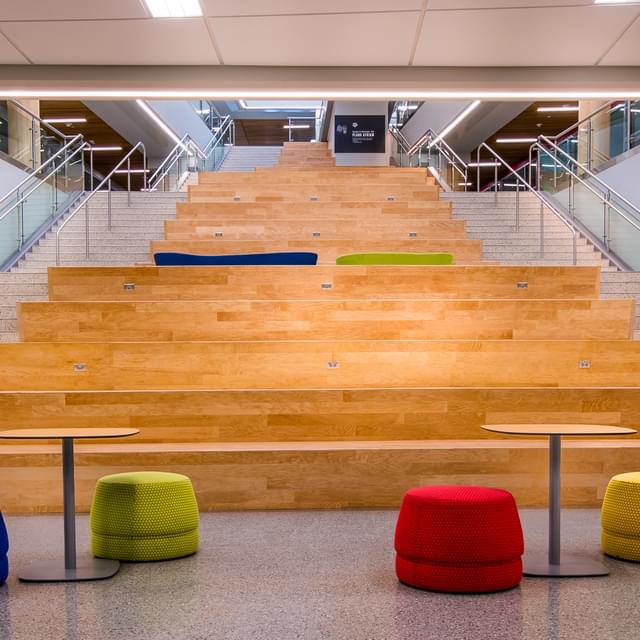 "Social stairs" or "learning stairs" are an architectural element designed to encourage social interaction and engagement.
They have become a popular feature in K-12institutions, universities and corporate headquarters, and are characterized by wide, open staircases that are often integrated with seating areas, display spaces, and other features that encourage people to gather, interact, and exchange ideas. The design of social stairs can vary depending on the specific building and its intended use, but they are typically located in high-traffic areas and are easily accessible to all building users. They often become a multi-purpose space for informal meetings, studying, or just hanging out.

Stairways are often overlooked as simply a means of navigating a building, but they can actually be an important architectural element. Social Stairs or Learning Stairs can serve as a gathering space, provide photographic opportunities, ensure easy emergency exits and shelter, and showcase the building's aesthetic.

Well-designed and aesthetically integrated railing systems enhance the design and functionality of social stairs.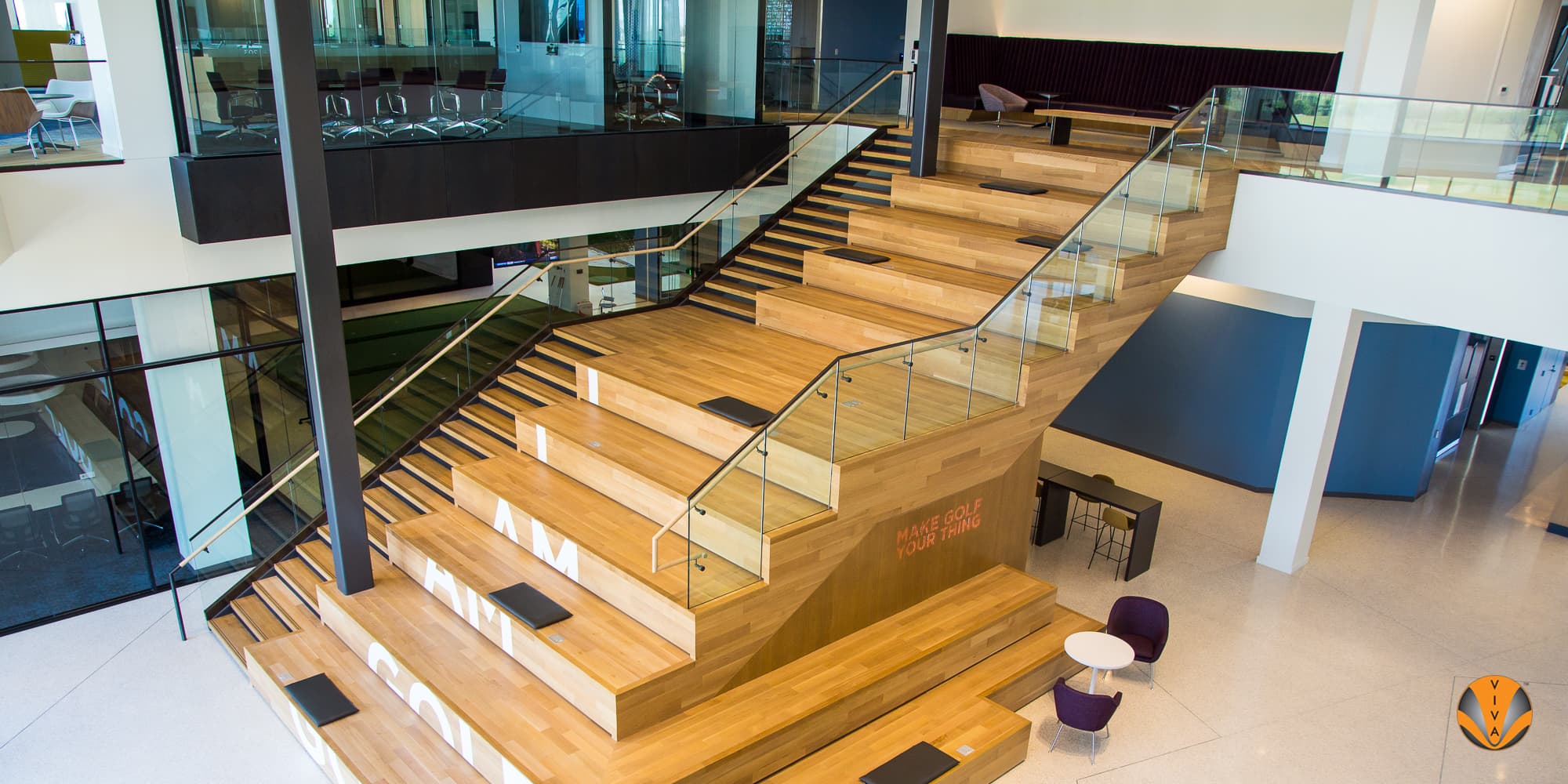 Safety

---
Railing systems provide a barrier that helps to prevent people from falling off the edge of the stairs and provide a sense of security.
---
Accessibility

---
Railing systems can be designed to meet accessibility requirements, providing support for people with disabilities and making the social stairs accessible to all building users.
---
Creating Community Spaces

---
Social stairs or Learning Stairs are an innovative architectural element that are becoming increasingly popular in educational and community buildings. Well-designed and aesthetically integrated railing systems are an essential element in enhancing the overall design and functionality of social stairs. They provide a sense of safety, add to the overall aesthetic appeal, increase functionality, promote accessibility, ensure durability and can be integrated withLED illuminated lighting.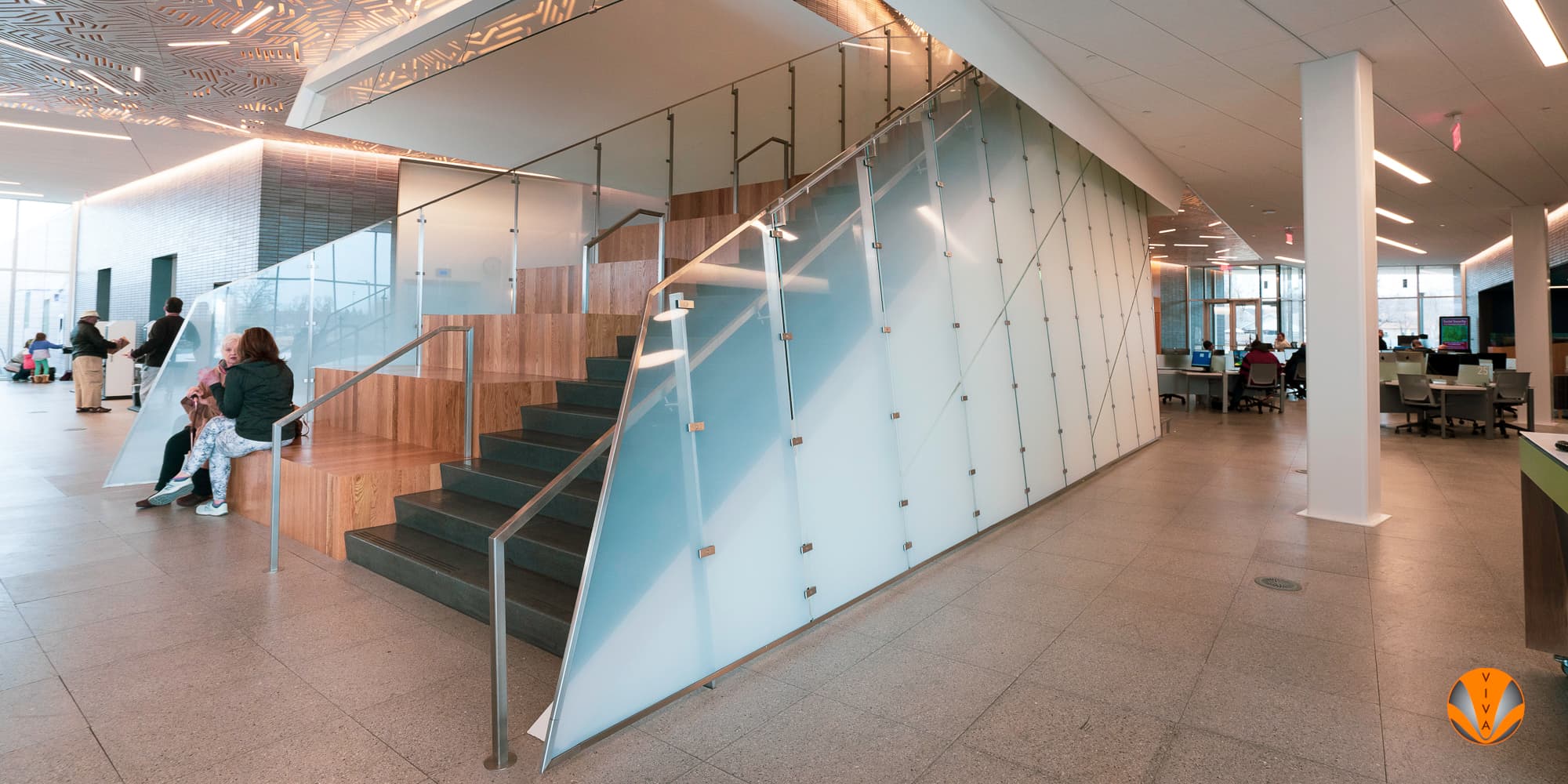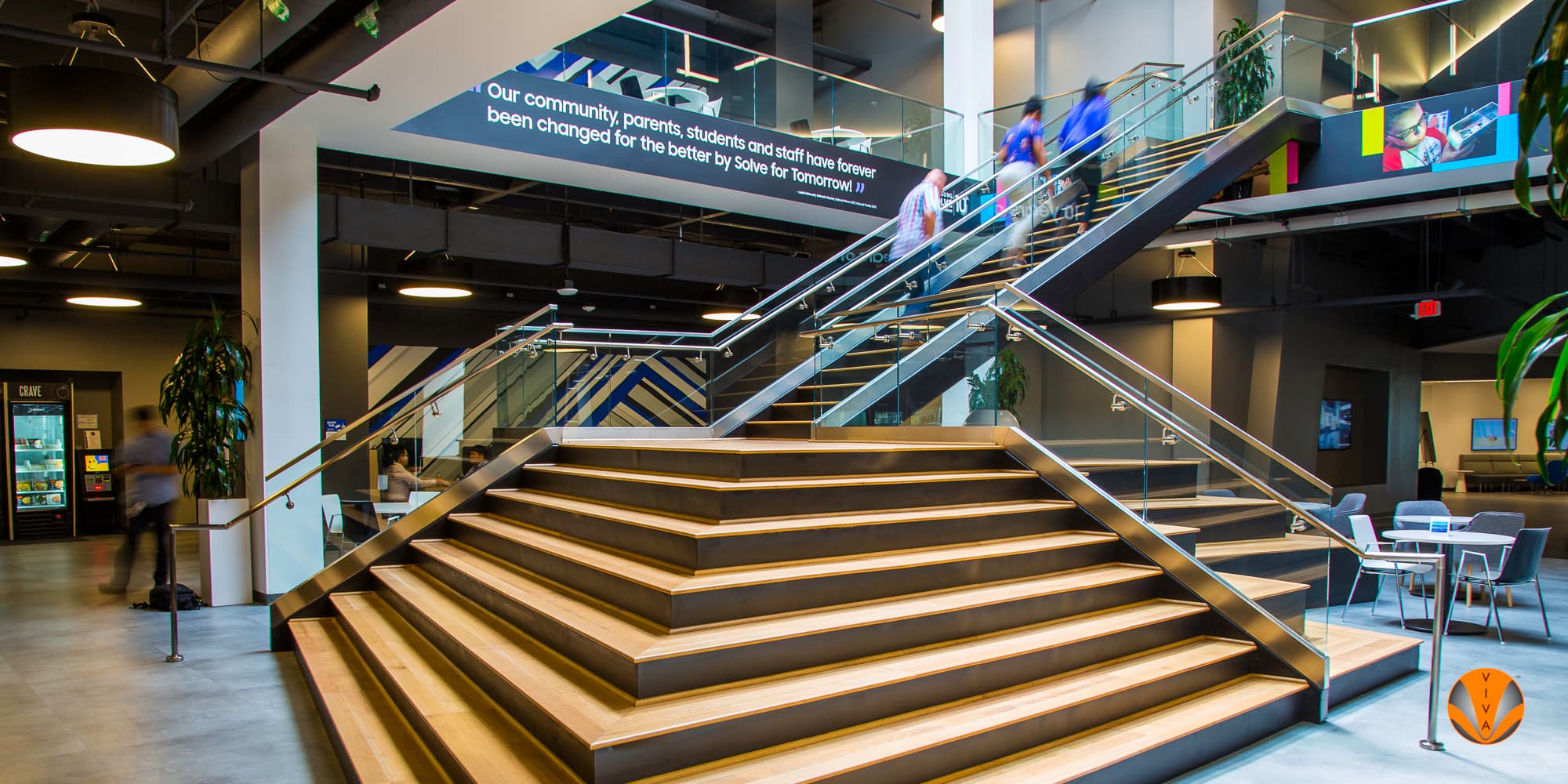 Illuminated Railings

---
Railing systems along social stairs or learning stairs can be integrated with LED illuminated lighting systems that can be used to enhance visibility and create different ambiances in the space.

iRAIL™ Linear – is a LED illuminated version of our 1.5" dia. rail. iRAIL uses an ADA compliant roll-formed (monolithic) slotted rail, that houses a high-performance LED assembly. VIVA 's iRAIL™ Linear uses a specially designed LED that can provide full-length coverage of illumination for whatever your rail run may be, compared to the traditional LED railing assemblies that were only available in preset section lengths. Lighting is available in warm or bright white with either a clear or diffused lens

iRAIL™ Pods is a versatile illumination option to any type of tubular rail – round, square or rectangular, standard available is 1.5" or 2" dia. Housed in every pod is a cluster of high intensity LED, these pods can be spaced at 18" to 36" o.c. depending upon the amount of illuminance desired. Pods are a great option for retrofits, vandalism deterrent, and variable lighting levels. These Pods can also be placed in posts for vertical illumination.
---
We love to have architects, general contractors and owners to our headquarters in Lewisville, TX.

---
You can visit our Design Experience Center and also our workshop and warehouse.

Come see for yourself how we design, engineer and fabricate complete railing solutions for your expertly designed spaces.
Talk to a VIVA Railings product specialist today and experience our renowned customer service for yourself.
Interested in starting a new project or have a general question for our team?