When it comes to creating a safe outdoor space, railings rank high on the top of the list of things not only required by the building code, but also act as a common sense way to aid people as they move through the space, along walkways, and up and down stairs.
Today's modern railings offer safety and security as well as enhance the design of the space and help achieve the desired aesthetic.
1. Add Safety to Elevated Walkways
This space at the BB&T Leadership Institute intentionally weaves together interior and exterior spaces to make nature as visible and accessible as possible from every building on the 60,000 square foot campus. This idea was even integrated into the elevated walkways that use our CUBE™ Cable Metal Railing System to add the necessary safety without obscuring the view of the beautiful wooded surroundings.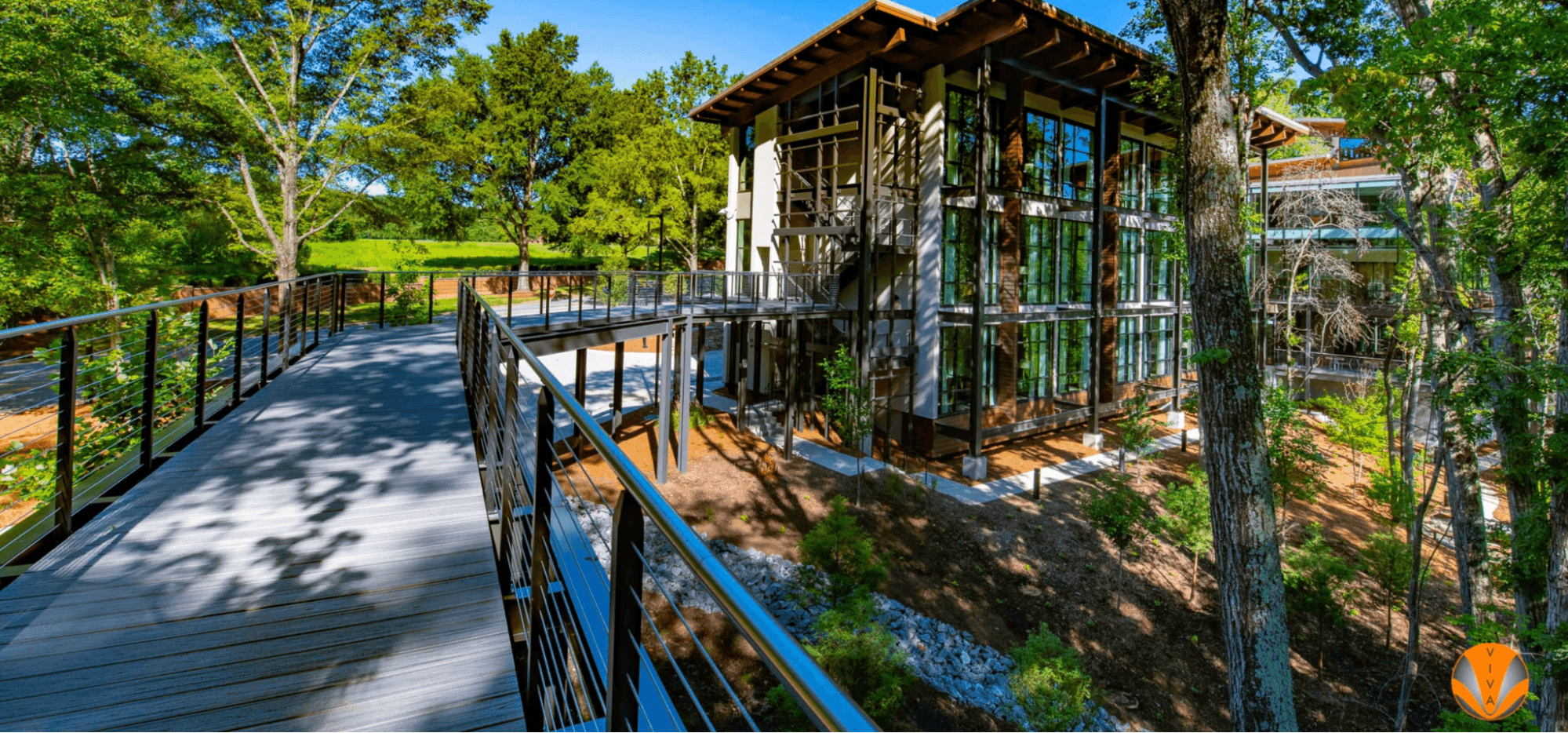 To add even more safety and allow campus guests to enjoy the space regardless of the time of day, this design integrates iRAIL™ Linear LED lights into the handrails. Our specially designed LED provides full-length coverage of the railings to light the walkways for safe travel even in the dark.

2. Use Color to Make a Statement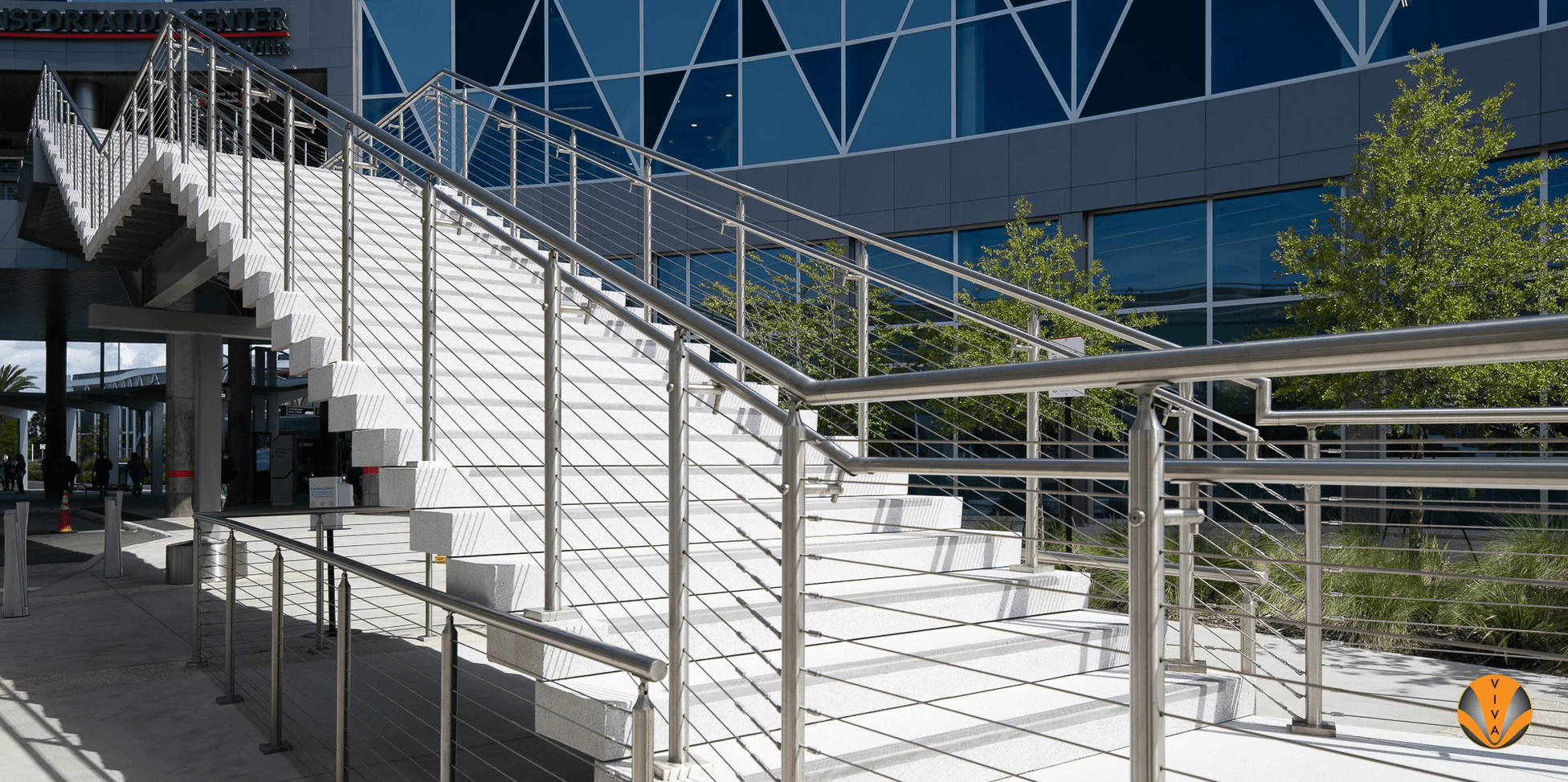 VIVA's standout modern black outdoor railing designs seamlessly combine durability and aesthetics and require very little maintenance to keep them looking great. The CUBE™ Cable Metal Railing System used at the PGA Headquarters in Frisco, TX not only acts as a safety feature that meets building codes and ADA standards, it also acts as a design element that makes a strong statement. The rail and handrail are powder coated in black which allows the infill to stand out without obscuring the surrounding views.
3. Keep It Clear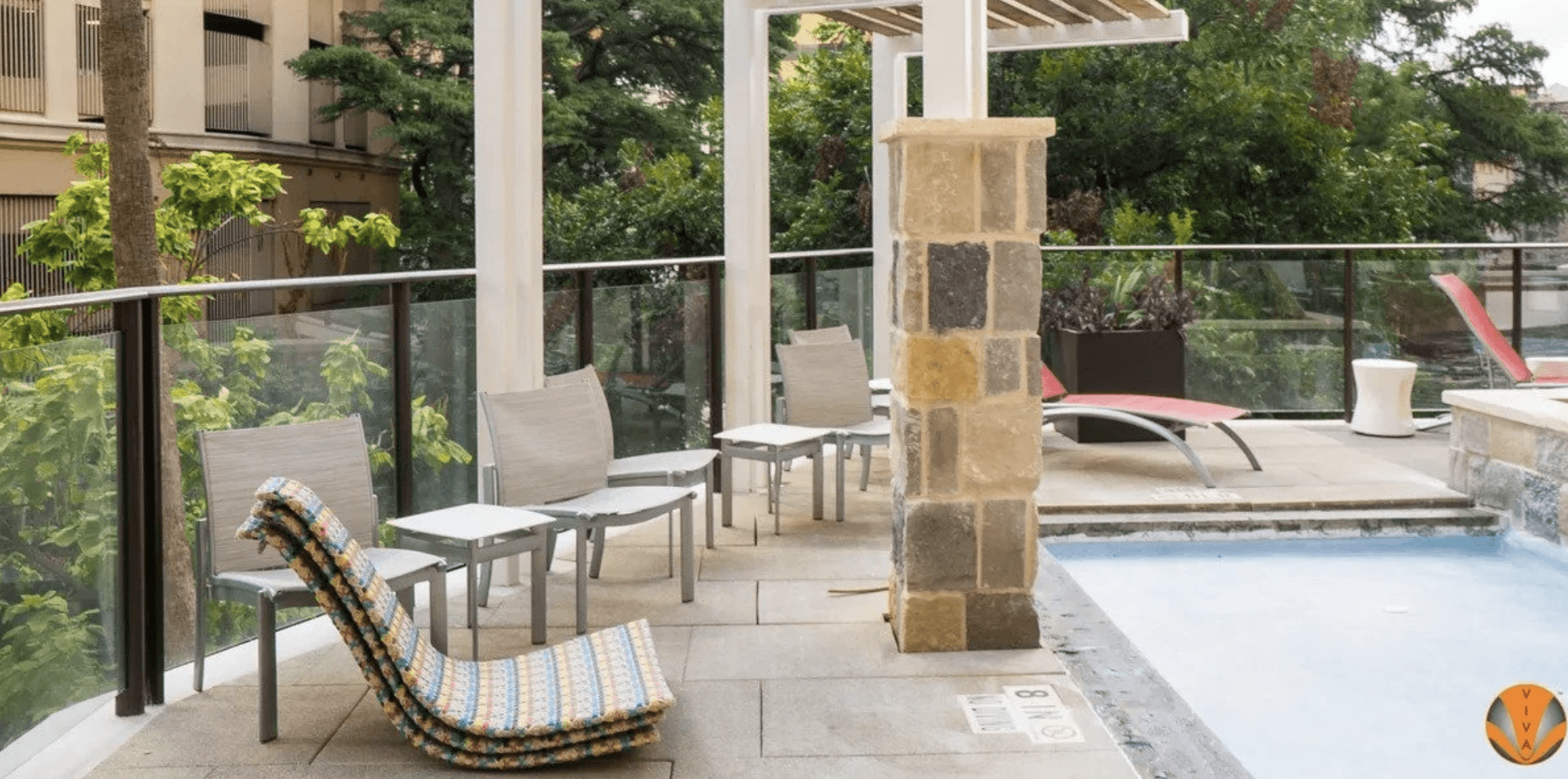 In keeping with the crystal clear waters of this Home2 Suites by Hilton pool deck, the glass railings create an unobstructed view so that the pool area feels open and welcoming. The ECO ELLIPSE™ Glass Railing System is an uber-modern design that features slender posts with a top rail available in an oval or rectangular profile. The laminated glass infill can also come in custom colored or patterned glass.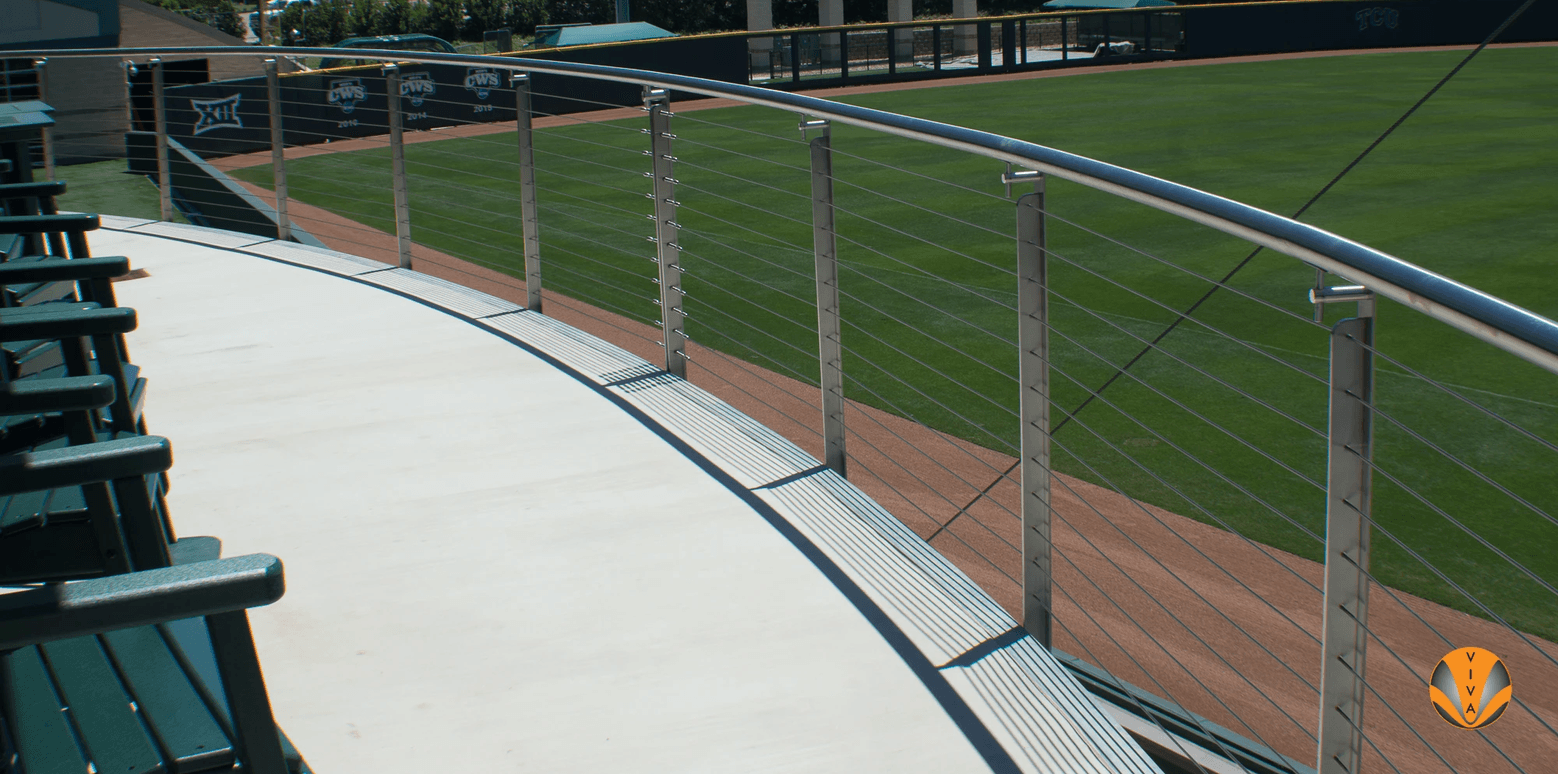 This system is also featured on elevated patios to add safety for guests who want to enjoy the outdoor space without fear of falling off of the edge. The modern outdoor railing design offers an understated elegance where it is needed to complete the design of the space
4. Meet Building Codes with Ease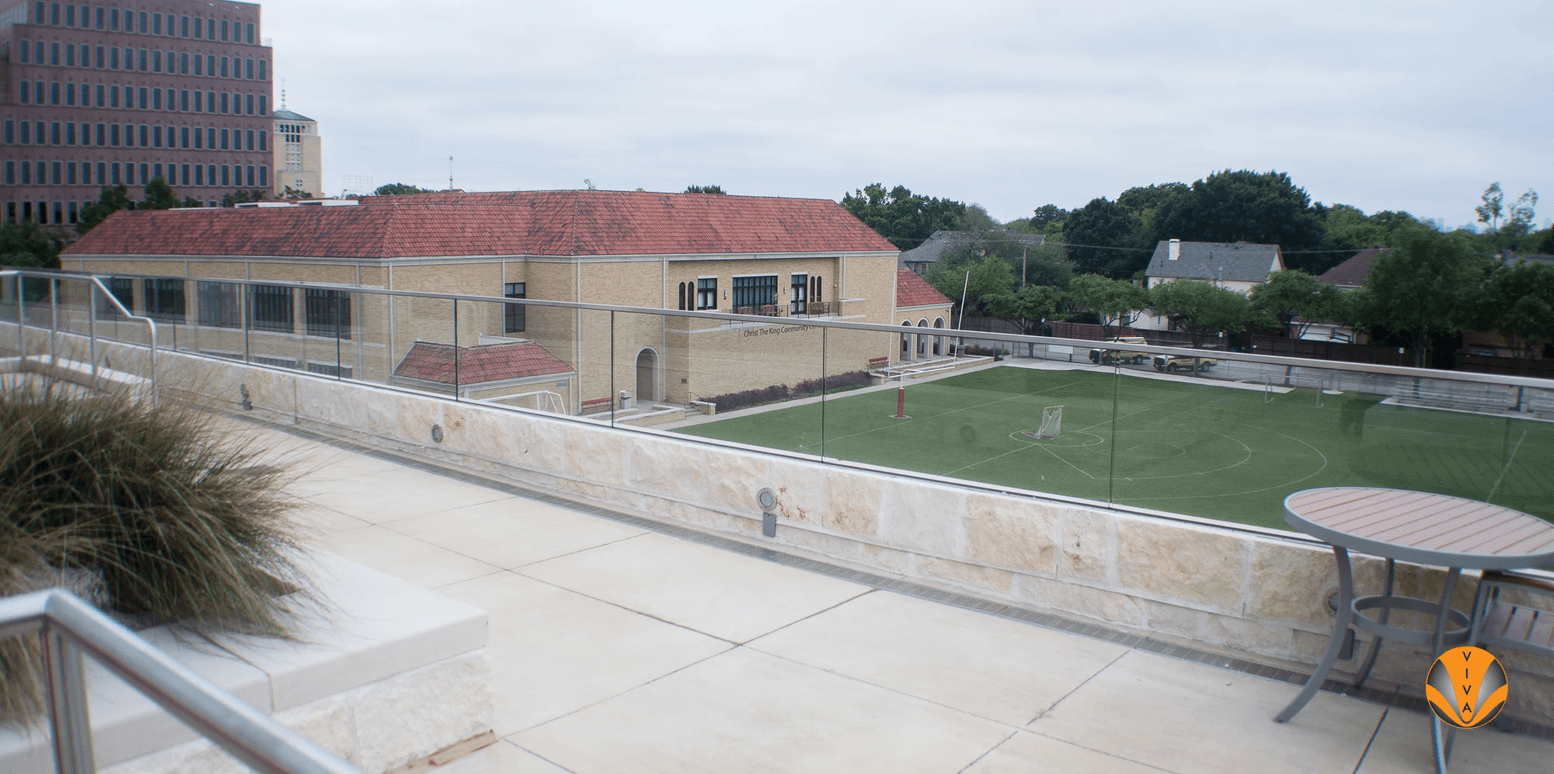 Building codes and ADA standards require that handrails and guards meet a certain set of criteria in order to provide the maximum amount of safety and support for the greatest number of users. VIVA's modern outdoor railing designs meet the standards laid out in the International Building Code (IBC) and the Americans with Disabilities Act (ADA), making it easy to choose and install railings in your commercial space.
5. Choose a Picket Railing System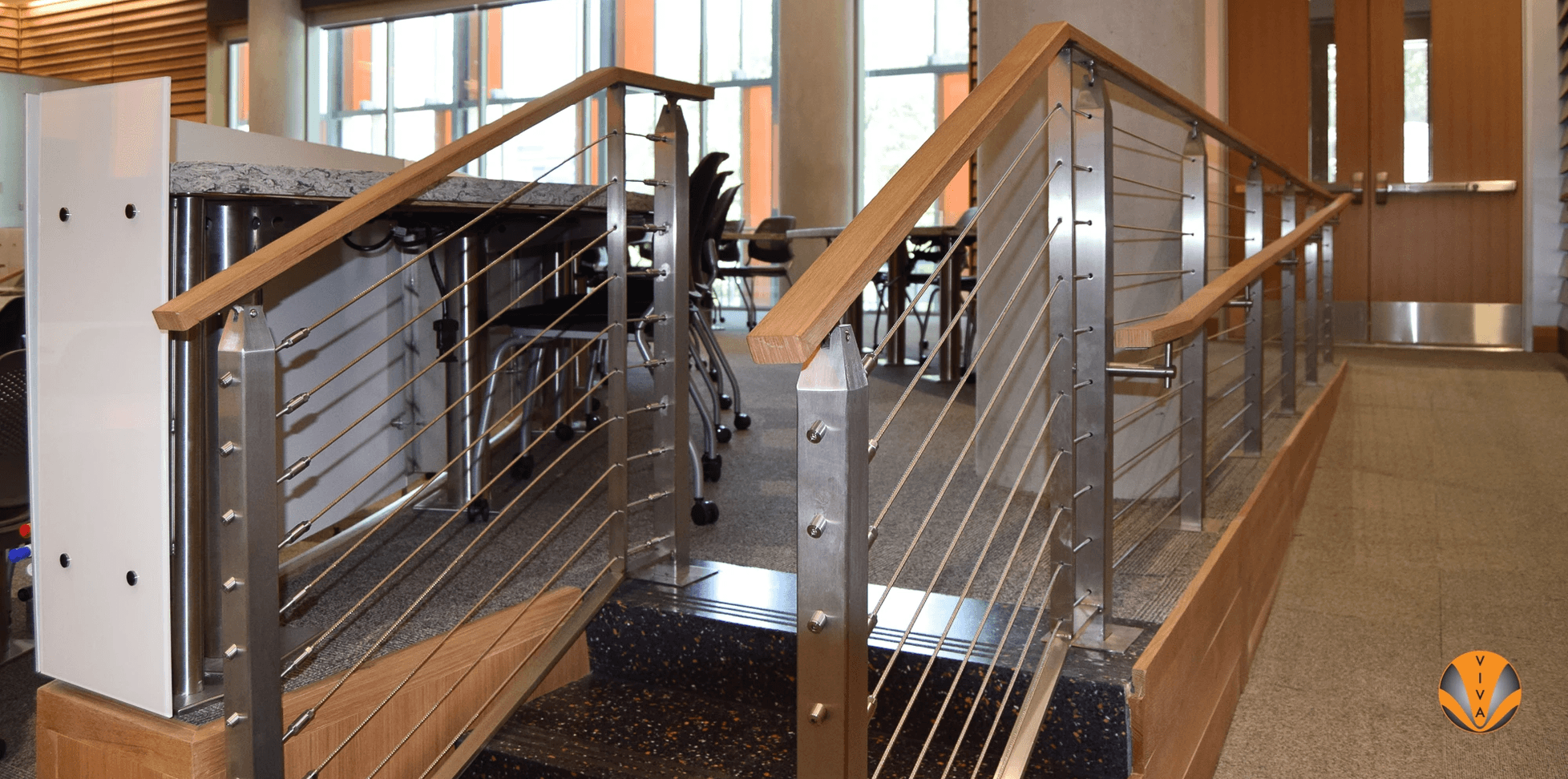 Picket railing infills are popular in commercial applications for the safety and durability they offer. Stainless steel picket infill railings, like the BLADE® Picket Panel Railing System, are one of the best modern outdoor railing ideas because they are rust and corrosion resistant, low maintenance, and versatile. Picket railings can be powder coated in nearly any color so they can fit in with the space's aesthetic, and the clear, clean lines create a sleek and sophisticated appearance.
6. Create a Rooftop Oasis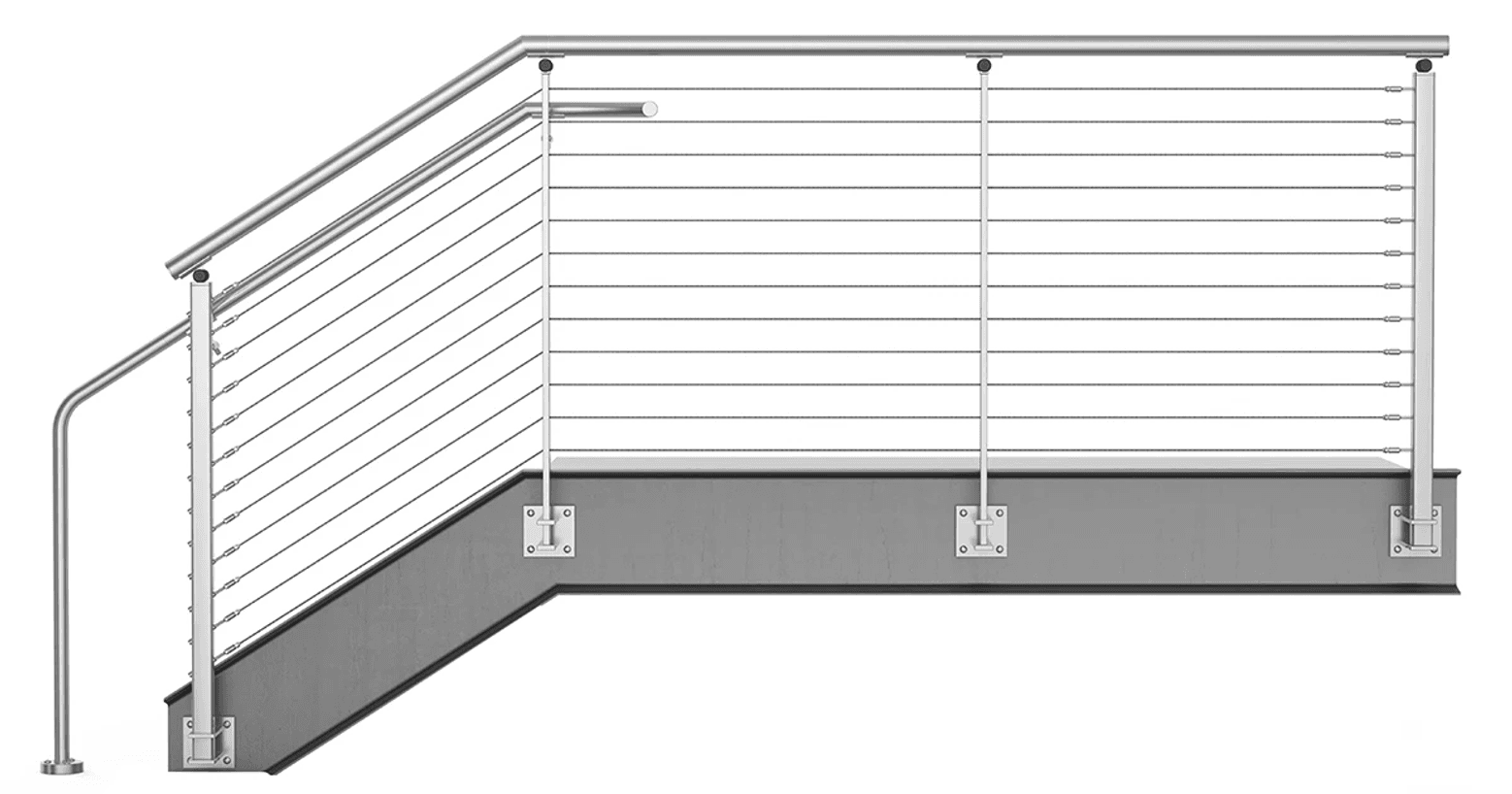 Using rooftop space for entertainment and recreation can be a selling point for hotels, apartment complexes, condos, and businesses. Making the roof safe for use requires specialized materials and extra attention to safety and building codes. The SS WINDWALL™ Glass Screen System is typically used at amenity deck levels in high rise residential projects though it can also be used in commercial applications. Each design is project specific to account for floor elevation, wind loads, layout, and the building's location.

7. Provide Adequate Support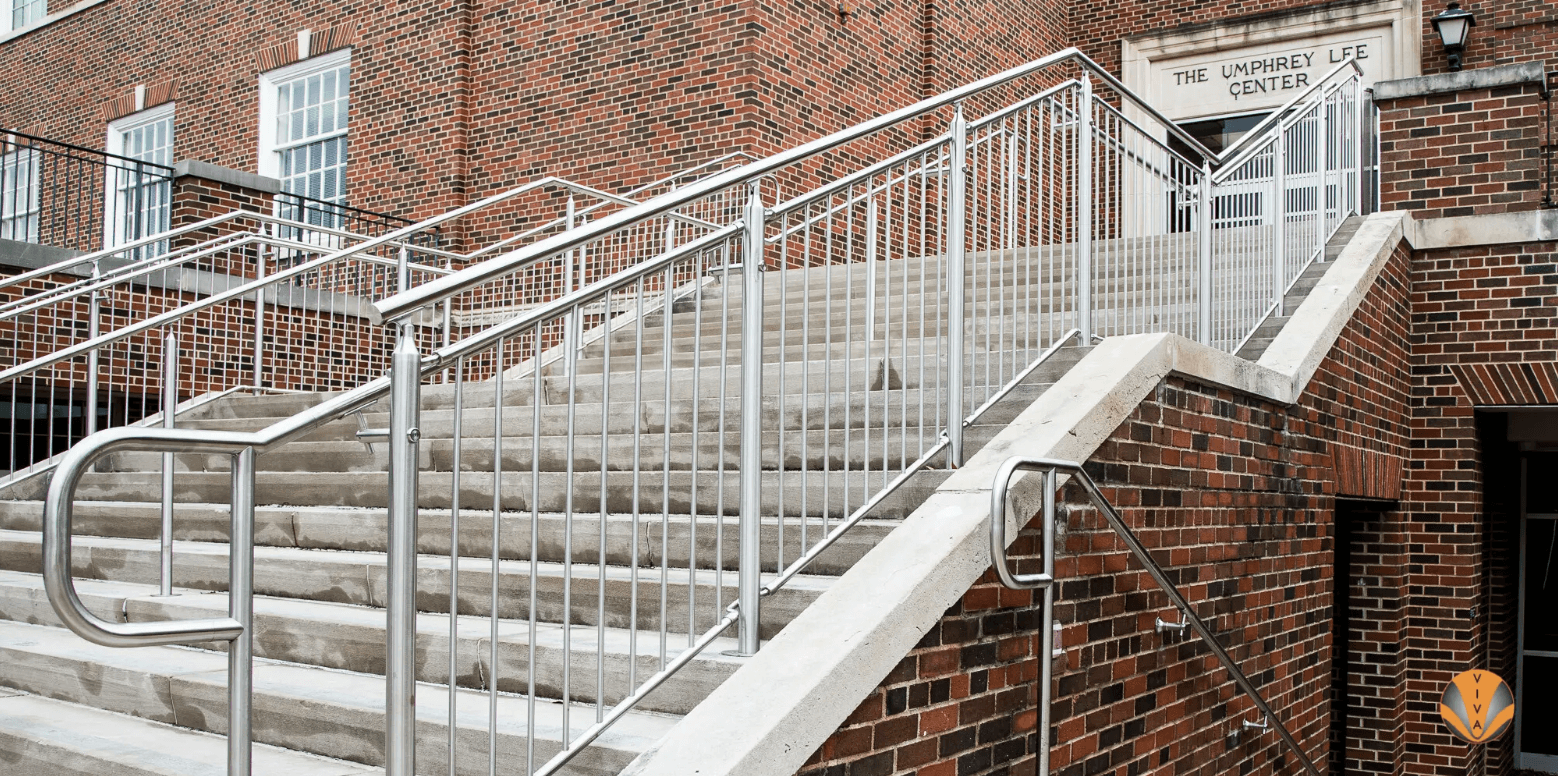 Modern outdoor railing designs take into account the unique needs of each space. For exterior stairs, it's essential to meet building codes and provide adequate support. For wide stairs, an additional handrail is typically needed in the middle to make sure handrails are close enough together and easily accessible by everyone no matter where they are on the stairs. The FSR™ Free Standing Rail System makes it easy to install a railing wherever one is needed.
8. Create Continuous Handrails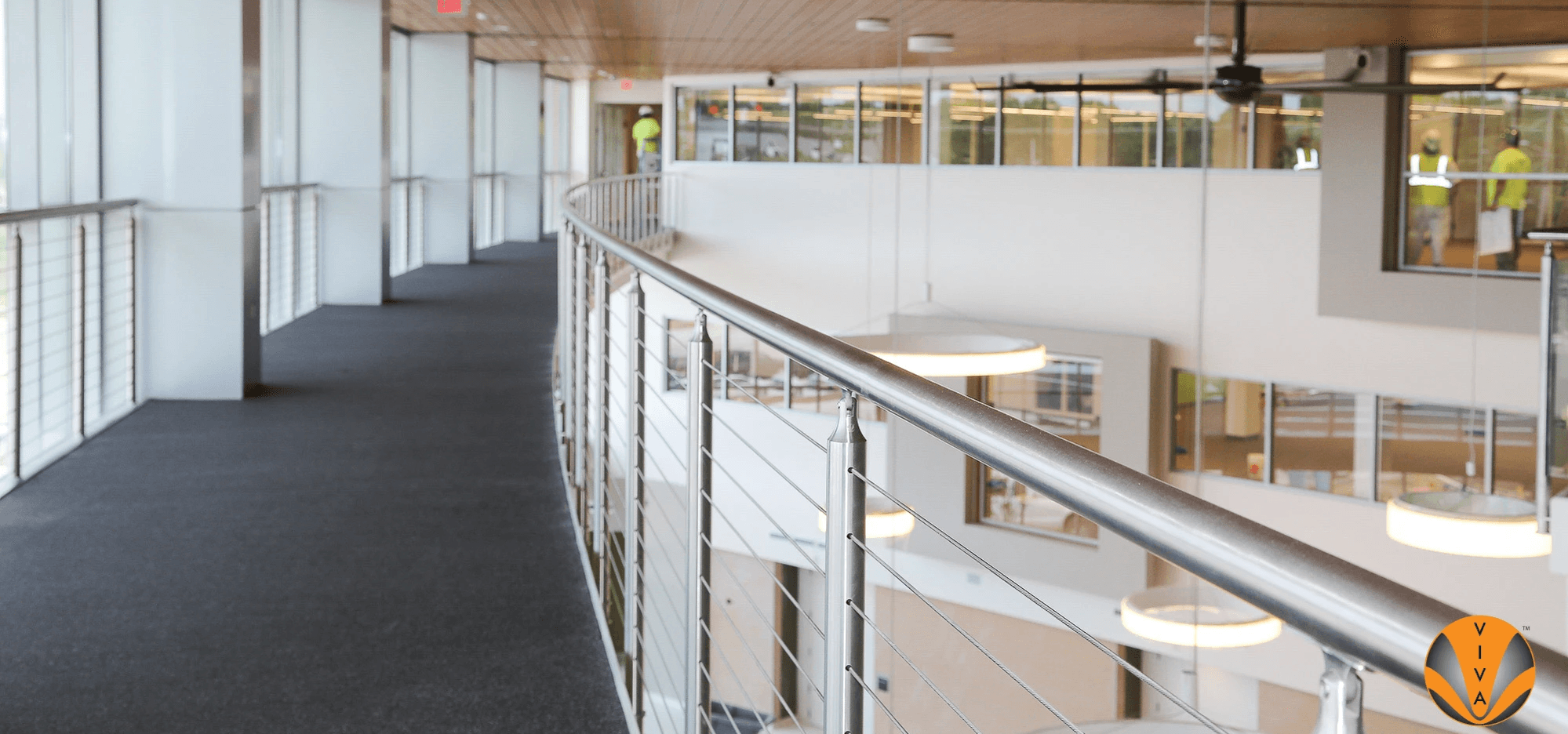 The balcony on this multi-family project features the BEACON™ CableNet Railing System that stretches for almost unimaginable lengths. Following the extensive balcony around the building, this outdoor modern railing's clean lines are achieved with single flat bar posts and CableNet infill. Providing superior support, they allow residents to take full advantage of the beautiful views just outside their doors.
Modern Outdoor Railing Systems by VIVA Provide Safety, Security, and Lots of Options
VIVA Railings offers a wide range of railing options with a variety of infills, including picket, CableNet, glass, and cable railings. Our railing systems can be powder coated in nearly any color to fit with the project's aesthetic, and you can choose between metal or wood handrails to further customize the look. Our glass infill systems can be colored, frosted, or patterned to enhance the style of the handrail or create an additional opportunity for branding or inspiration.

Contact the experts at VIVA today to discuss our modern outdoor railing systems and how they can work with your project!