Commercial interior handrails are essential to creating a safe and welcoming space as well as meeting commercial building codes and ADA standards. They can also act as a design element that elevates the space and meets aesthetic goals. Metal wall and ceiling systems can also enhance the design and create a space that's both functional and interesting.
Integrating metal systems into a commercial design can lead to an aesthetic union between the metal system and handrail system that you choose in order to create a cohesive design with dimension.
Use Angles to Create Dimension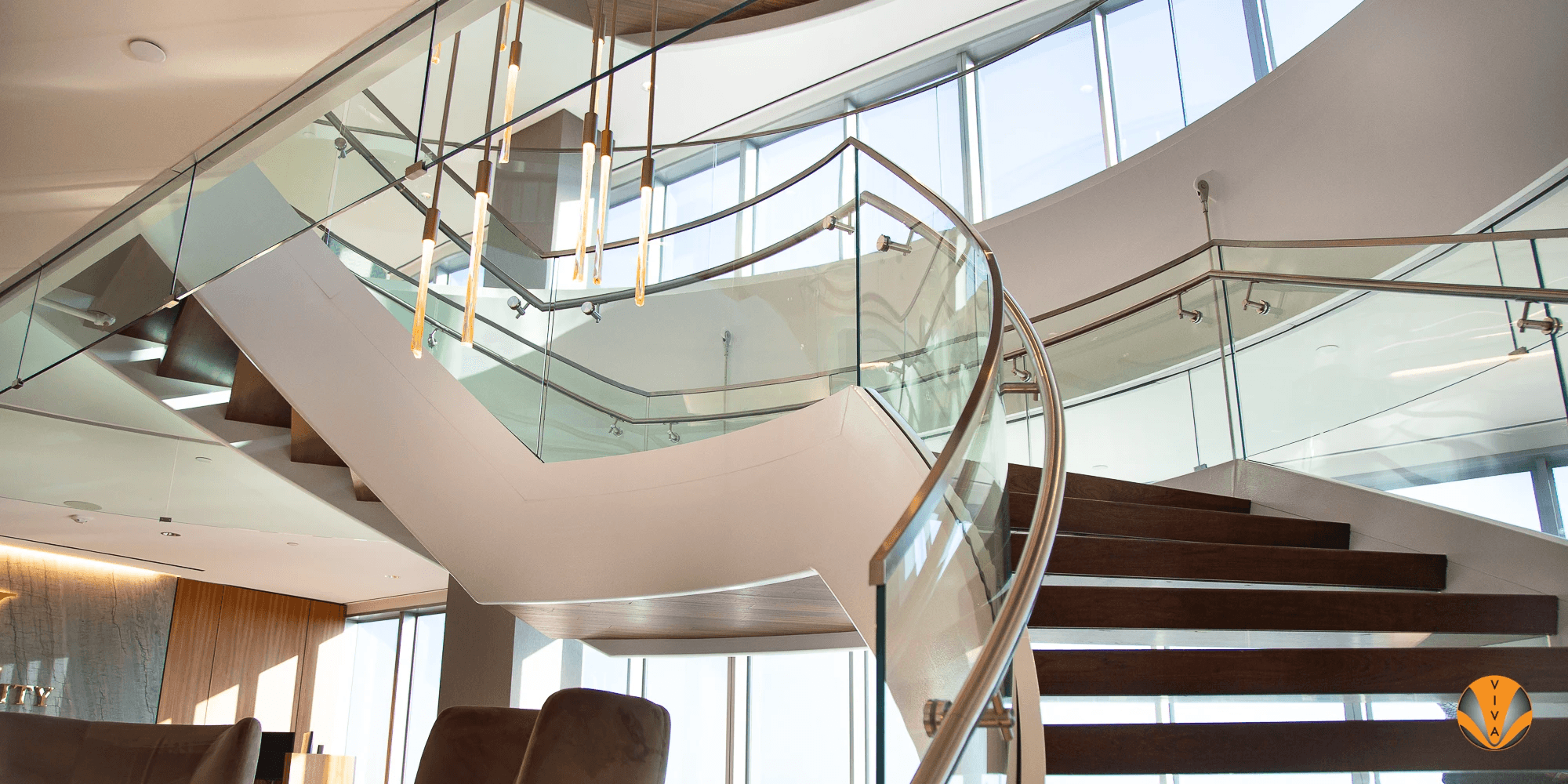 On this curved staircase at the Integrity Marketing Group building, the handrails and glass railings follow a subtle curve as they climb the stair, but then change direction with a sharp angle that creates interesting and unexpected dimension on the staircase. The SHOE™ Glass Railing System is an aluminum glass railing system that can be fascia mounted or, in this case, top mounted. In this design, the SMOKE BAFFLE™ System is also used to create additional protections against smoke should a fire occur.
Coordinate Tones and Textures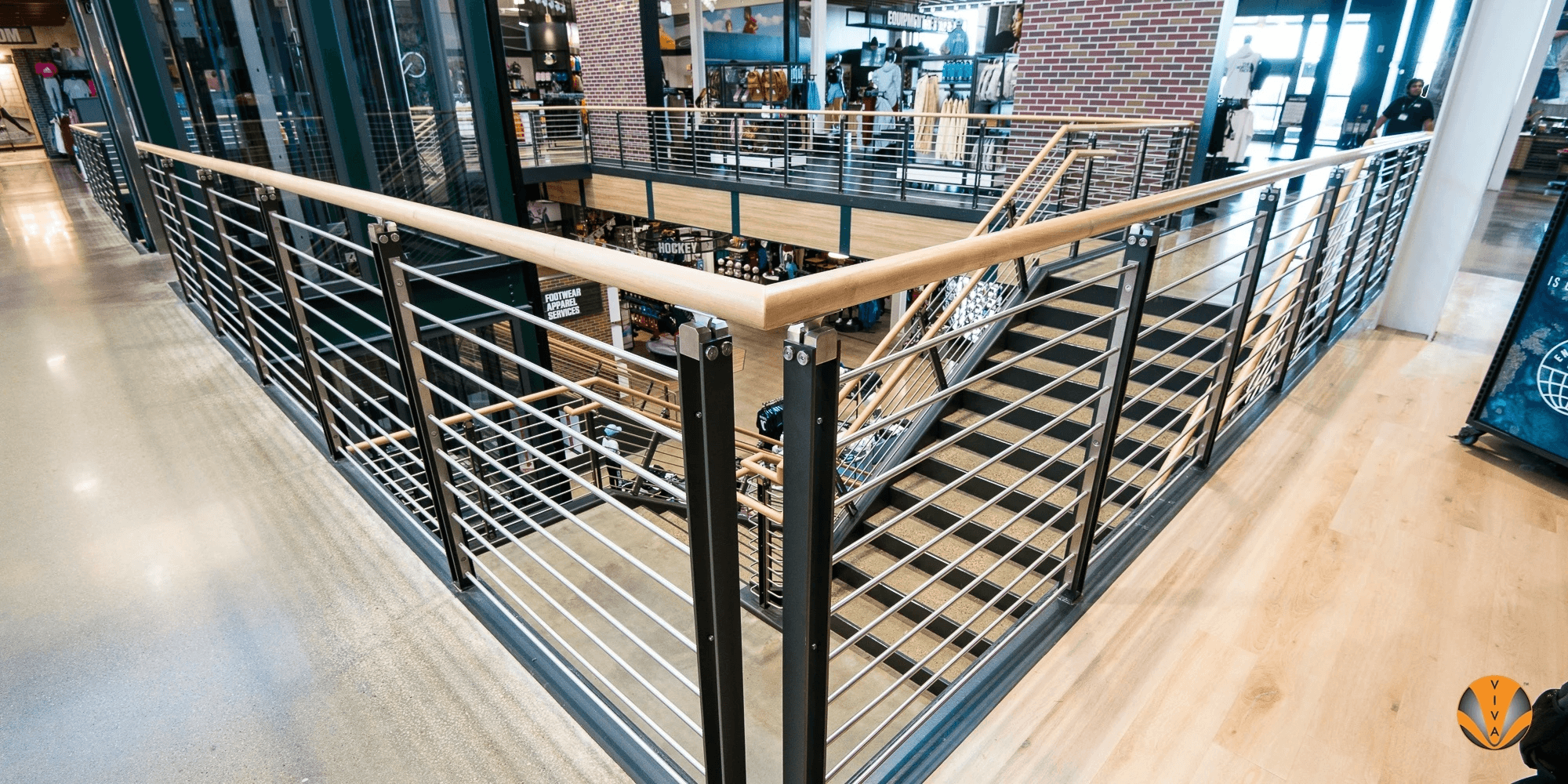 The ultra-contemporary design of the BLADE™ Multiline Railing System creates a commercial interior railing that integrates with the modern design of this Dick's Sporting Goods retail location. The light wood handrail coordinates well with the fascia and flooring and is contrasted with black powder coated posts.
Light up the Night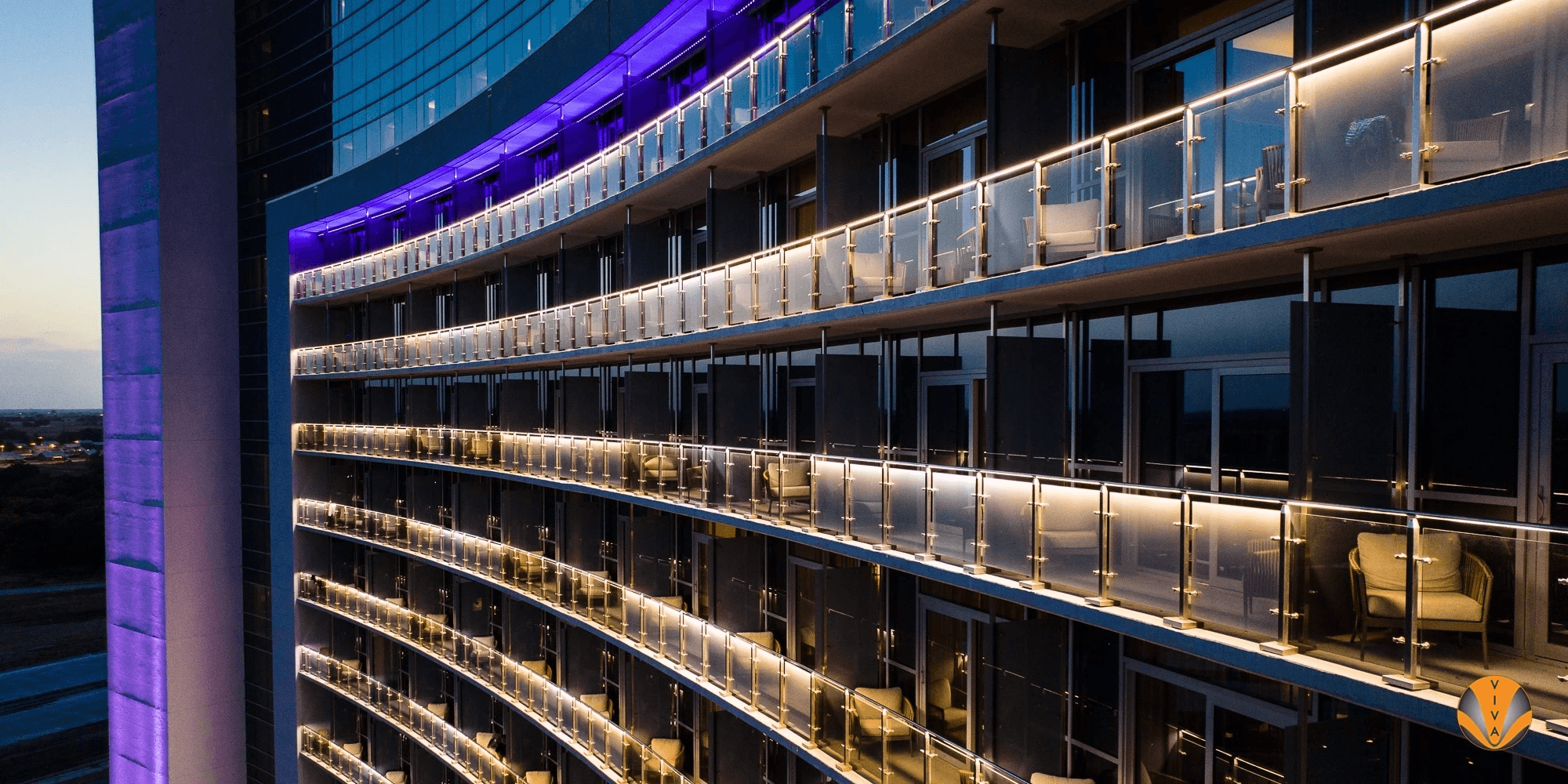 To create a stunning statement day or night, the Choctaw Casino integrated our iRAIL™ LED Linear Illuminated Railings along the length of the balcony railings. Doing so creates added visibility for guests enjoying the night air as well as for the hotel itself. The CUBE™ Glass Railing System features 2"x2" square posts with monolithic pyramid top caps to create continuous clean lines throughout the components, which makes it uniquely suited for a project of this size.
Customize the Design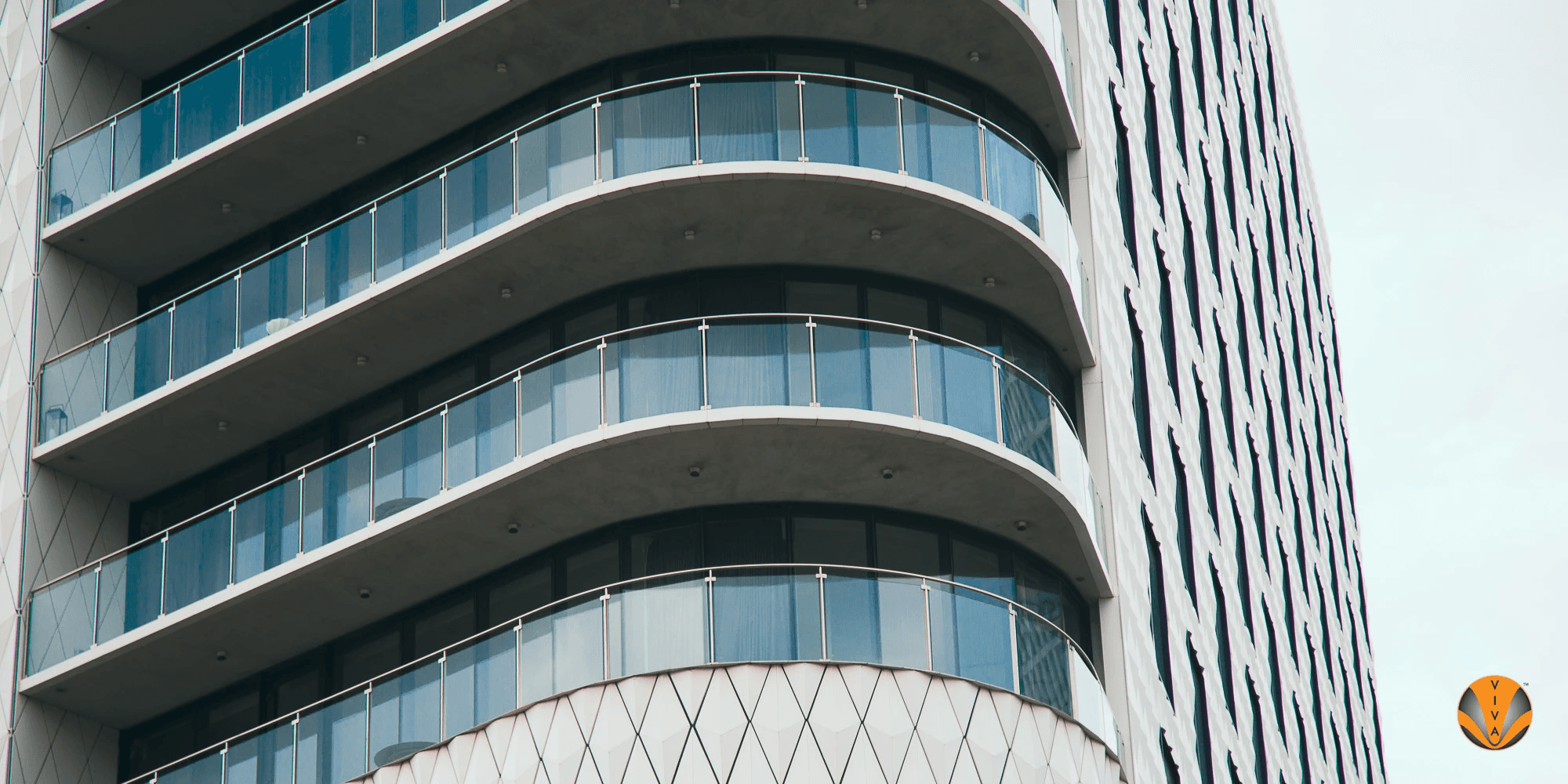 In addition to our wide range of customizable systems, you can also choose to customize the entire railing to capture the full expression of your design goals. The Virgin Hotel Dallas did just that, by creating a customized balcony railing that fits with the building's unique design aesthetic and dramatically curved balcony.
Create a Cohesive Look in a Large Space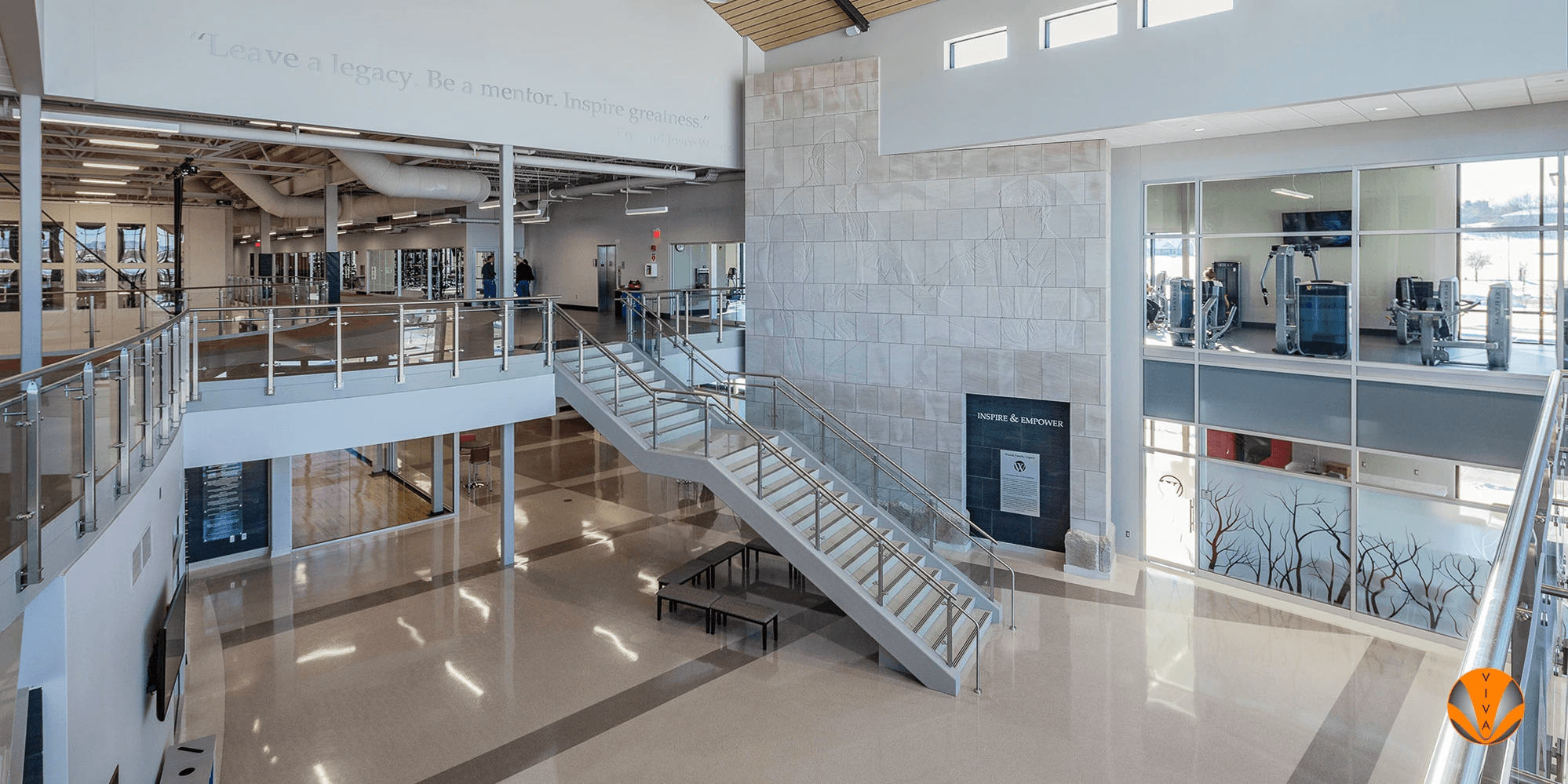 The Wanek Fitness Center hosts a workout center, fitness classes, the local school's basketball court, the public library, and various programs. The design features our CUBE™ Glass Railing System interior commercial handrails throughout the building to create a cohesive look and provide superior safety and support no matter where you are in the building.
Add a Unique Design Touch with Metal Paneling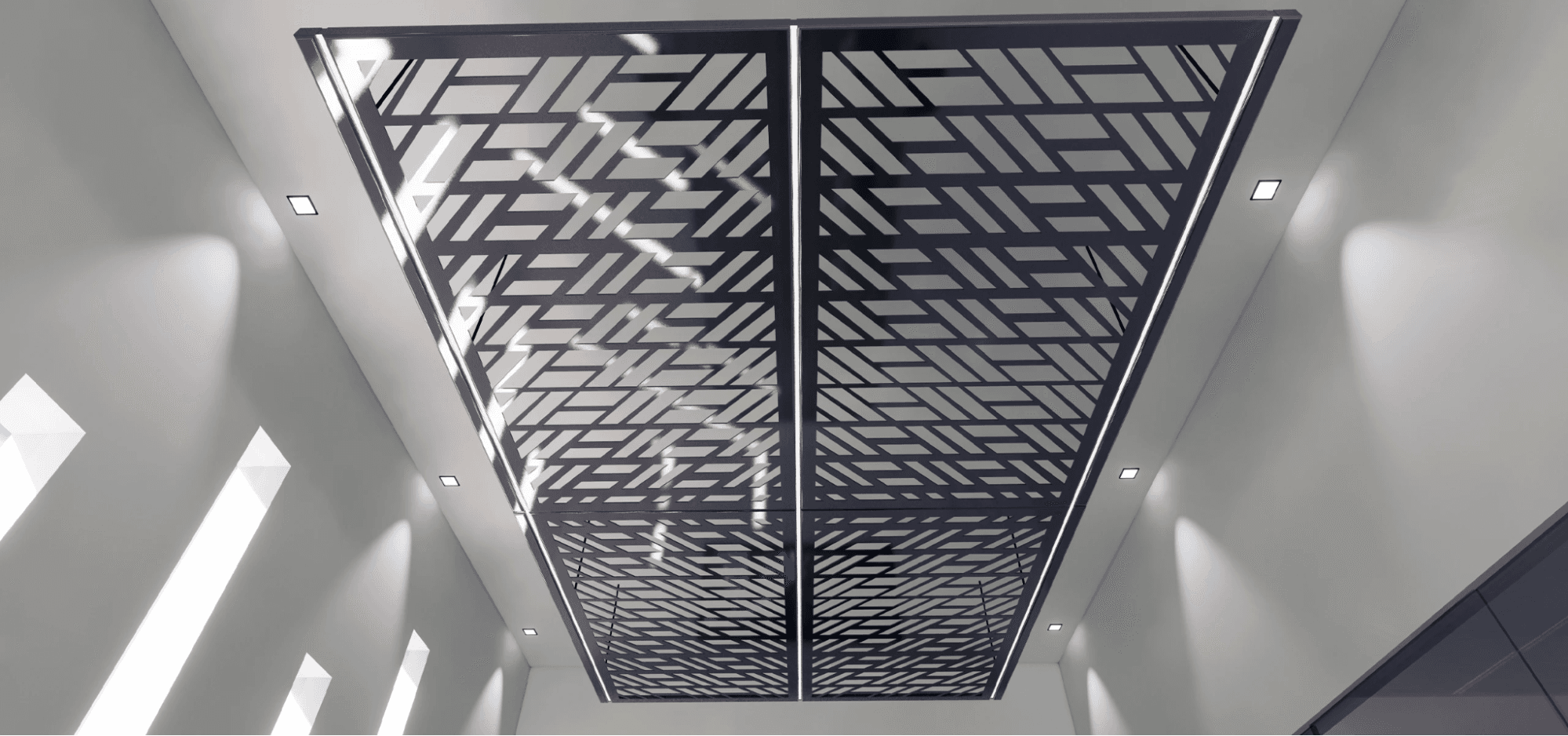 Not only does VIVA Railings create unique and stunning handrails, we also manufacture Decorative Ceiling Systems that feature laser cut metal panels that can be used in commercial spaces to increase the visual appeal and acoustic control of the space. Made from high-quality stainless steel, aluminum, and copper, they can be finished in a variety of colors and feature a range of patterns to creatively enhance your space.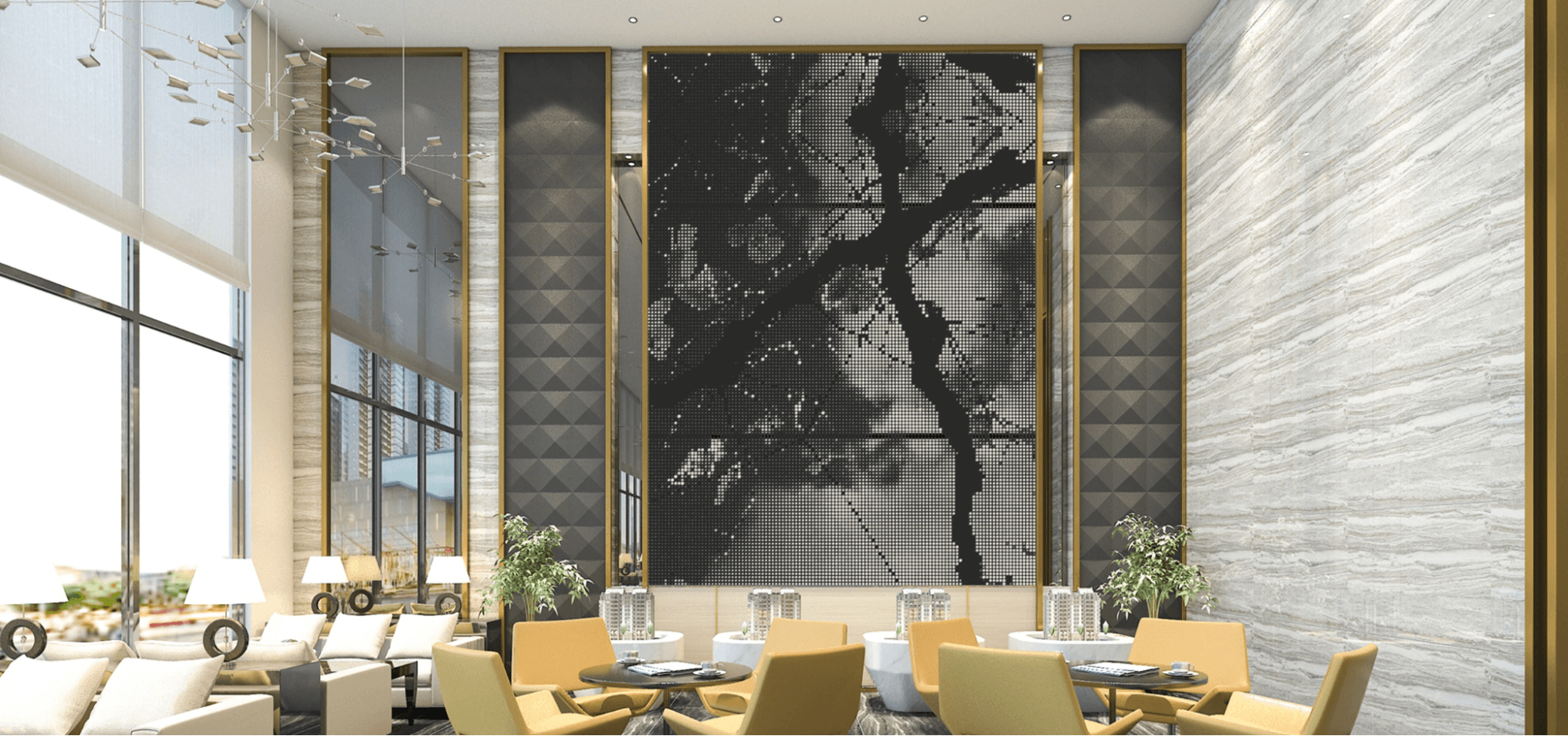 Creating noise control and reduction in commercial spaces both small and large can present a design challenge for architects, which is why VIVA Railings has designed our FotoFacade Wall System. This laser-cut perforated metal imaging solution uses halftone dot patterns to integrate photos or graphics into a metal wall panel design. This system gives interior commercial spaces the opportunity to create a unique aesthetic while simultaneously managing the acoustic needs of the space.
VIVA Railings and Metal Wall and Ceiling Systems Can Enhance and Define Your Space
Good design can define your space and make it accessible to all that use it. Our commercial interior railings, exterior systems, and metal panel systems can work individually or in tandem to create the ideal space for your unique needs.

We offer a range of prefabricated systems that can be customized to the needs of your space. Customization options include:
Glass, cable, CableNet, picket panels, and perforated panels
Frosted, patterned, or colored glass infill
Wood or metal railings
Round or rectangular handrail profiles
LED linear, pod, or capsule illuminated railings
Powder coated railings, posts, and perforated panels
Top, fascia, or core mount system
When you're choosing railings to define your space and provide safety and support, VIVA Railings offers nearly unlimited options and the opportunity to customize the look and function of the space. We also offer decorative metal panels that can help with acoustic control as well as add a unique design touch to any space.

Contact the experts at VIVA today to see how our commercial interior handrails and metal panel systems can enhance and define your space.