Wall Systems / FotoFacade
Decorative Laser Cut Wall Panels
The Perfect Turnkey Ornamental Solution with Functionality
As an architect, adding functional and aesthetic elements to a contemporary space is a top priority. Decorative laser-cut wall panels have become increasingly popular in recent years due to their ability to add visual interest and style to residential and commercial spaces while also providing functional benefits such as privacy and noise reduction. These panels are made by using a laser to precisely cut patterns and designs into stainless steel, steel or aluminum, resulting in a stunning and intricate wall feature that lends a distinctive, eye-catching architectural element to a minimalist space.

LASER-CUT PERFORATED METAL IMAGING PANELS

FotoFacade is a laser-cut perforated metal imaging solution. These panels are created by halftone dot patterns using laser cut technology and integrate photographs or graphics into the panel design. The final result is a unique and eye-catching architectural application that adds visual interest and depth to spaces.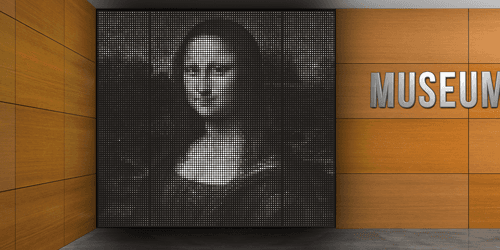 Product Resources