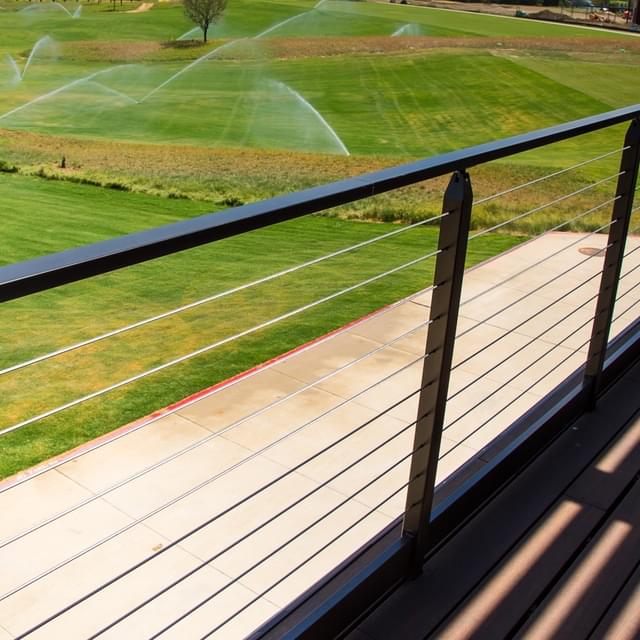 Project: PGA Headquarters
Location: Frisco, TX
Railing Systems: CUBE Cable, SHOE Glass
General Contractor: Adolfson & Peterson Construction
Architect: Page Southerland Page
Viva Railings, a leading provider of commercial railing solutions, recently completed a large commercial railings project for the PGA headquarters in Frisco, Texas. The project involved the design, engineering, fabrication, and installation of over 650 linear feet of cable railing system and almost 200 linear feet of Our ICC-ES 4405 EvaluatedSHOE™ Structural Glass Railing System
The PGA headquarters in Frisco, TX is a state-of-the-art facility that serves as the hub for the Professional Golfers' Association of America. With its sleek and modern design, the headquarters is a perfect reflection of the PGA's commitment to excellence. The cable railing system that Viva Railings installed is a perfect complement to the building's design, as it is both functional and visually appealing.

---
The stainless steel cable railing system that Viva Railings installed is built to last.

---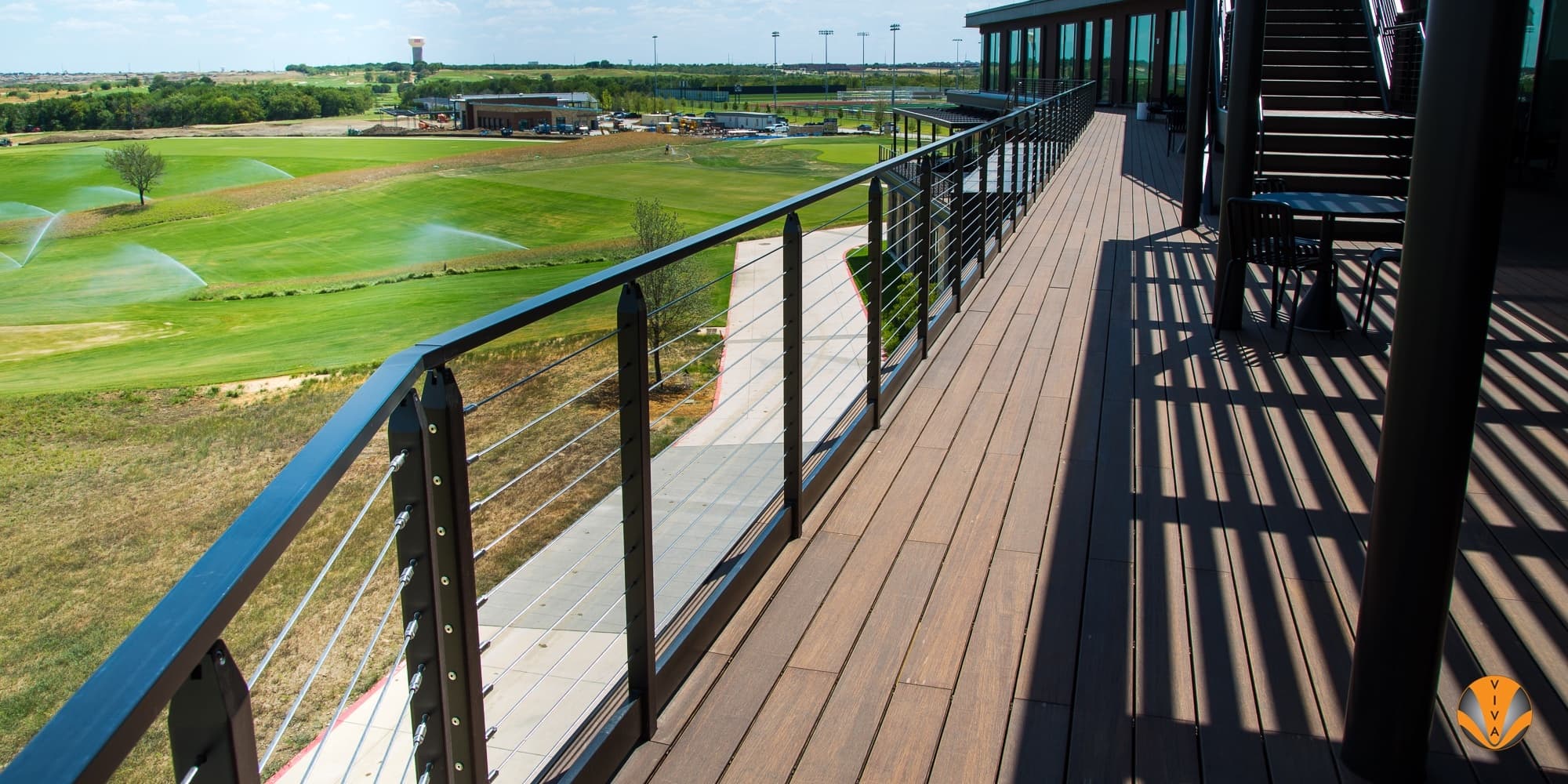 Viva Railings' team of experts worked closely with Adolfson & Peterson Construction and the architects at Southerland Page to ensure that the installation met all safety and building codes. This was a major project, but the team was able to finish it on time and with the highest quality standards.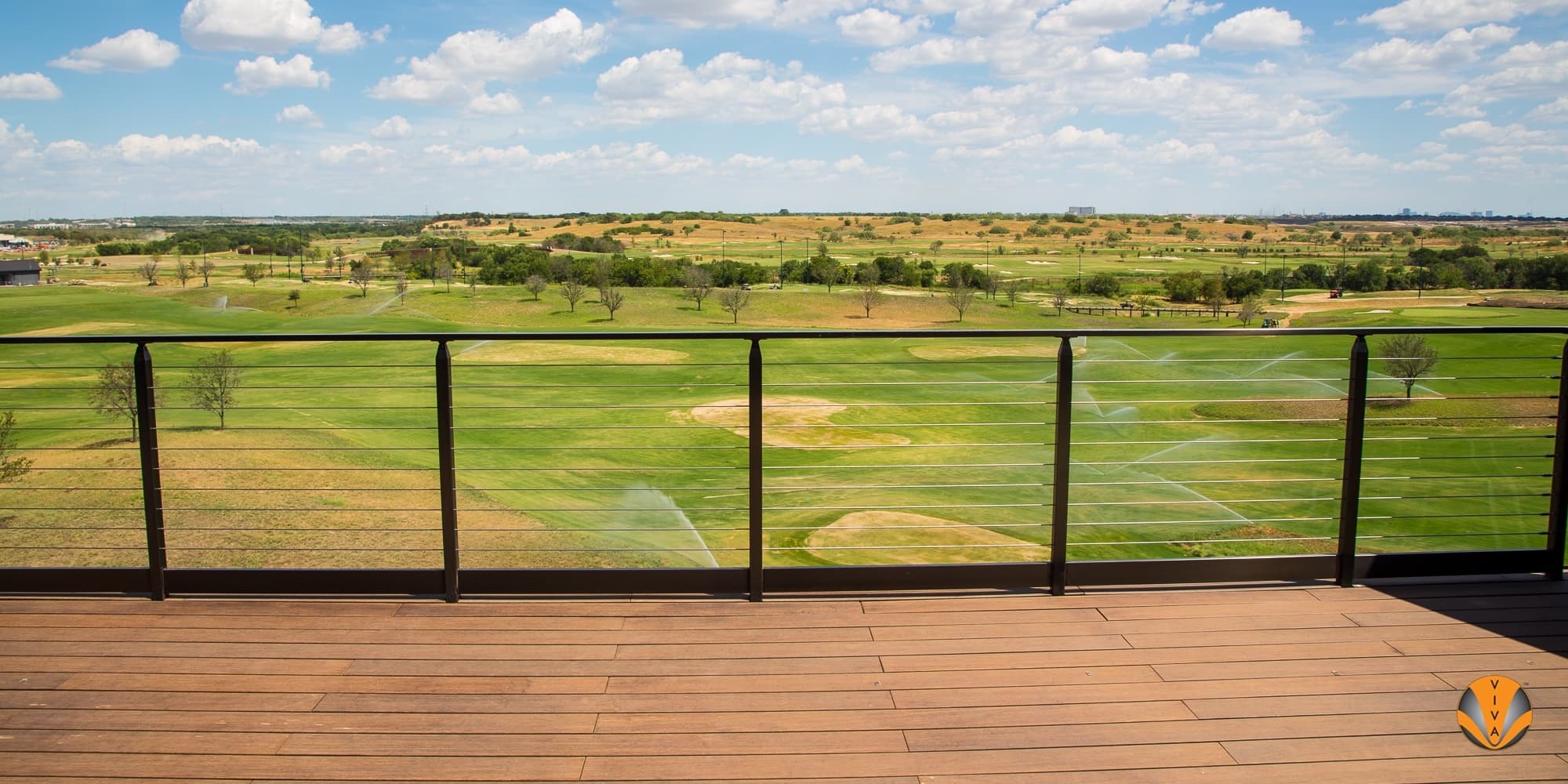 ---
The CUBE posts and handrails are blackened ECM Finish, ensuring that the railing system will withstand the test of time.

---
The PGA headquarters' cable railing system is not only functional but also adds aesthetic appeal to the building. The clean lines and sleek design of the CUBE Cable Railing System complement the modern look of the building. The cable railing system also provides an unobstructed view of the surrounding area, which is perfect for visitors and viewers of the PGA headquarters to enjoy.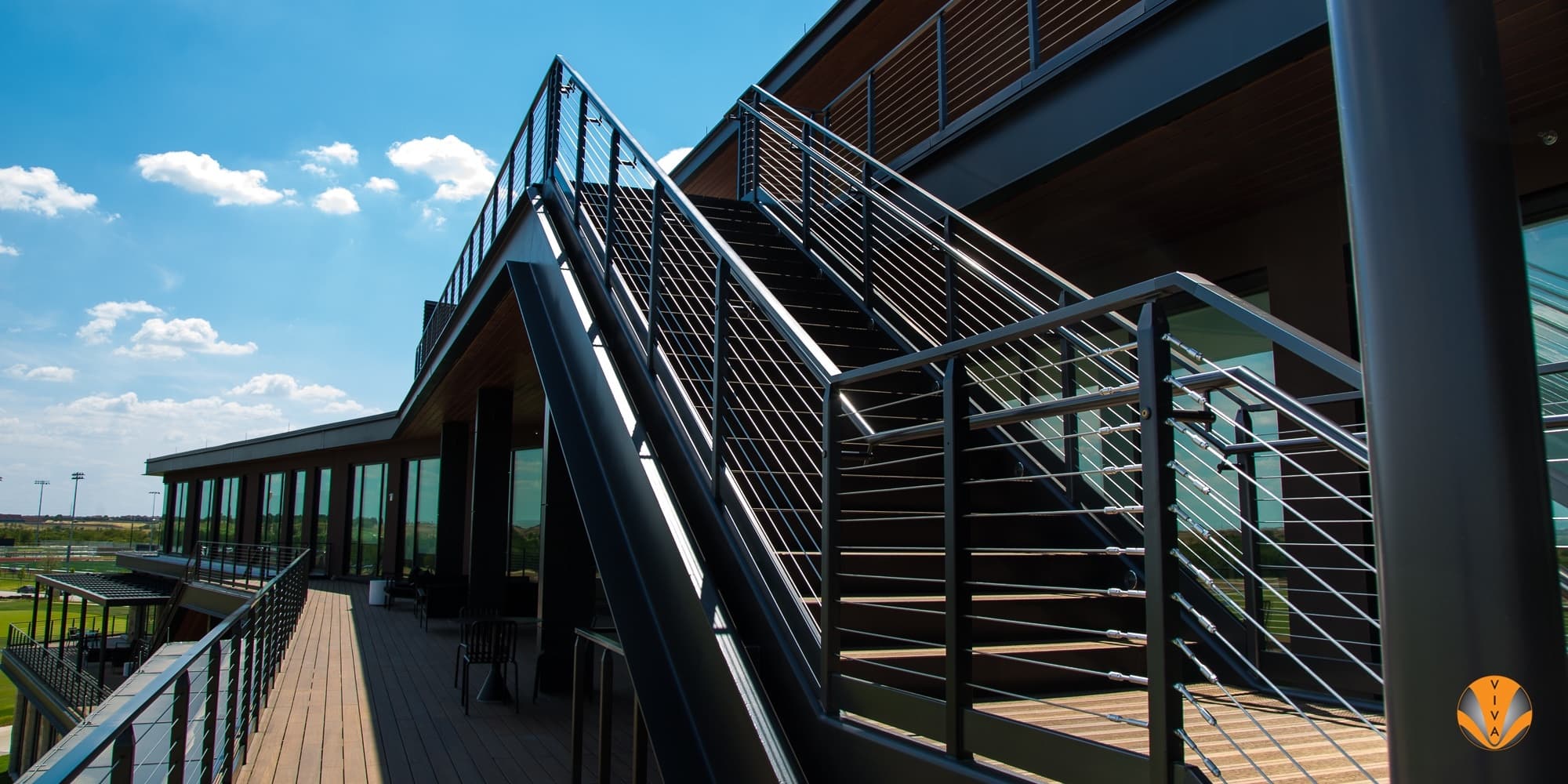 Viva Railings is proud to have been a part of this project and to have provided a high-quality railing solution for the PGA headquarters. This project is a testament to Viva Railings' ability to provide complete turnkey commercial railing solutions that are both functional and visually appealing.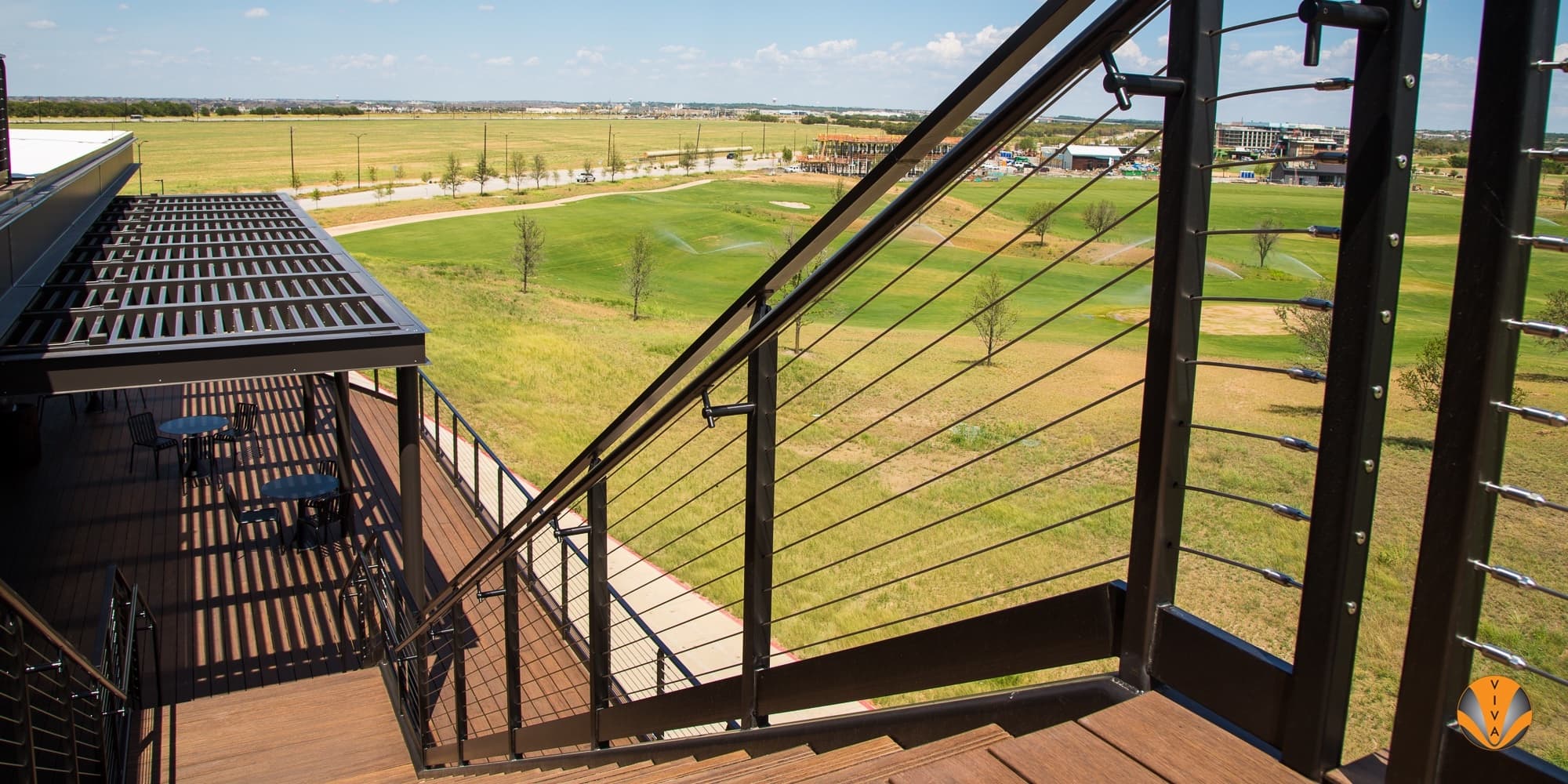 The PGA headquarters project was a great success and a shining example of Viva Railings commitment to quality and customer satisfaction. The company continues to provide commercial railing solutions for many other buildings, and we look forward to seeing many more projects in the future.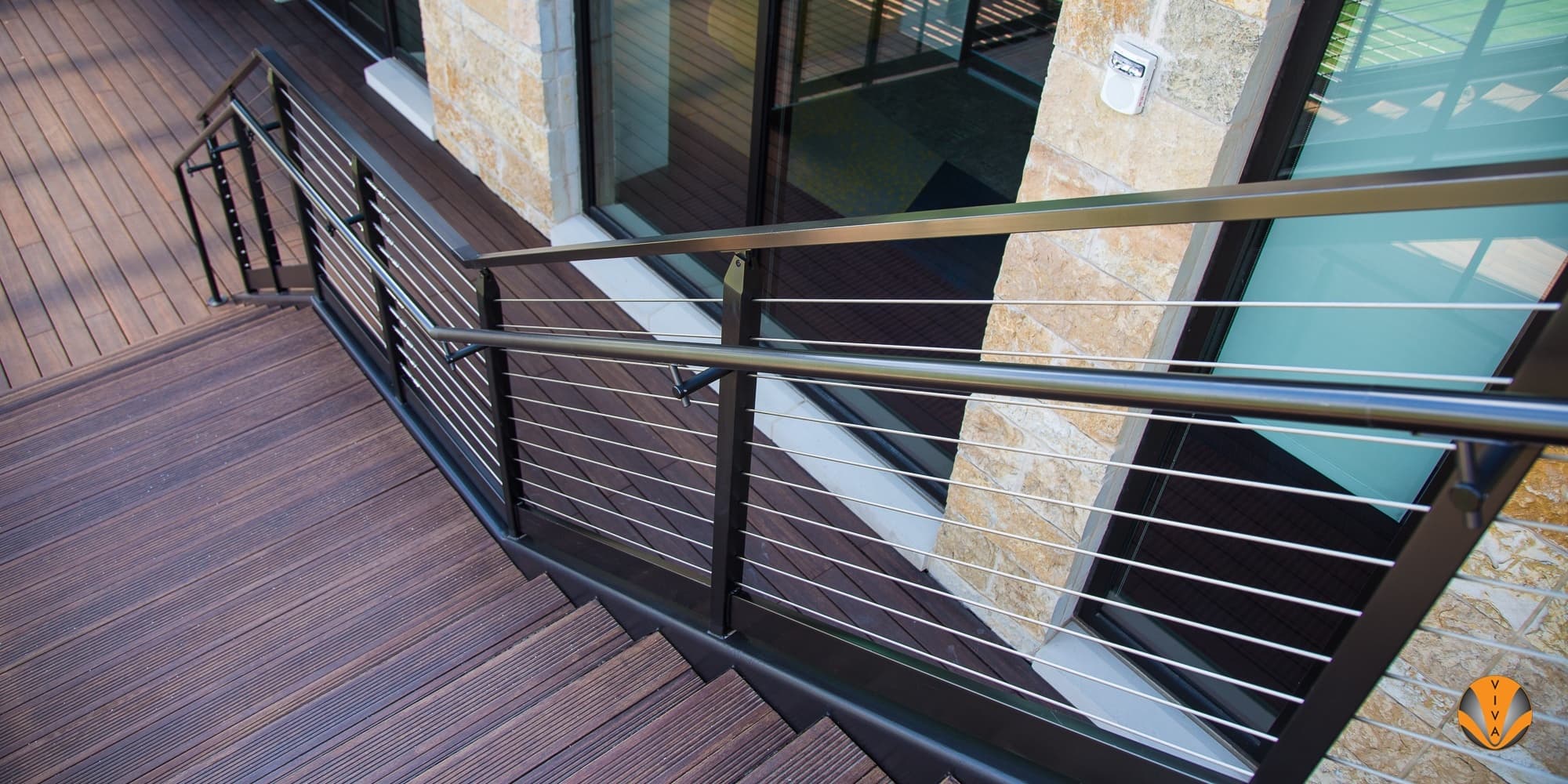 ---

PGA Headquarters in Frisco, TX houses over 100,000 sq. ft. of offices, outdoor walking trails and an education facility. The massive campus also features a full golf course and a 500-room hotel.
---
---
We love to have architects, general contractors and owners to our headquarters in Lewisville, TX.

---
You can visit our Design Experience Center and also our workshop and warehouse.

Come see for yourself how we design, engineer and fabricate complete railing solutions for your expertly designed spaces.
Talk to a VIVA Railings product specialist today and experience our renowned customer service for yourself.
Interested in starting a new project or have a general question for our team?