Swimming pools are a welcome respite from heat and humidity in the warmer months. For commercial swimming pools, deck mounted pool handrails can offer the safety and security needed to serve a wide range of people with varying abilities. In elevated areas where handrails aren't required, swimming pool deck rails can act as guards, by meeting building codes and providing protection from falls.
Swimming pool deck railing ideas don't have to be boring or overly simple. They can be durable and aesthetically pleasing to compliment the overall design of the space.
Our railings offer customization options that include metal or wood handrails, tempered or laminated glass infill options, and the choice of patterned, colored, or frosted glass, which gives you the opportunity to create a customized look.

1. Economically-Conscious and Beautifully Engineered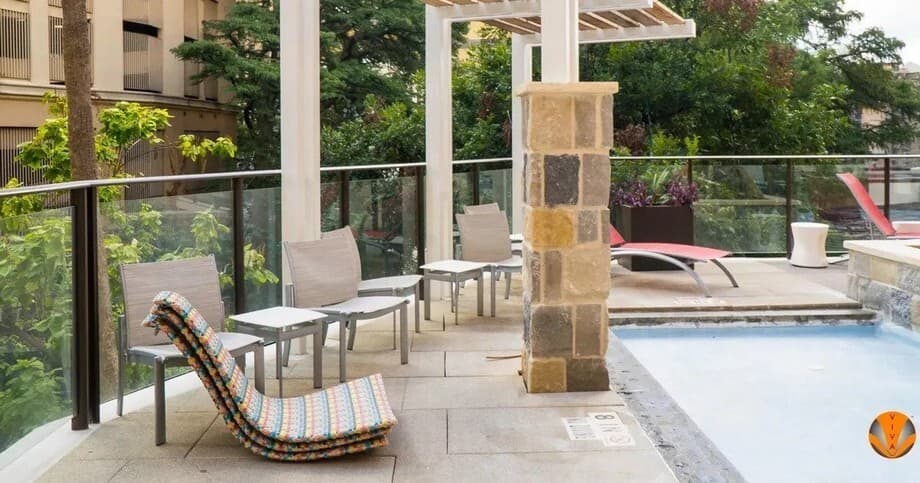 For high-end multi-family residential applications, the ECO ELLIPSE Glass Railing System is ideally suited for adding aesthetic value while meeting all safety requirements and building codes for pool deck railings. The laminated glass infill features floating vertical edges, and the glass can be colored or patterned to add privacy or just add an interesting design element.

The aluminum railing system offers a slender post profile along with the option for an oval or rectangular top rail. To add more customization, the top rail and posts can be powder coated in a range of colors to complement the pool deck mounted pool handrail design.

2. Relax and Recharge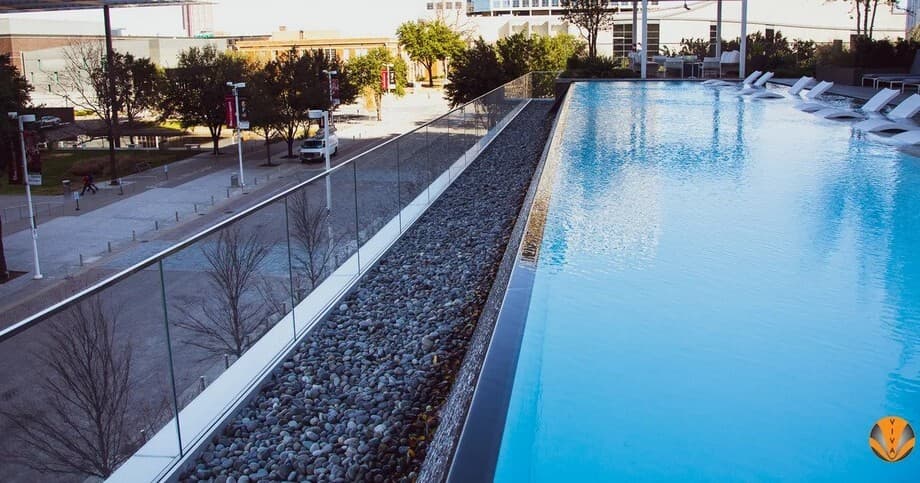 Pool decks offer the perfect place to relax and recharge, especially if the space is safe.

Our SHOE Glass Railing System is an aluminum glass railing system that features a patented compression set aluminum base shoe system that meets the International Building Code requirements as well as California and Florida Building Codes. We've also partnered with SIKA Corporation for Waterproof SHOE System applications. This makes it the perfect choice for swimming pool deck rails.
In this design, an infinity pool is integrated in the space and lounge chairs are placed in the water to entice residents to take advantage of the sparkling water. Raised above the surrounding area, users can soak up the sun and the views.
3. Custom Rooftop Railing Solutions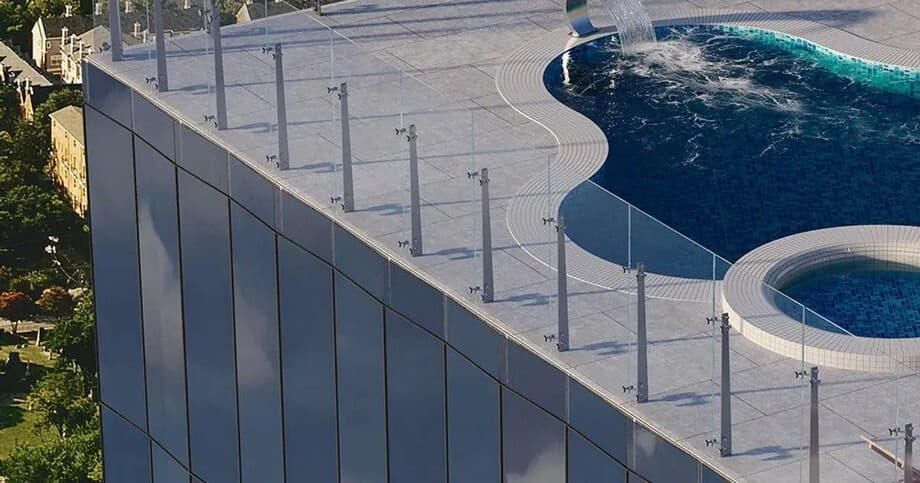 Rooftop pool decks will have very specific railing needs based on the space's specific location, wind loads, layout, and floor elevation. Our SS WINDWALL Glass Screen System is the perfect solution for a rooftop pool deck railing. The tempered glass infill provides superior safety while also maintaining an optimal line of sight. Colored, patterned, and frosted glass options are also available for added privacy or design needs.

4. Use Economically-Conscious Options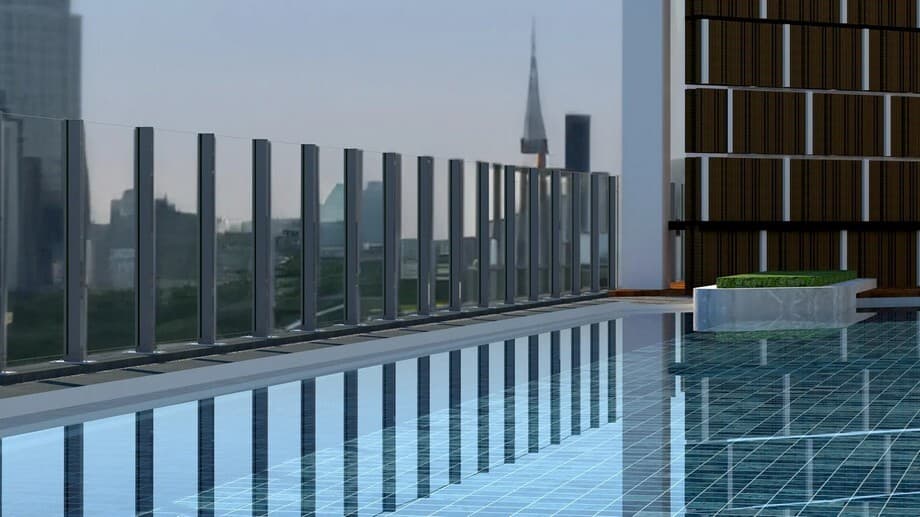 Another option for a custom pool deck railing system is our ECO WINDWALL Glass Screen System. This system is also custom engineered to meet the specific floor elevation, wind loads, layout, and location of the building and is typically used at amenity deck levels in high-rise residential projects. It is the perfect compromise between cost and beauty and it doesn't compromise on safety.

5. Add Amenities
Rooftop decks are the perfect place to enjoy a dip in the pool, but they also offer the opportunity to add amenities that will entice guests or residents to spend time in a highly desirable area. Adding seating arrangements, a poolside bar, private cabanas, and even a game area can increase the appeal of the space.

6. Integrate Lighting for Safety
We offer three options for lighted rail systems — iRAIL Pods, iRAIL Linear, and iRAIL Capsule — to enhance the safety that the pool deck railing offers. Our linear or pod LED lighting can be added to any type of tubular rail — round, square, or rectangular — including our wood handrails, and can run the length of the railing or be added to specific areas where added visibility is needed. We also offer LED capsules that can be integrated into round or square 2"x2" diameter posts for even more lighting options.

Choose VIVA Railings Pool Deck Handrails for Safety and Design
Pool decks are designed to be fun areas where residents or guests can soak up the sun and enjoy some much deserved relaxation, so ensuring the safety and security of the pool deck handrail design is of the utmost importance.

VIVA Railings offers complete railing solutions for an expertly designed space. Our railings are durable and aesthetically pleasing, the whole package for commercial pool decks. To help get the most out of our railings, we have an in-house team of engineers and fabricators who can walk you through the design process and answer any questions you have.
Contact the experts at VIVA Railings today to discuss our expertly engineered commercial pool deck railing options!