Office railing design has come a long way from the boring and sterile options of the recent past. Today's offices blend form and function in a way that creates a comfortable and exciting place to work. Modern glass office railing systems provide safety and stability while also enhancing the overall design and furthering the company's desired aesthetic.
Office railing designs and ideas are as unique as the people that come to work each day, and our systems offer a number of customization options, so each installation takes on a personality of its own. Our glass railing systems offer metal or wood railings, tempered or laminated glass infill, a variety of mounting options, and the choice of pattered, colored, or frosted glass. So whether you're designing learning or social stairs, a grand entrance, or a daring concept, our railings will provide aesthetic value and code compliance.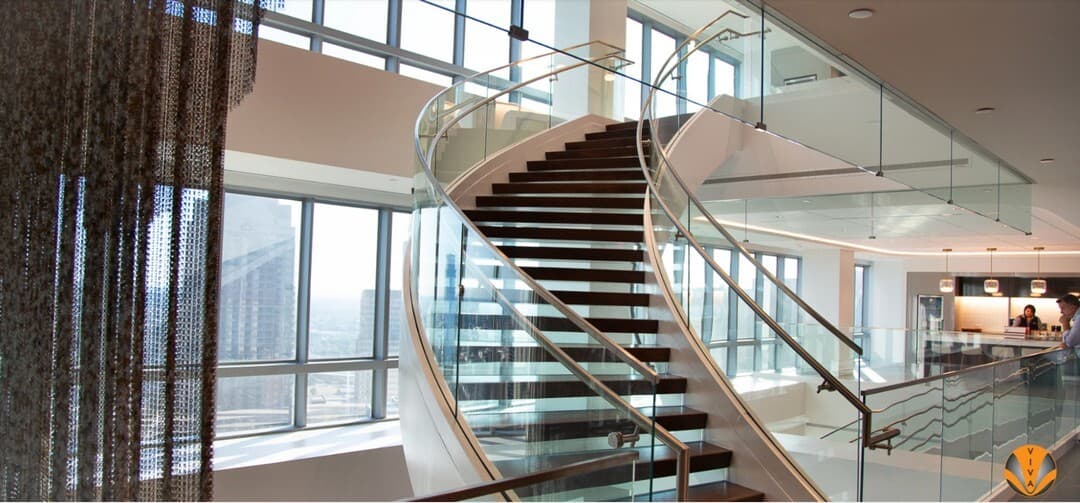 1. Opt for Unobstructed Lines of Sight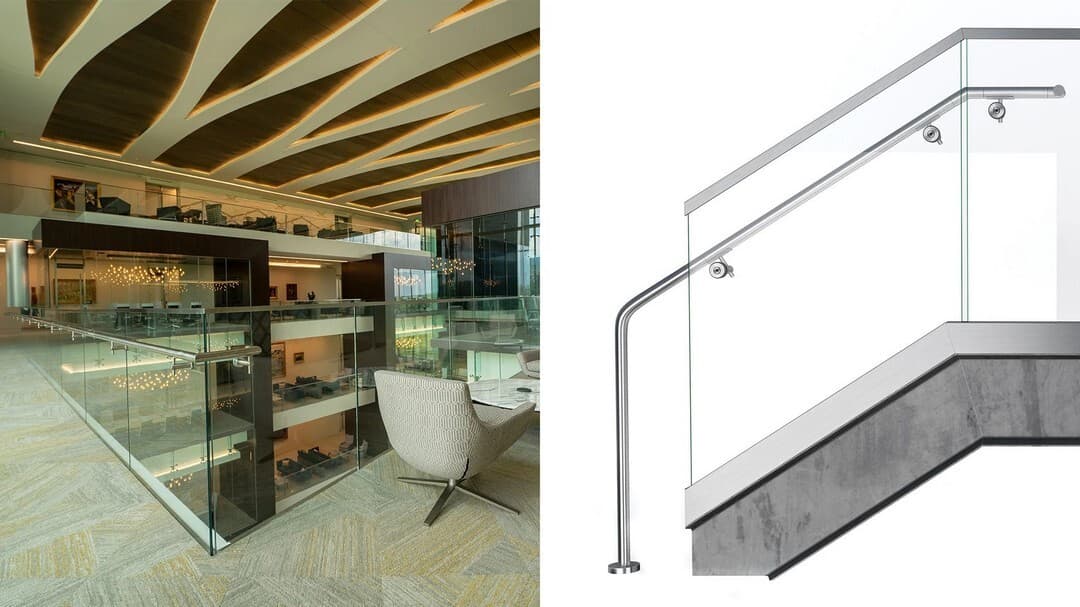 Open concept spaces with large atriums allow for a sense of connectivity among those who work or live there. For atriums especially, maintaining an unobstructed line of sight can help the space seem more open and welcoming.

2. Choose Unconventional Angles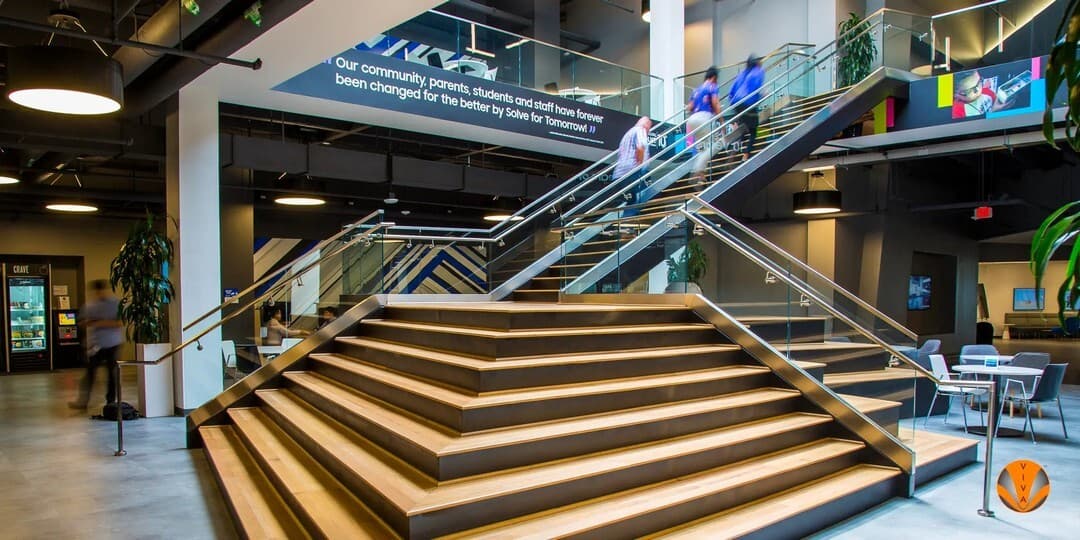 On these learning stairs, the unconventional corner can entice people to use the space and it draws the eye to an interesting visual. VIVA Railing can accommodate both traditional and nontraditional spaces with innovative solutions. For example, at the American Airlines Headquarters, in Texas, VIVA Railings create a drastic angle in some areas to maintain continuity with the dramatic exterior leaning glass effect.

3. Customize the Glass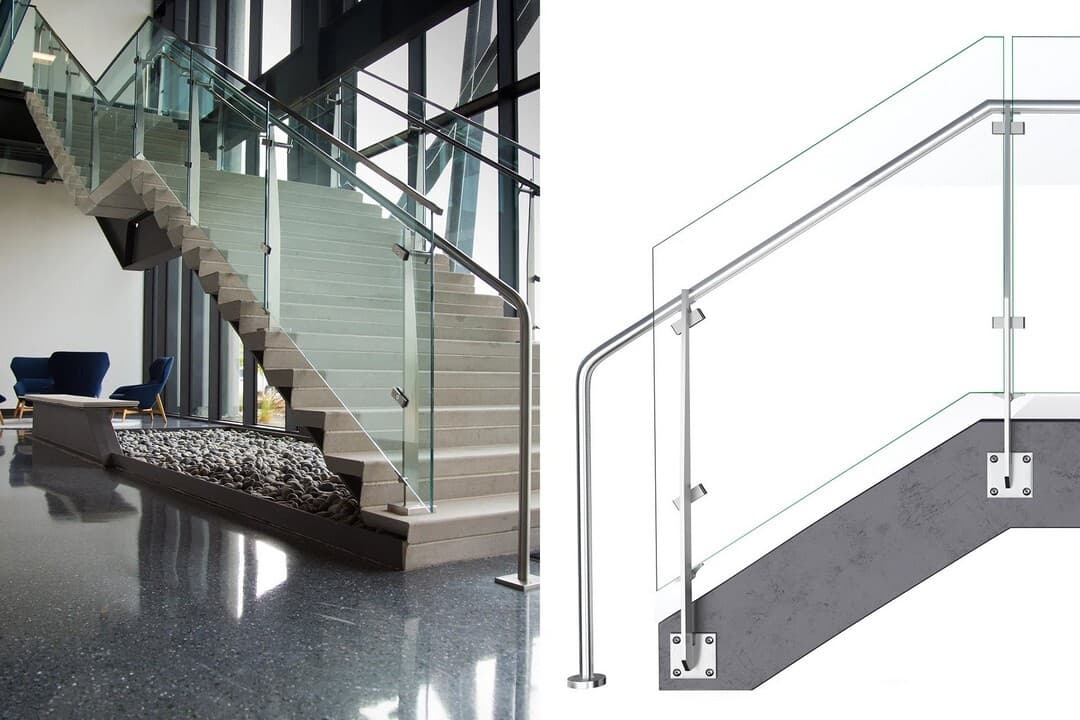 Our glass infills can be customized with frosted, patterned, or colored glass. This gives you the opportunity to add even more character to your design. In spaces with lots of sunlight, this is an especially popular feature as the railings will still allow light to filter through them, but they can reduce the intense glare that can come with sun exposure.

4. Allow Other Features to Shine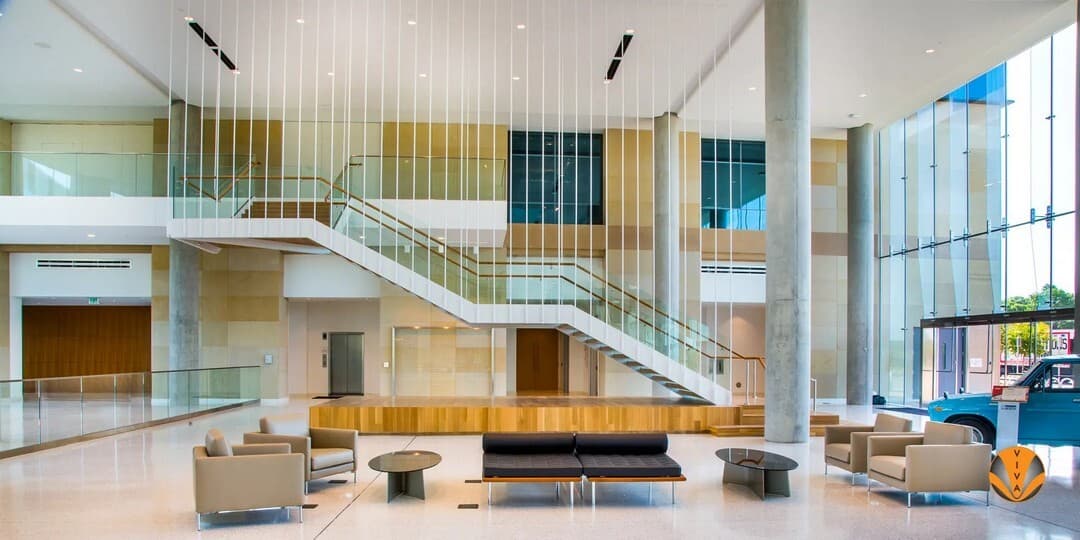 In the space at Toyota's Plano, TX headquarters, the SOLO Glass Railing System features a wood handrail that is supported by a white staircase. This design, stunning in its own right, allows the vertical rails that reach to the ceiling have a moment in the spotlight.

5. Choose Your Mounting Option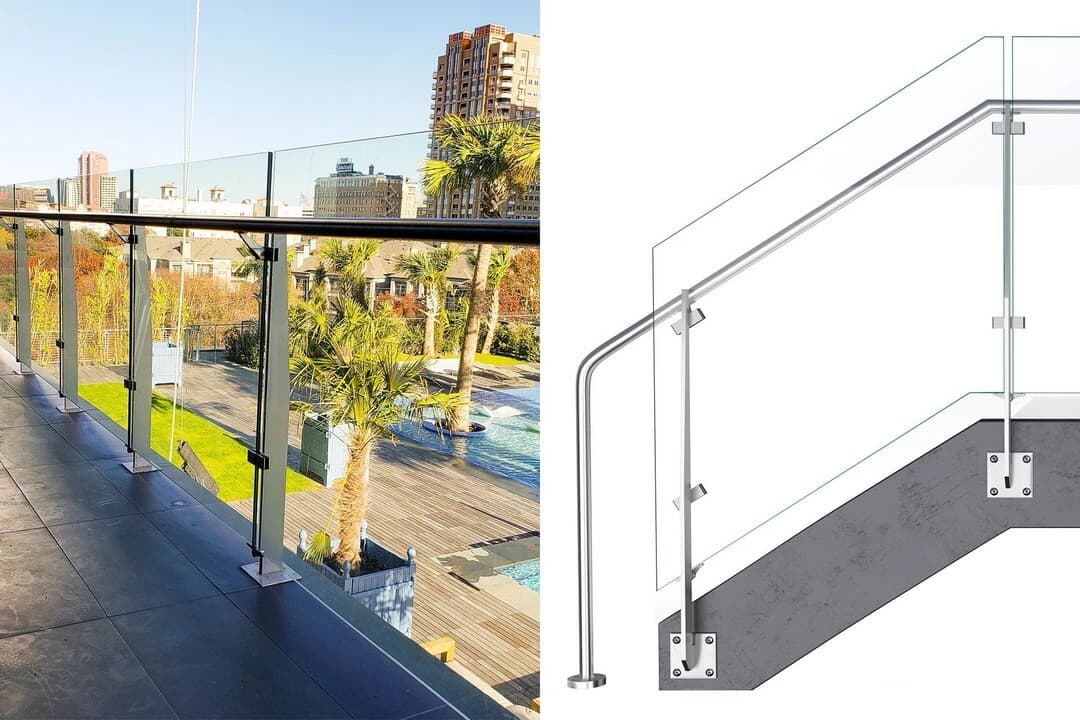 Many of our railing systems offer the option of top, fascia, or coure mount installation, which gives you even more options for customization. Fascia mounted options can make it so the bottom edge isn't as visible, but top mounted railings also allow the full panel to shine and make a statement.

6. Learning Stairs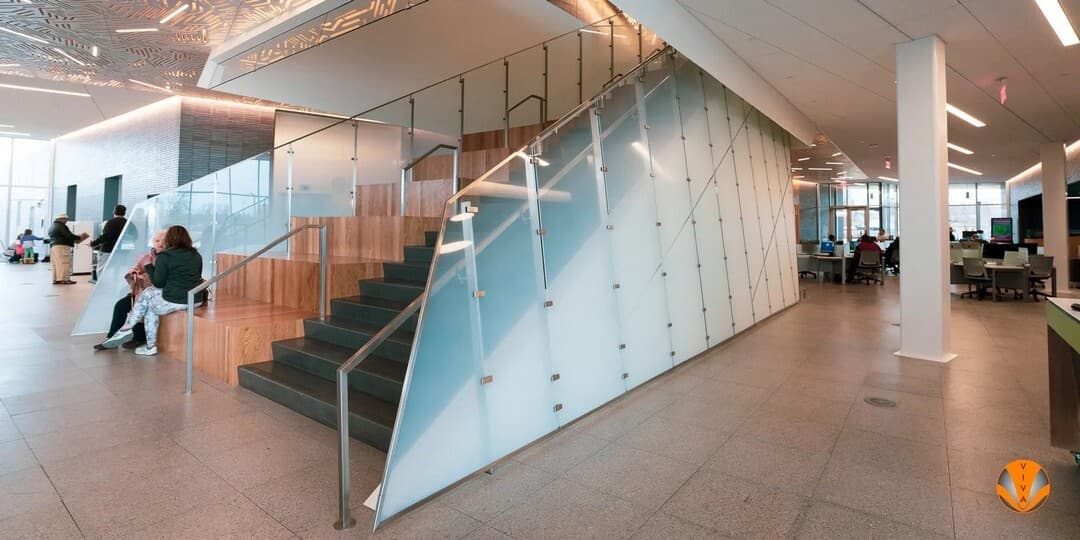 Using stairs as gathering places isn't a new concept, but in recent years, stairs as a social scene or place for learning has gained new momentum in the age of collaboration. In K-12 institutions, universities, and corporate headquarters, wide, open staircases are being integrated as a way to gather people for lectures, presentations, discussions, and social time, and in order to integrate this idea safely, the appropriate handrails and railing systems are necessary.

7. Blending Modern Materials with Natural Elements
The BLADE® Stainless Steel Glass Railing System's ultra contemporary design lends itself well to a juxtaposition with natural elements. The wood stairs in this design pair beautifully with the wood handrail and the dark tinted glass and wide vertical bars add a touch of the modern.

8. Fascia Mounted for a Bigger Visual Impact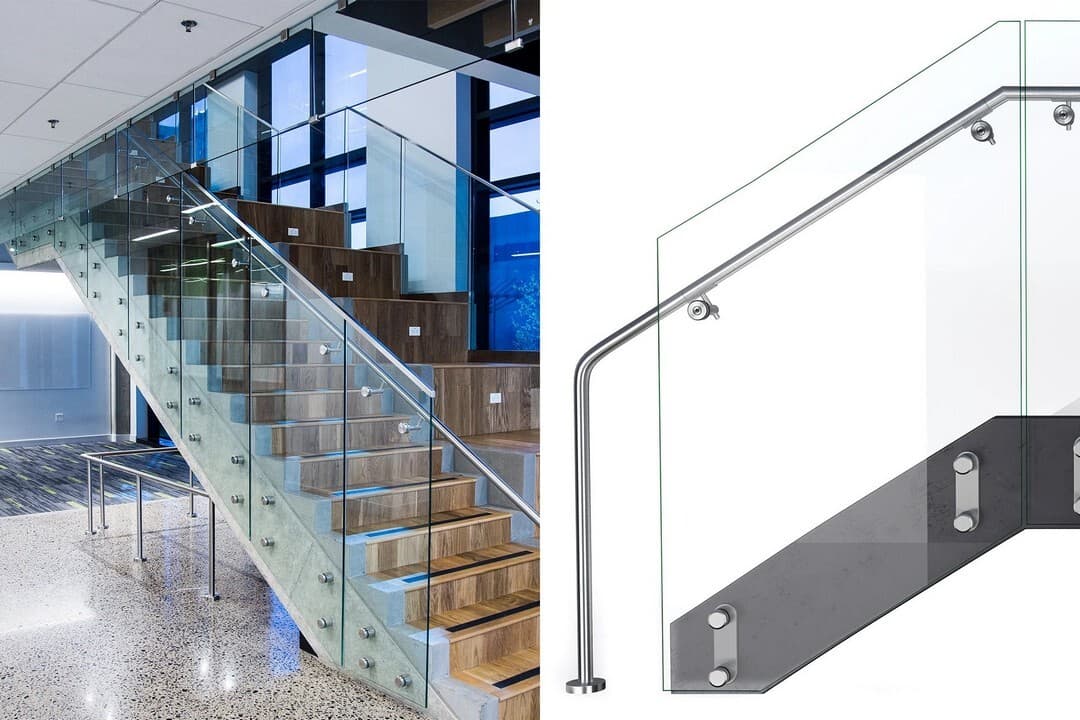 The fascia mounted configuration of the VIEW Glass Railing System allows for the clearest view imaginable. This system offers a big visual impact along with safety and building code compliance. To increase the safety, you can add our iRAIL LED Illuminated Railing to this or any of our products.

9. Choose Wood Handrails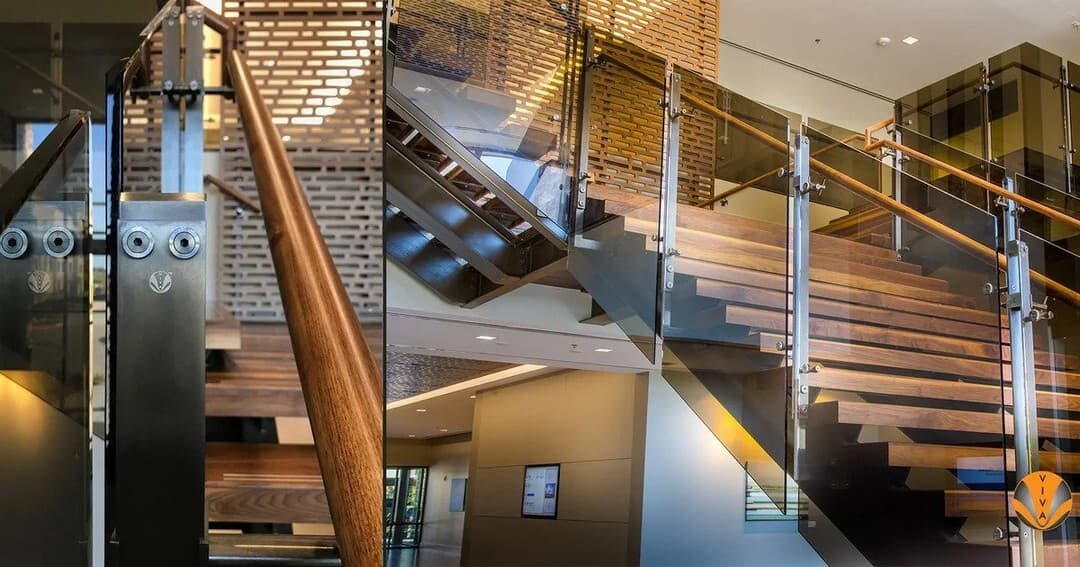 Wood handrails can provide a beautiful contrast to modern handrails. Our wood handrails are available in Red Oak, Cherry, or Maple that can be stained any color and can support our iRAIL Illuminated Systems for added visibility.

VIVA Railings - Endless Handrail Designs and Ideas
If you can dream it, our in-house team of engineers and fabricators can help guide you from concept to installation. We offer custom solutions as well as prefabricated options, but chances are, with the amount of customization available in our prefab systems, you'll be able to find what you're looking for and design the perfect space with the ideal office railing.
Contact the experts at VIVA Railings today to work with our team and design the ideal office railing system.