Hospitals serve a unique purpose. They provide medical care, support, safety, comfort, and innovation, and they serve a wide range of people with varying abilities. In order to create the safest place possible to tend to a patient's medical needs, it's important to create an environment that exudes safety and security as well as make every feature as accessible as possible. VIVA Railings offers a wide range of the best and safest hospital rail systems available, and they make sure that every detail is considered to create a beautiful, sturdy, and safe hospital handrail.
Our options include:
Glass, cable, CableNet, and picket infill systems
Wood or material handrails
Powder coated finishes
Frosted, patterned, or colored glass infill options
VIVA Railings meet all building code requirements and ADA standards for accessibility, which makes them the ideal medical handrails for hospitals, medical schools, and health centers. In most cases, hospital handrails should be provided on both sides of a corridor that will be accessed by patients. Hospital corridor handrail requirements are similar to handrail requirements for stairways and ramps.
Hospital Handrail Requirements
Following the ADA standards for accessibility, hospital hallway handrails as well as handrails on stairs and ramps must:
Have a minimum of a 12" extension on the top of the stairs going in the same direction as the stair flight
Have a minimum of one tread depth slope extension on the bottom of the stair flight
Return to a wall, guard, or floor
Not rotate in their fittings
Be 34"-38" from the tread nosing or walking surface to the top of the gripping surface
Be free of obstructions on the gripping surface
Not be obstructed on the bottom for more than 20% of the length
Maintain a continuous run for the inside handrails at switchback or dogleg turns
Have a cross section of between 1 ¼" and 2"
Have a minimum of 1 ½" of clearance between the handrail and the adjacent surface
Hospital Railing Ideas

Whether the design calls for hospital corridor handrails, hospital stair handrails, or hospital ramp handrails, VIVA is ready with a range of customizable systems that can meet hospital handrail height and design requirements and add to the aesthetic of the space.
Powder Coat the Handrails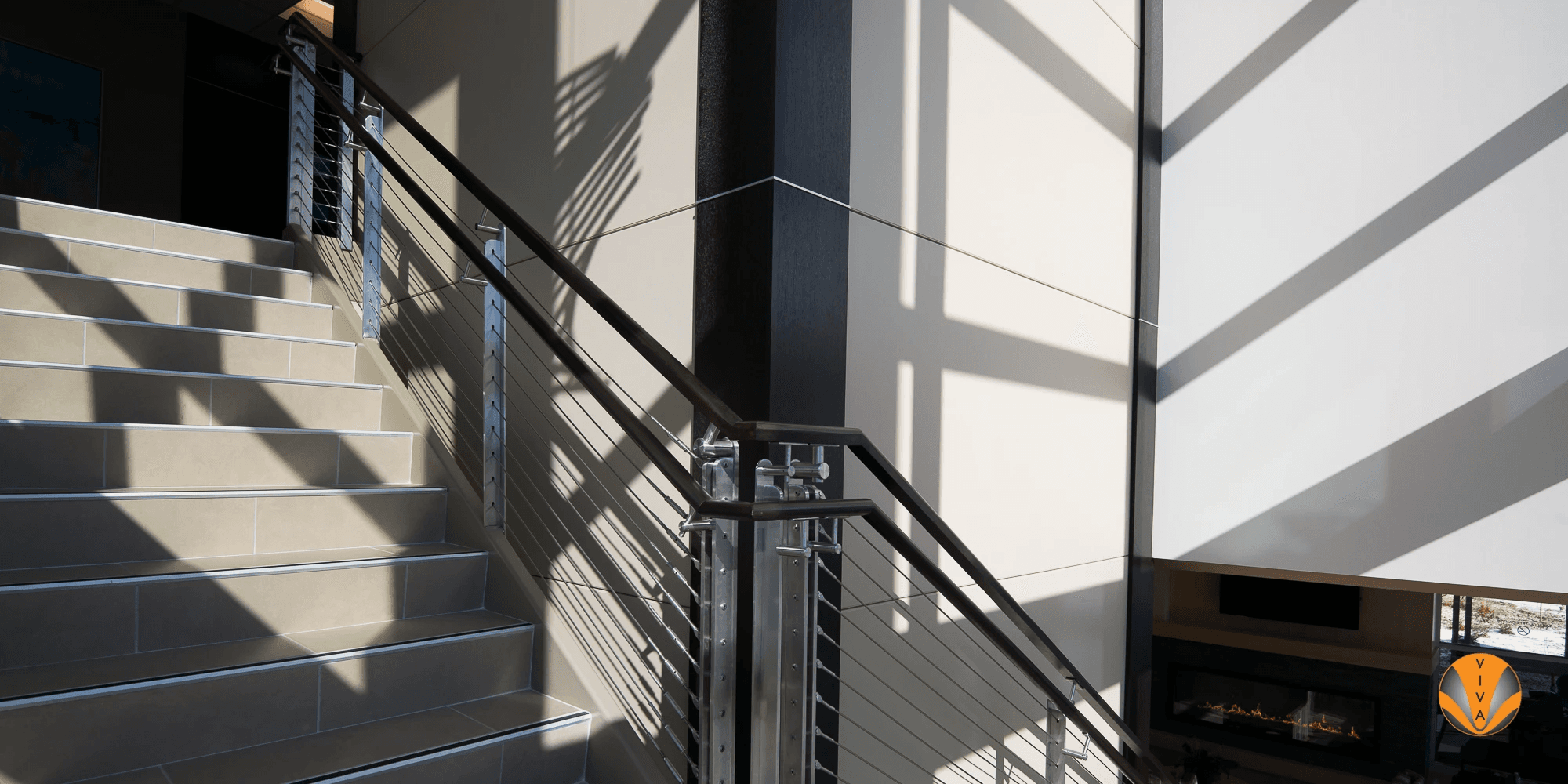 To achieve enhanced aesthetics, the handrails that provide support in the Minnetonka Medical Center are powder coated to create a modern and minimal look. The streamlined look of the TEE™ Cable Metal Railing System compliments a minimalist design and offers post stability against the tension from cable strands with the structural "T" section that also conceals the cable mounting hardware.
Create Safety without Separation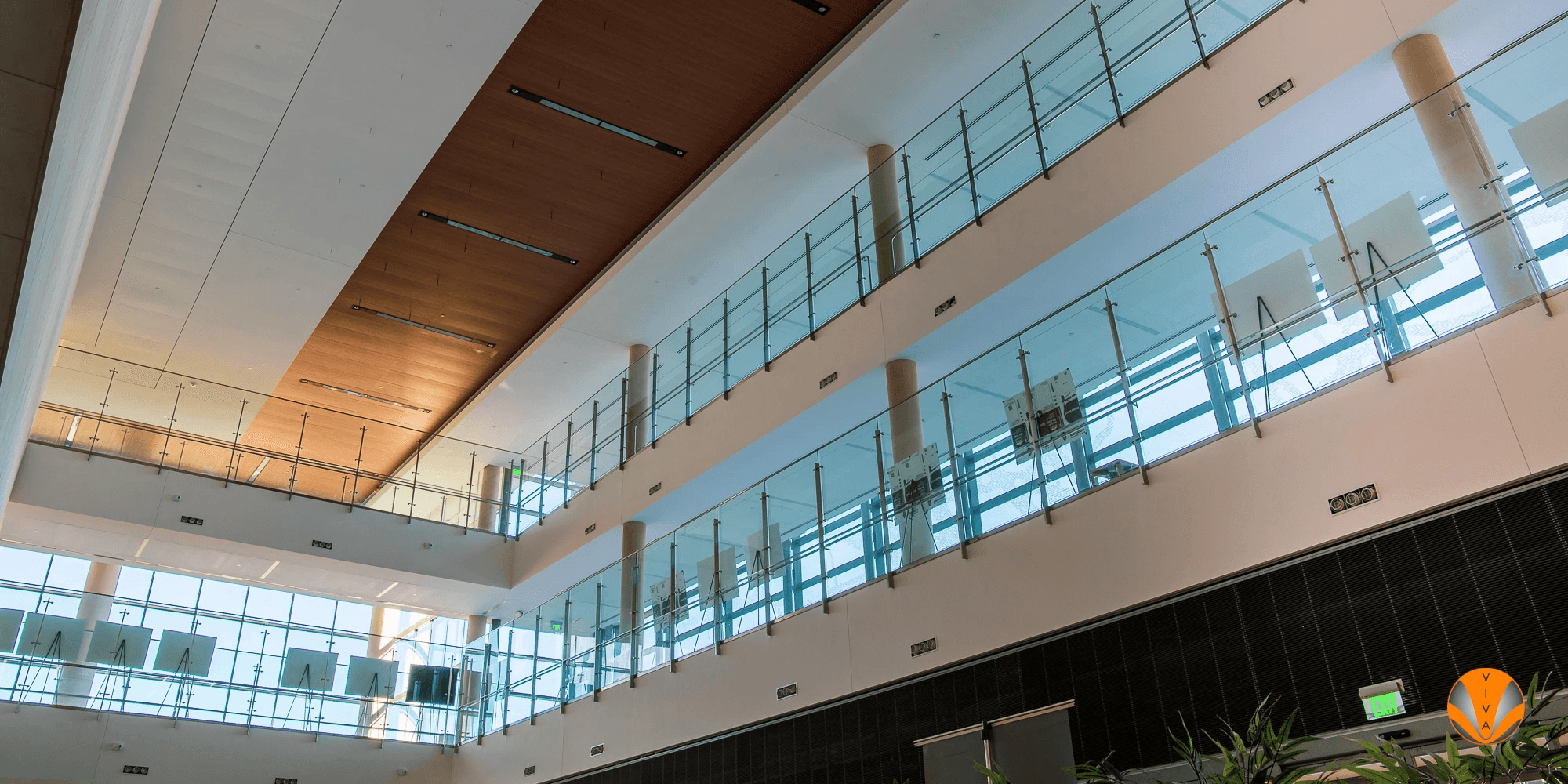 The extra tall glass barriers at the Parkland Hospital create safety without separation. The SOLO™ Glass Railing System is the perfect fit for this atrium as it balances an unobstructed view with superior safety. This custom system exceeds the guard height requirements while meeting the requirements for hospital handrail height.
Maintain a Line of Sight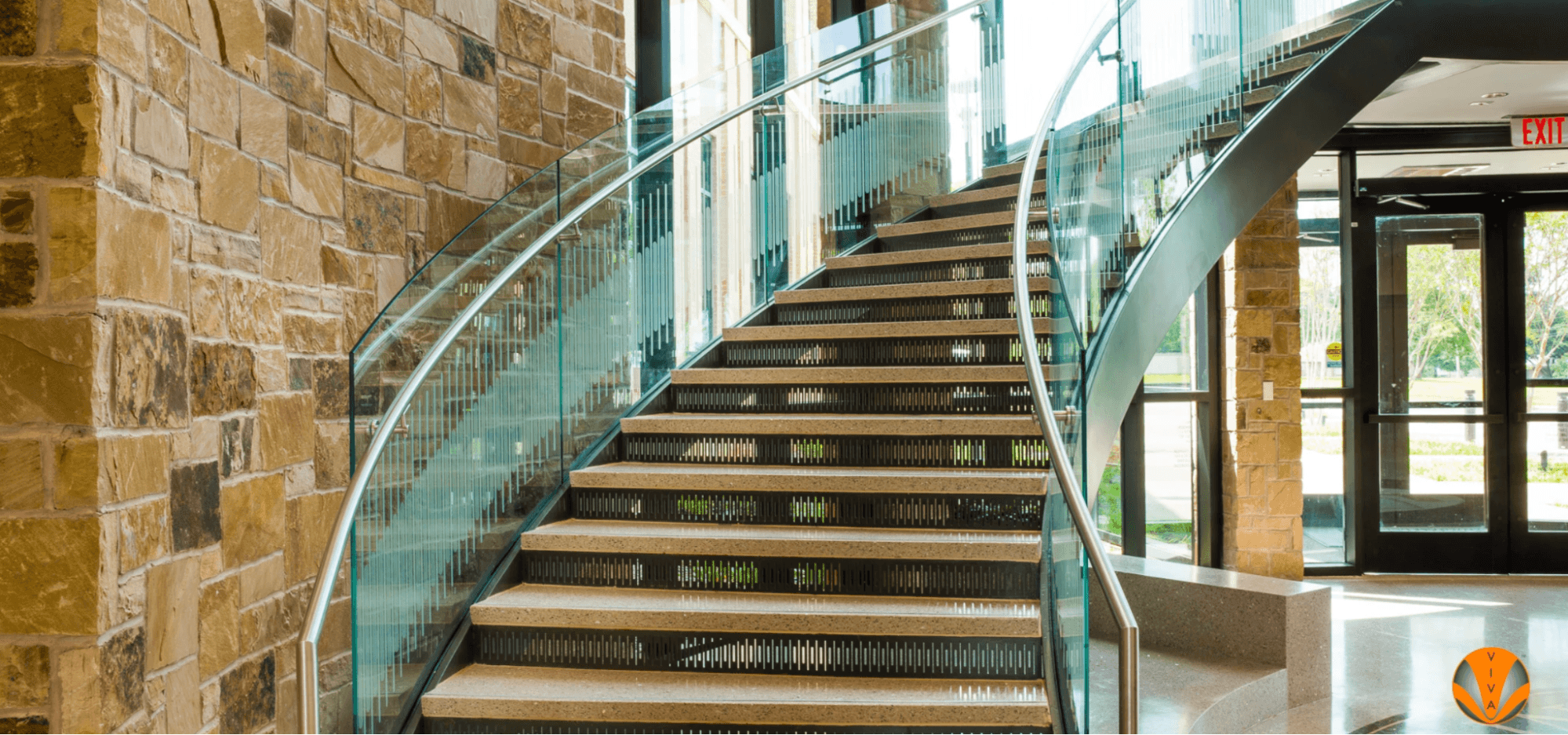 At the Southwest Adventist University Nursing and Admin building, the SHOE™ Structural Glass Railing System was used as a barrier for a large spiraling staircase. Available with a variety of mounting options — top, fascia, or core mount — this system's tempered glass infill provides optimal lines of sight, which creates an open and unified feel throughout the building.
Follow Switchbacks with Ease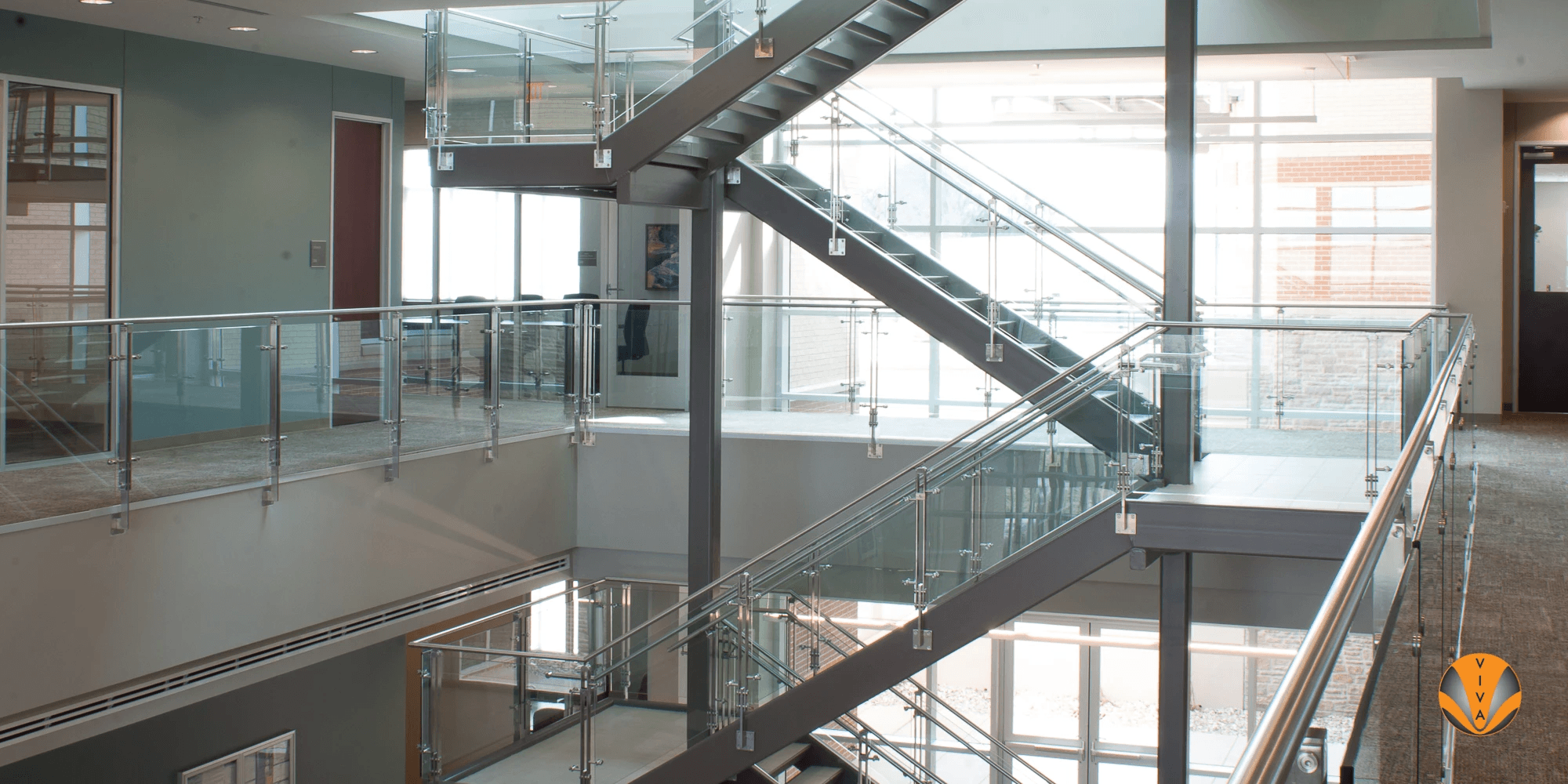 One of the hospital railing requirements is that they are continuous on the inside of switchbacks. On this multi-level staircase in the Baylor Scott & White Clinic, the BLADE® Glass Railing System not only provides unobstructed views, but it also allows for continuous railings.
Choose Wood for Natural Warmth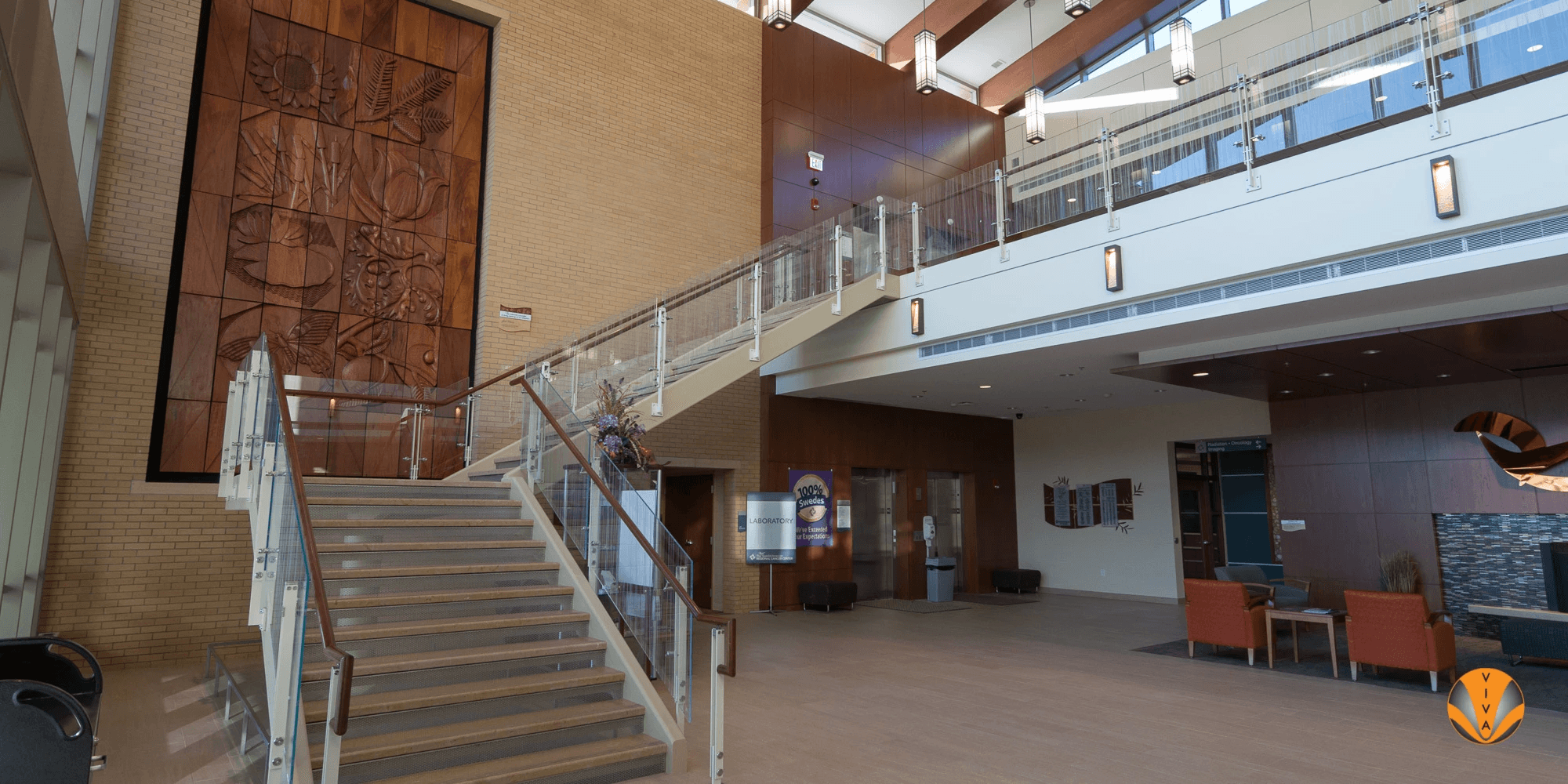 In this design at the Swedish American Regional Cancer Center, wood accents are strategically placed throughout the design to bring natural warmth to a modern space. The wood handrail chosen for the BLADE® Glass Railing System coordinates with the wood art installation to create a friendly environment for patients and staff.
Add Custom Details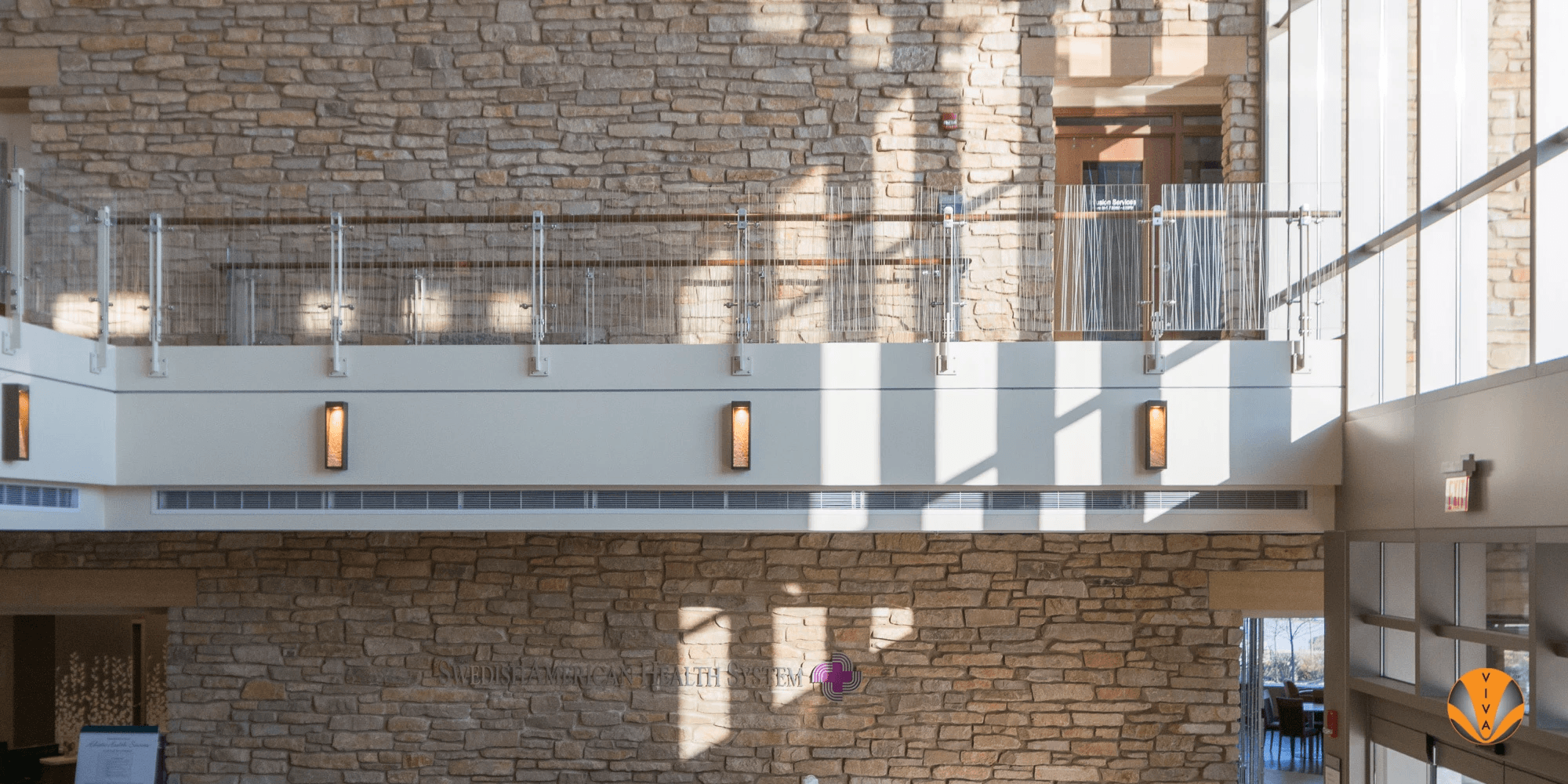 The BLADE® Glass Railing System at the Swedish American Regional Cancer Center also uses custom frosting to add an interesting detail to the hospital handrails, the vertical lines evoke the look of upright branches and complement the wood handrails and other wood accents in the space.
Create Gentle Curves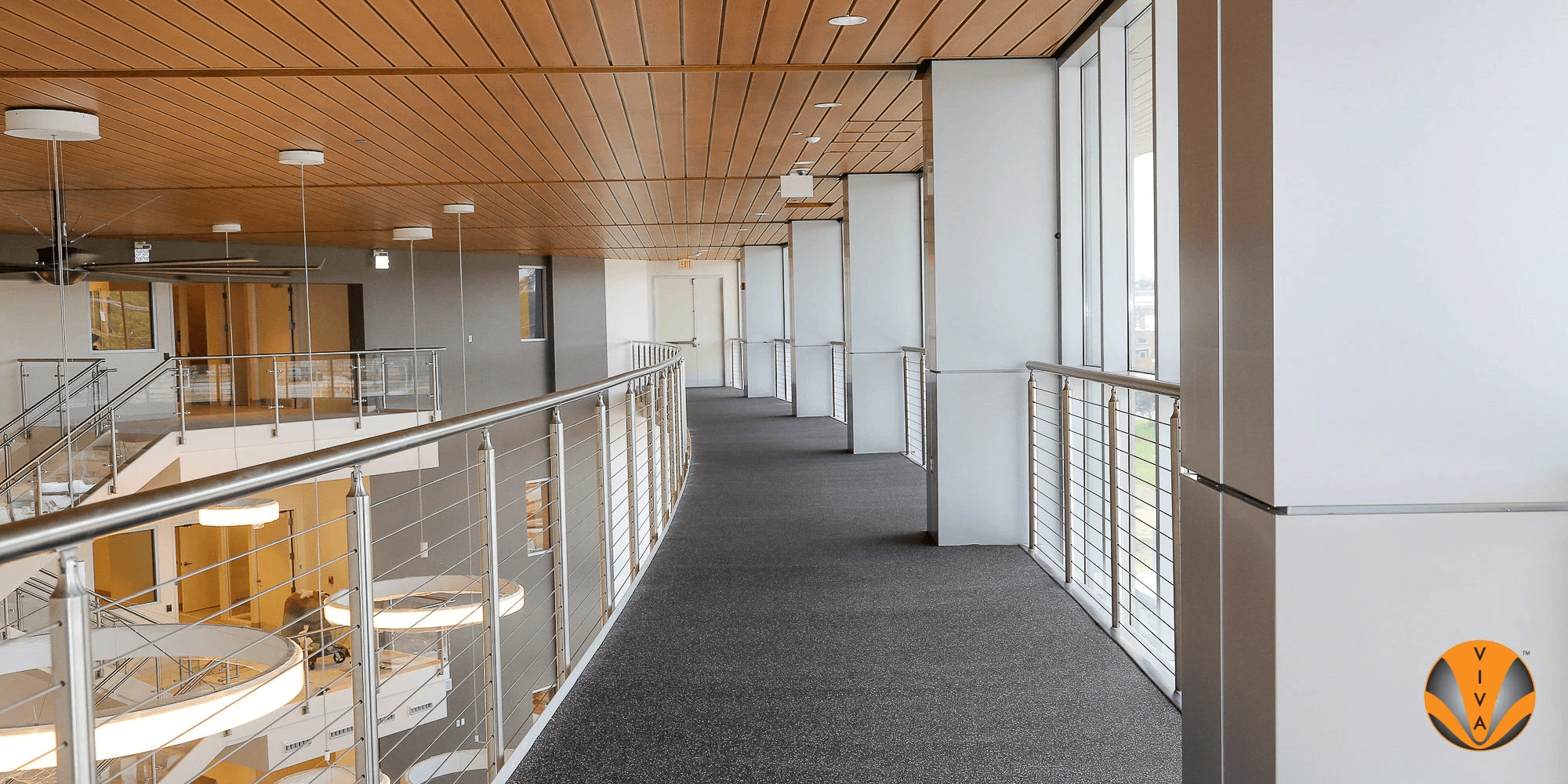 The CIRCA™ Cable Railing System used at the Lentz Public Health Center in Nashville, TV effortlessly curves for this hospital corridor handrail and uses stainless steel cable infill to provide low maintenance safety for those using the space. The simple yet timeless look of this wire rope (cable) railing system provides the perfect support system for a modern medical building.
Support Multiple Elevation Changes™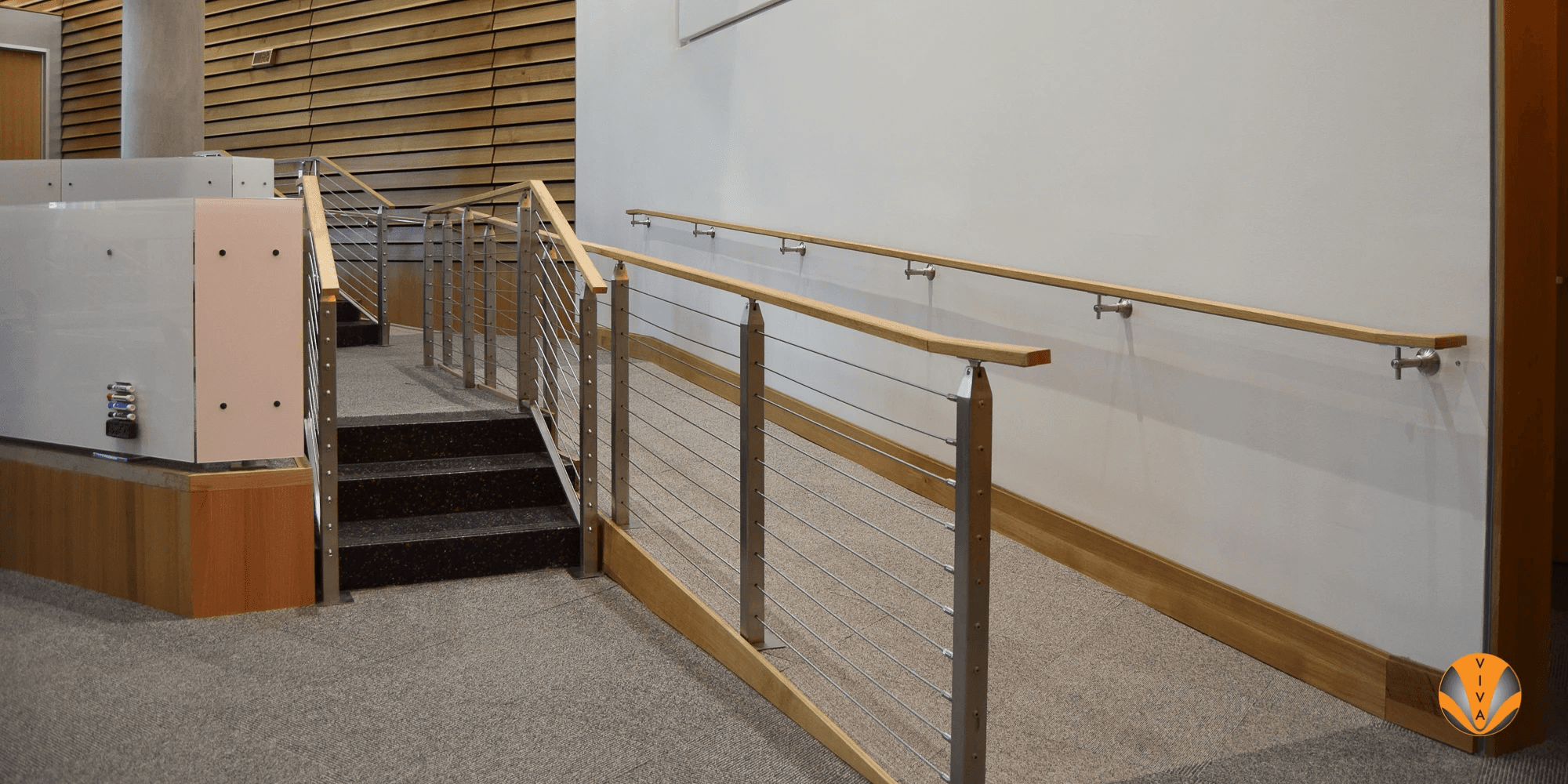 This commercial interior railing system is able to handle multiple elevation changes with ease, by gently sloping up the ramp and taking on smaller runs for short staircases. The CUBE™ Cable Metal Railing System's contemporary look works well with flat bar wood handrail to provide support for everyone and especially those with mobility issues that must use the ramp instead of the stairs.
Choose VIVA for Superior Hospital Handrails
VIVA's line of handrails work as the perfect hospital rails. They meet building codes and ADA standards and can be customized to fit your specific design requirements. Infill options include glass, which can be patterned, colored, or frosted, cables, CableNet, and picket panels. Powder coated or metal rails and four profile options means you'll have a customized hospital handrail system that will provide safety and security for all who use the building.

Contact the experts at VIVA today to discuss our hospital handrails and how they will work in your design!