In design, the details matter. From the actual building to the interior furnishings and the artwork hung on the wall, each detail comes together to create a feeling and serve a purpose. Today's handrails are uniquely suited to contribute to the overall design of a space, and, using modern materials and techniques, provide safety and enhance the design.
Frosted glass railing designs are an added design element to a standard safety feature. Where infill is used, it elevates the space and can be used to fill in the entire deck, stair, or balcony railing while still allowing for filtered light, or it can be used as a creative design feature or way to add messaging and branding.
The following case studies use a frosted glass railing design to enhance the space and design:
SMU Hughes-Trigg Student Center
The Hughes-Trigg Student Center is the heart for student activities at Southern Methodist University. The 112,000 square-foot center features a variety of programs and resources for students to further their education. Hill & Wilkinson Construction and Parkhill, Smith & Cooper, Inc partnered to design and construct the new building, and for their railing selection they chose the SHOE™ Structural Glass Railing System from VIVA Railings. SHOE™ is a cutting-edge aluminum and glass railing solution featuring a patented compression set aluminum base shoe system. Ideal for both commercial interior and exterior applications, SHOE™ Glass Railing is well-suited for balcony and stair railing installations. This architectural marvel not only ensures a secure fall protection system but does so without the need for an unsightly barrier.
The versatility of SHOE™ Aluminum Glass Railing is evident in its ability to be mounted either on top or on the fascia. You can customize your railing system further by choosing between a glass bracket mounted handrail, a round top cap, or a U-channel top cap. The base shoe comes in either stainless steel or with an anodized aluminum cladding.
Enhancing both safety and aesthetics, VIVA's tempered glass infills offer an optimal line of sight with a touch of understated elegance. The glass infills start at a minimum thickness of 3/8″ and are available in PVB or SGP laminated glass. For those looking to add a dash of creativity to their design, colored, patterned, and frosted glass options are also available to meet your specific intent and requirements.
University of Florida - Harrell Medical Education Building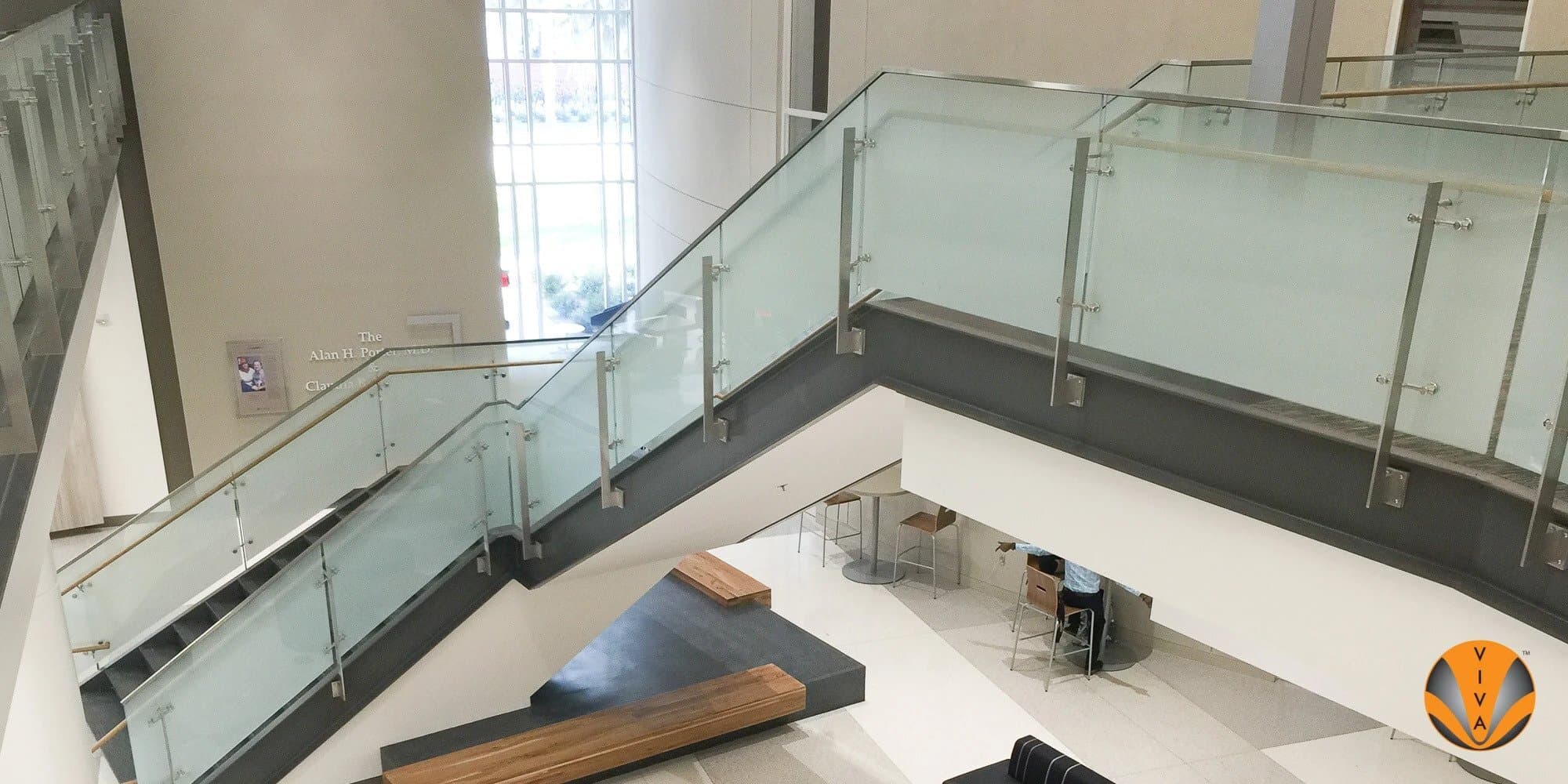 In 2015, the Harrell Medical Education Building opened its doors to students and unveiled not only a new building, but also a new, updated curriculum that would allow University of Florida Medical students to be ready to enter the modern world of medicine. The former College of Medicine had been located in "the windowless basement of a 1970s building," according to the former dean of the University of Florida College of Medicine. The updated space stands in sharp contrast to the former space, by welcoming in lots of natural light and using many strategies, including frosted glass railings, to encourage a bright, open space.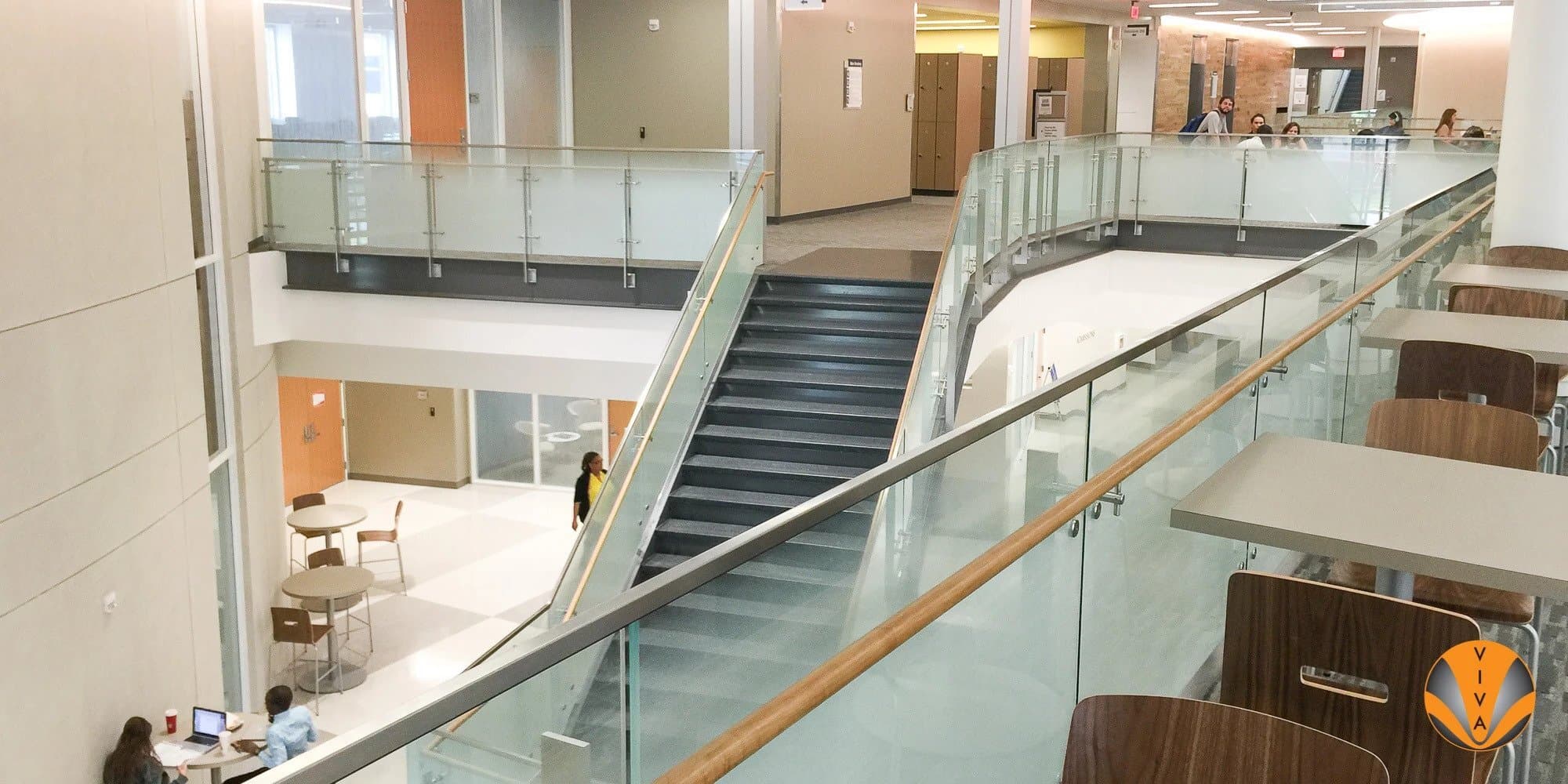 In this 95,000 square foot project, the University of Florida created a space where students get hands-on learning experiences along with places to collaborate as well as places to work independently. Incorporating glass, metal, and wood was key in creating an open and welcoming space that was the antithesis of the old space.
VIVA Railings frosted glass balcony railing and frosted glass stair railing is used to create a safe environment that meets building codes without fully obstructing the views throughout the atrium. Featuring a wood handrail, the SOLO™Glass Railing System balances contemporary elegance with natural warmth, and the frosted glass infill allows light to filter through the space.
Dartmouth-Hitchcock Medical Center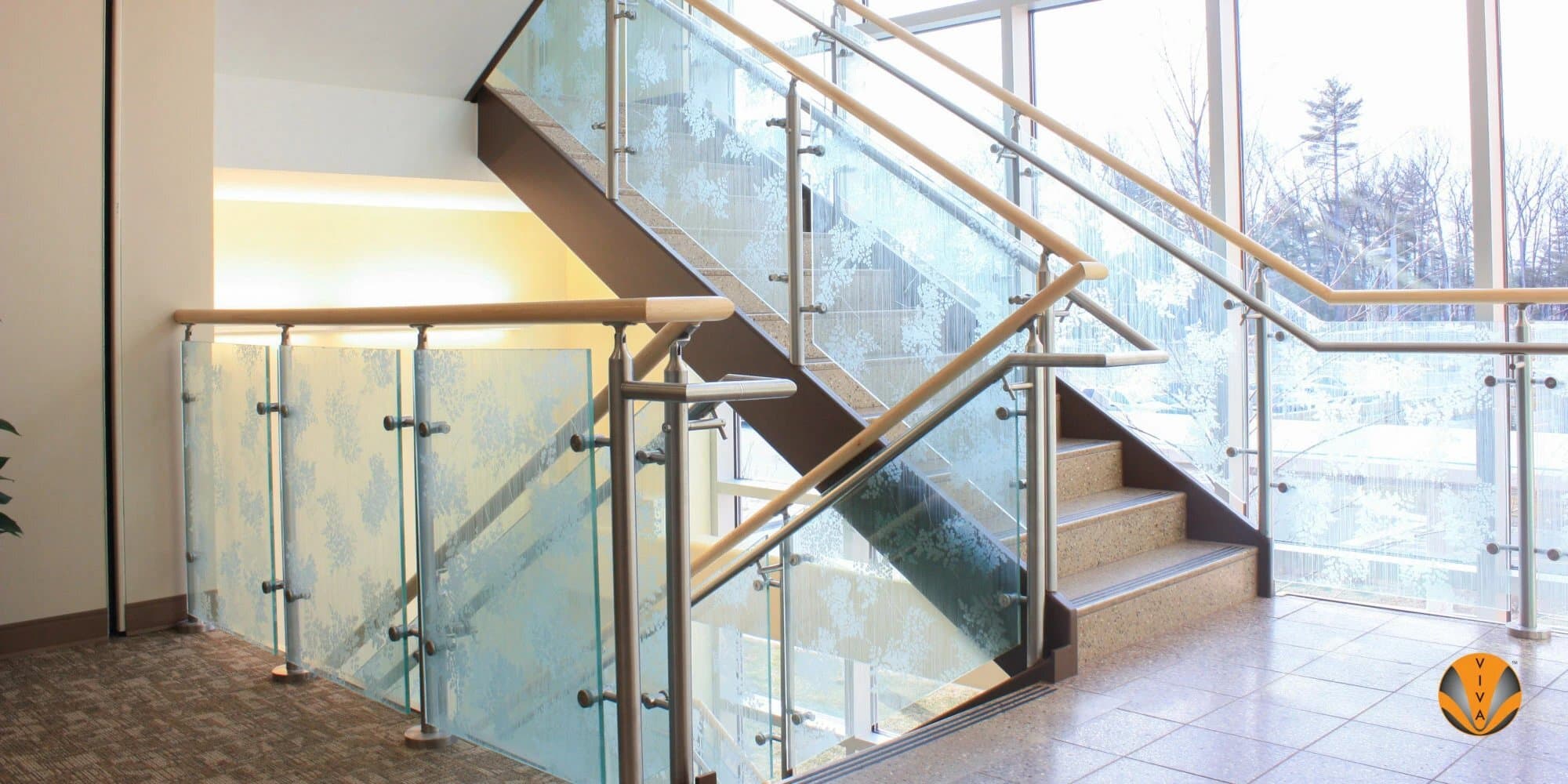 The Dartmouth-Hitchcock Medical Center in Nashua, New Hampshire is one of many medical centers that make up Dartmouth Health and they provide a wealth of services and programs along with medical care. In the design of the Dartmouth-Hitchcock Medical Center, a customized frosted glass image was etched on the glass infill to create an interesting look while also filtering light as it enters through the windows.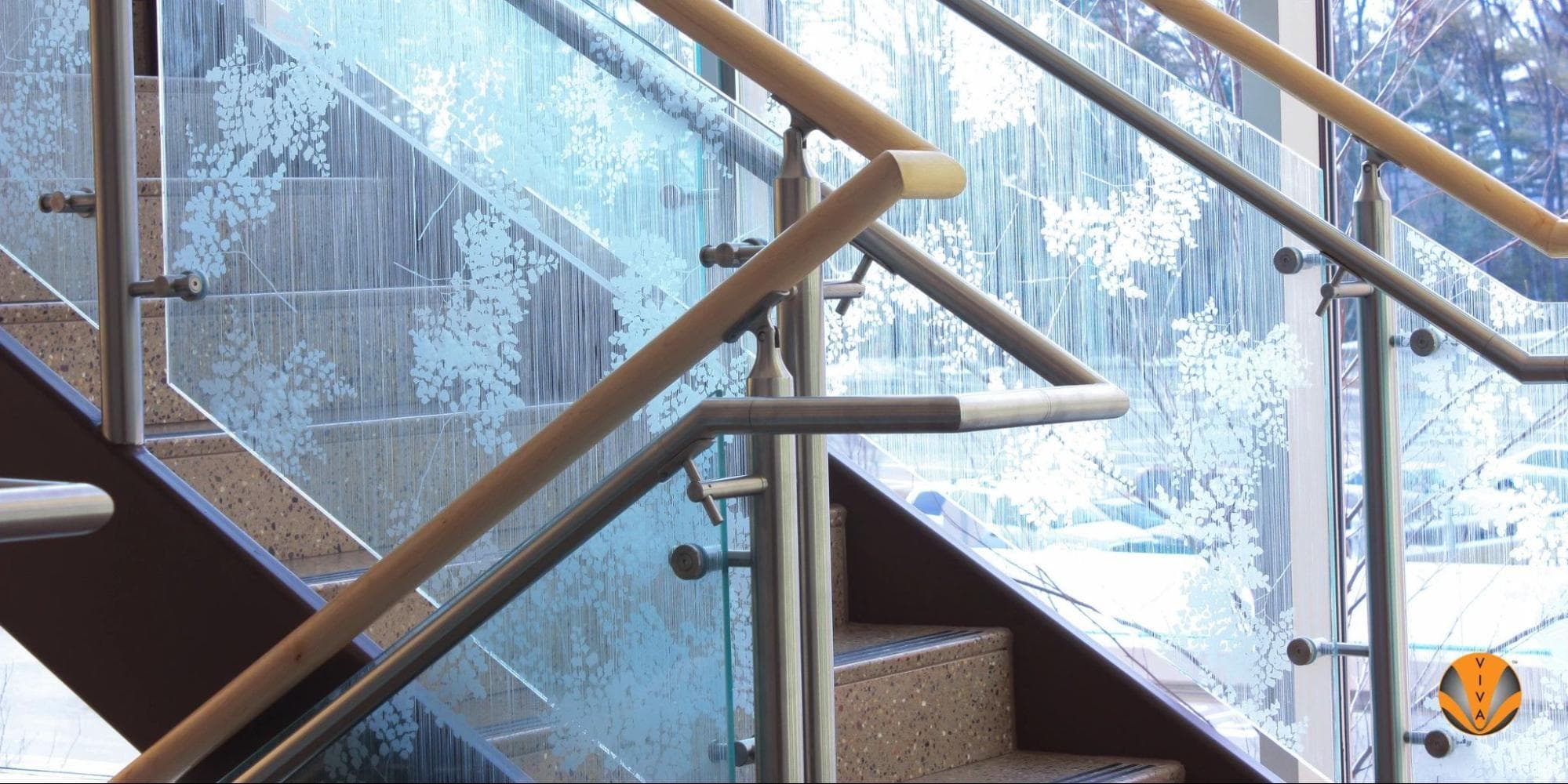 This nature-inspired design is used as the infill for the CIRCA® Glass Railing System to create a simple yet timeless look. The wood top rail adds another natural element and the round tubular posts create continuity with the handrails. The frosted glass railing panels are mounted with fixed point holders with space between the other elements for an open feel.
River Bluff High School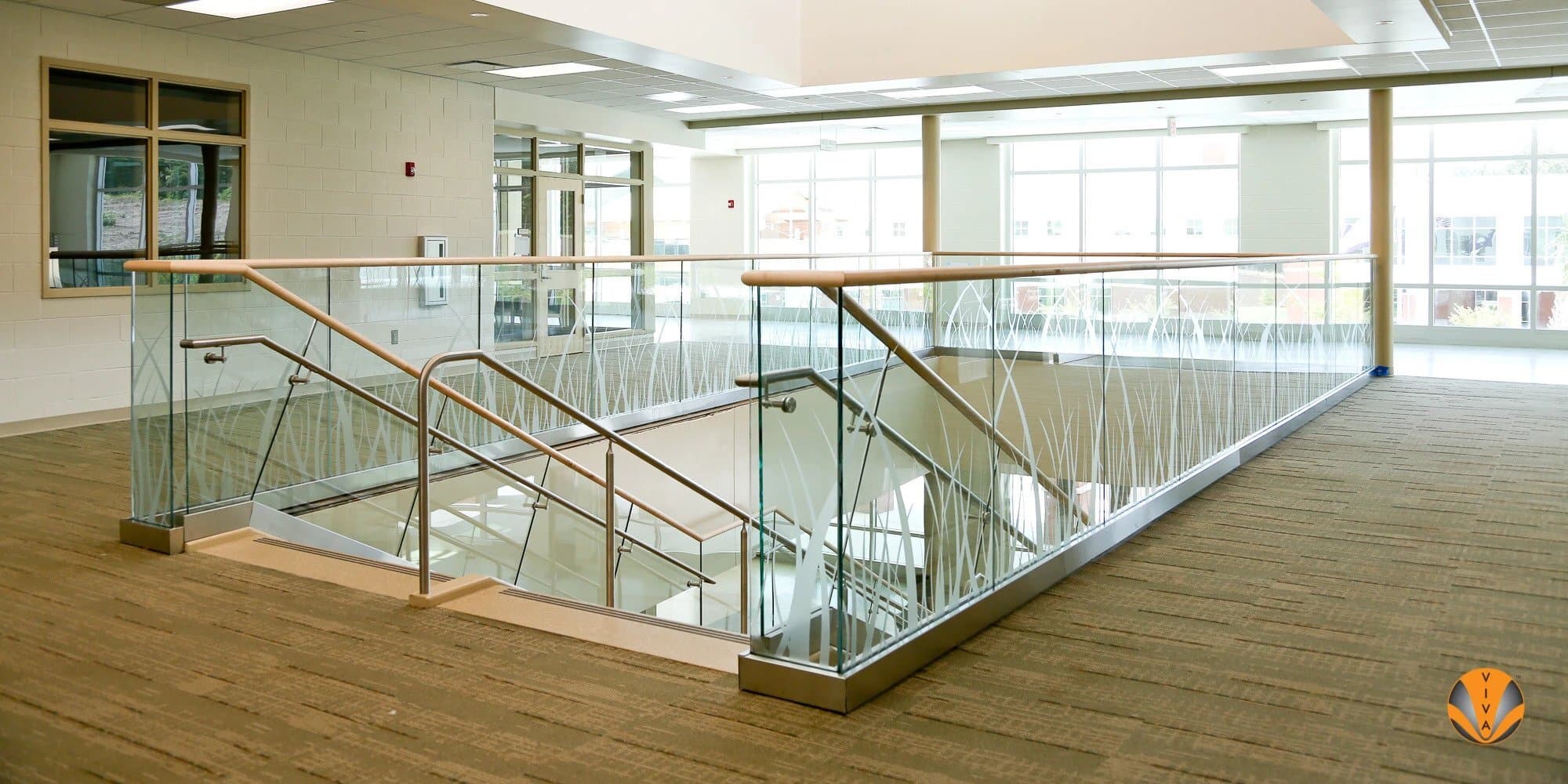 Twenty-first century educational spaces often stand in sharp contrast to learning environments of the past. Today's educational buildings focus on collaboration, communication, and technology and incorporate traditional spaces for learning and independent work. To fully capture the spirit of the new learning environment, River Bluff High School's design focused on sustainability and environmentally responsive construction.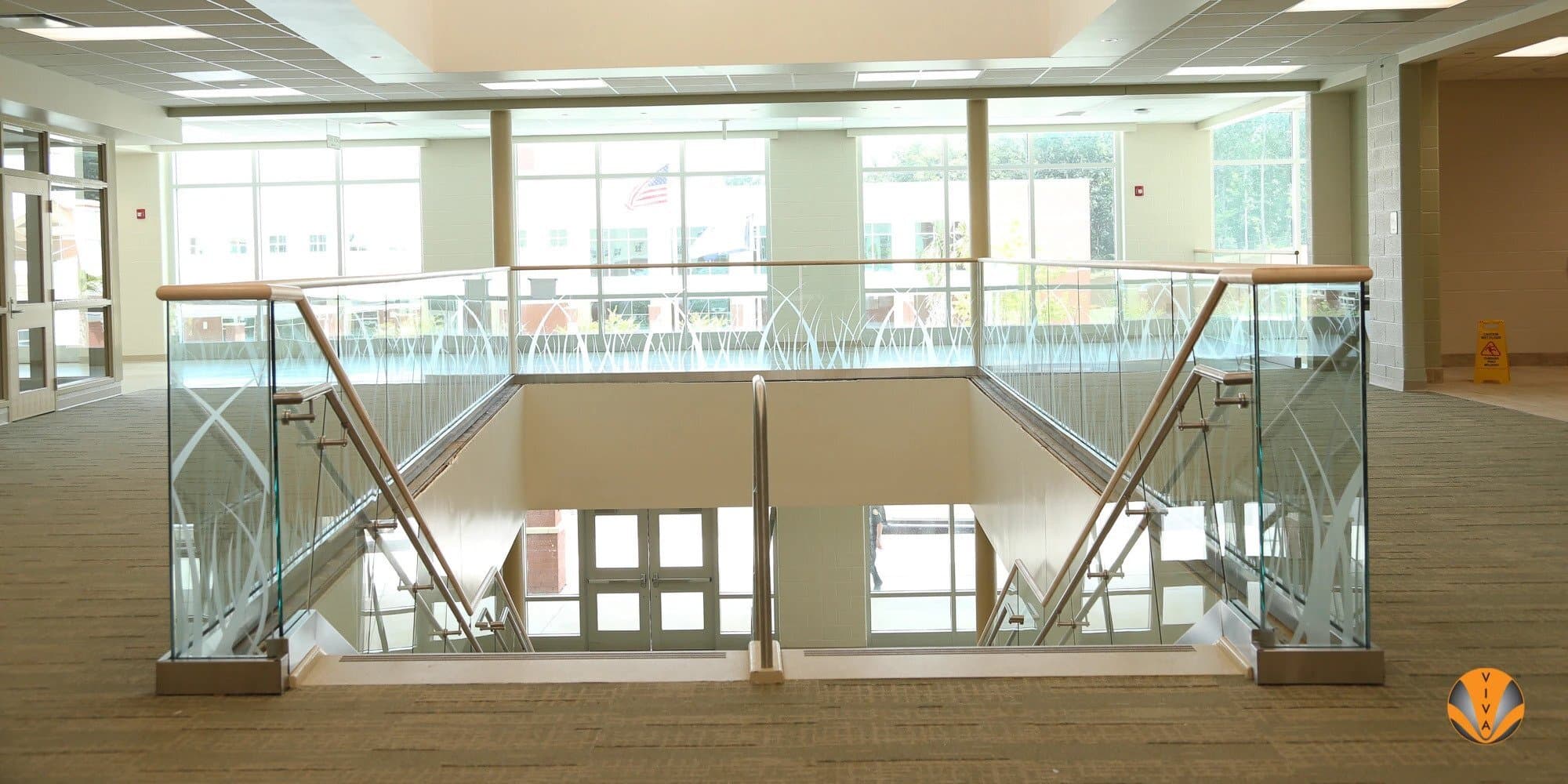 To make students feel welcome and inspired, the design of River Bluff High School incorporated VIVA Railings SHOE™ Glass Railing System, an aluminum railing system with a patented compression set aluminum base shoe system. Incorporating a frosted glass balcony railing as well as a frosted glass stair railing with an infill that included a design reminiscent of blades of grass gently swaying in the wind along with wood top rails helps to achieve the goals of a sustainable design that supports learning and creativity.
Enhance Your Design with VIVA's Frosted Glass Infill Options
VIVA Railings are durable, detailed, and distinct handrail designs with the option to include frosted glass infill. Incorporating frosted glass infill panels into our beautiful handrail designs can help to filter light and disperse it throughout the space. You can also incorporate customized frosted glass designs to enhance the creativity and aesthetic appeal of the design.
Our in-house team of engineers and fabricators will walk with you from concept to installation and our total railing solutions can be found in various educational and healthcare spaces that also want an emphasis on sustainable and visually appealing designs. We offer prefabricated and custom options along with wire mesh and cable infill options. You can also choose from our powder coating options and incorporate a lighted LED rail system for added safety and visibility.
Contact the experts at VIVA Railings today to begin your frosted glass infill design!