Commercial deck railing systems often fill multiple roles in a commercial space, and they must meet certain building code requirements along with guidelines for accessibility as required by the Americans with Disabilities Act (ADA). Meeting the requirements for commercial deck railing height, profile, and runs allows them to create the safety needed for all who use the commercial space, including those with disabilities or mobility issues.
In addition to meeting safety guidelines, commercial deck railings should add to and enhance the aesthetic of the design. This can be done through prefabricated or custom solutions, and having a choice of a variety of systems can help you meet all of the safety and design needs of the space.
Our commercial deck railing systems and materials are engineered to meet building codes and ADA standards and are designed to be a beautiful addition to the space.

Metal Railing Systems

Our cable railing systems offer options of horizontal cables, vertical cables, perforated metal, and cable net. Within each system are many options for customization, including powder coating options, perforation patterns, and wire mesh or cable net infill. These options allow you to create the ideal railing system to meet the needs of the space.

1. Cable Metal Railings

Cable metal railing systems are a streamlined approach to safety and design. Powder coating options as well as wood or metal handrail options can help you customize the railings to each application.

CUBE Multiline Railing System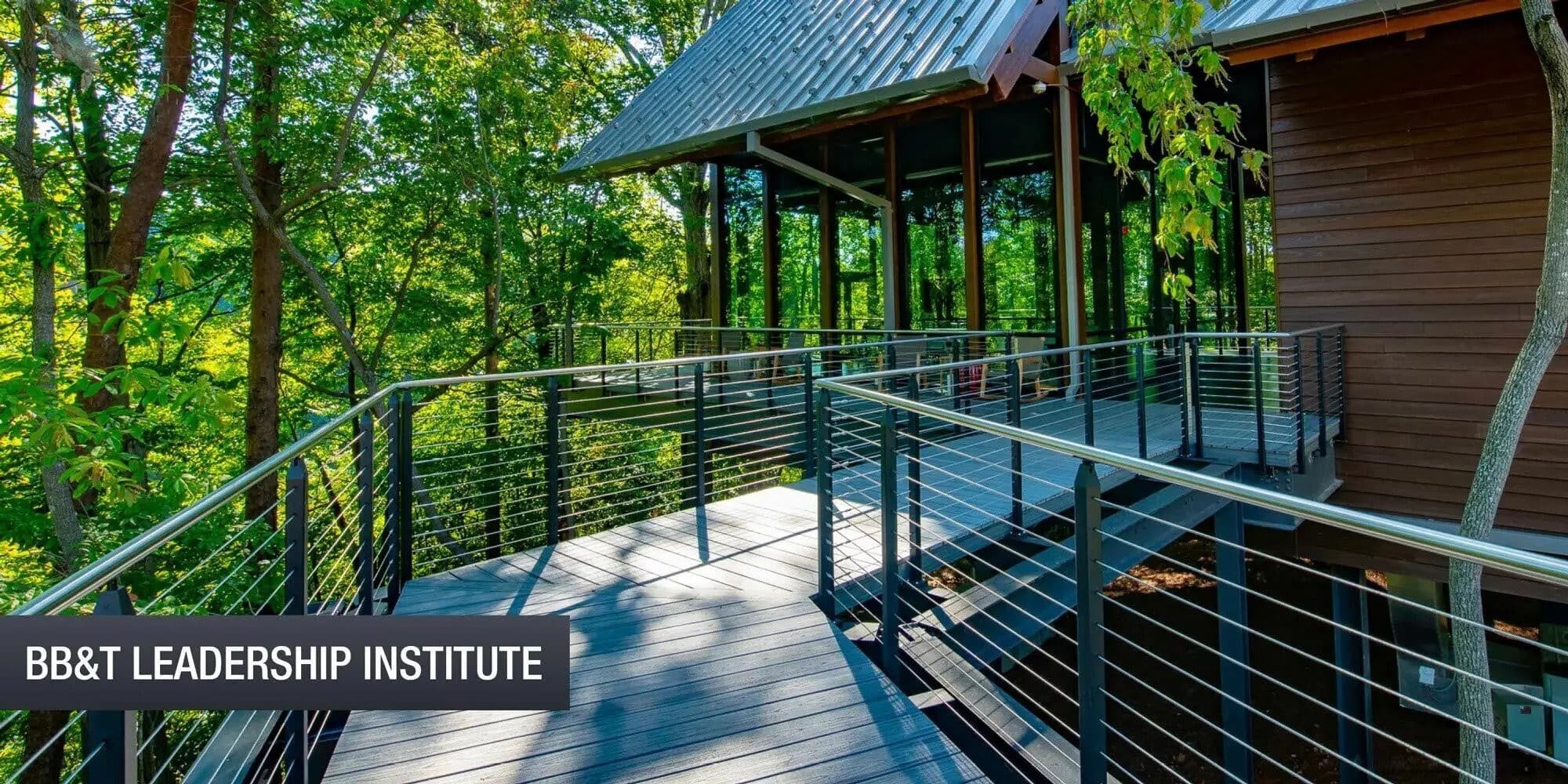 The robust, contemporary look of the CUBE Multiline Railing System is thanks, in part, to its square posts and monolithic pyramid caps that create continuous clean lines. The choice of metal or wood handrails allows you to customize the railing to the needs of the space.

TEE Cable Metal Railing System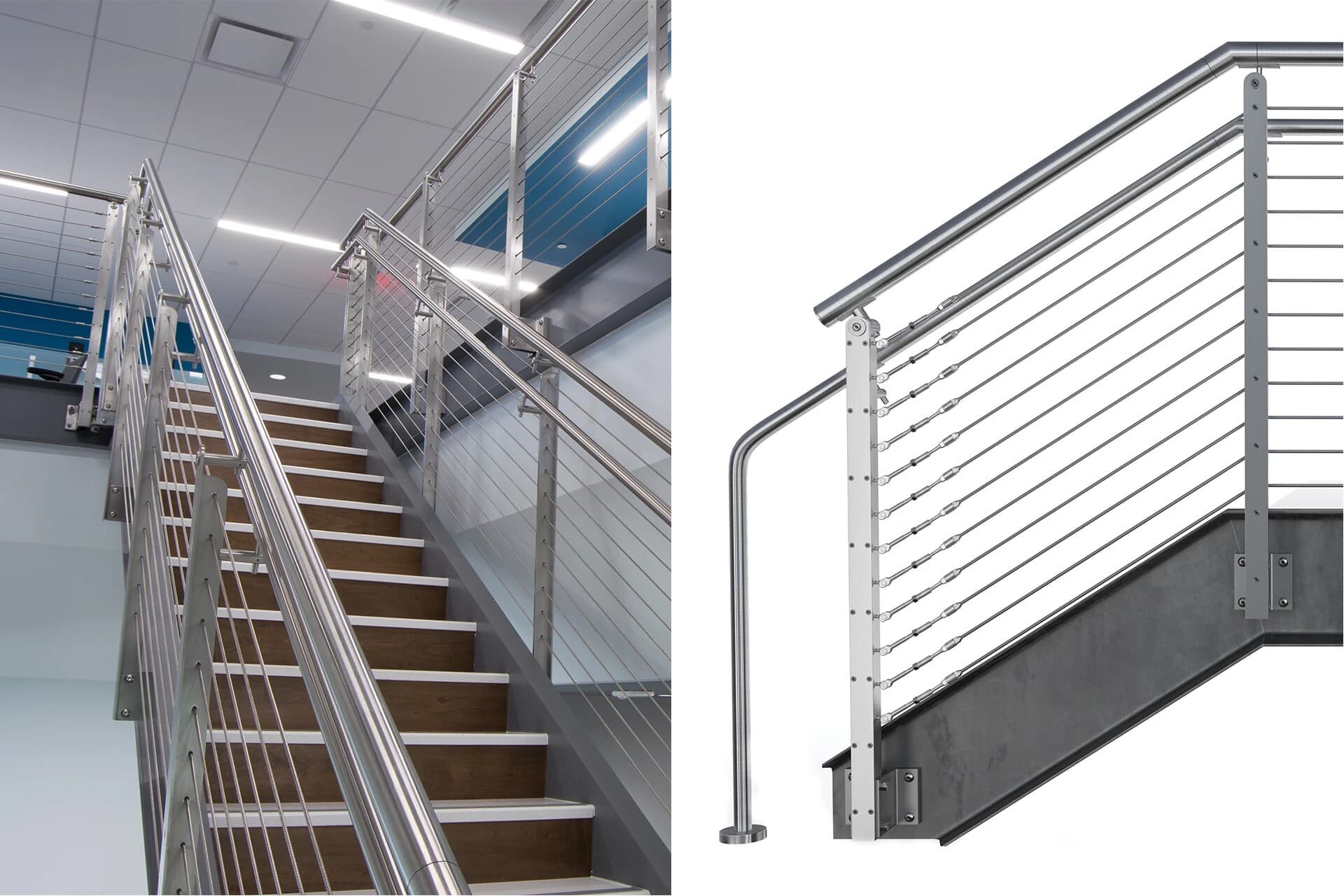 The structural "T" section of the TEE Cable Metal Railing System conceals the cable mounting hardware and provides post stability. This system offers a choice between top and fascia mount in order to fit the space as best as possible.

2. Perforated Metal Railings

Our range of perforated metal panel railing systems feature a variety of patterns from ovals and circles, to squares, and rectangles to diamond shapes. Perforated metal systems can be powder coated in a variety of colors to match the aesthetic of the commercial space and an LED illuminated railing can be added for additional safety and visibility.
Perforated metal railing systems include:

CIRCA® Perf Railing System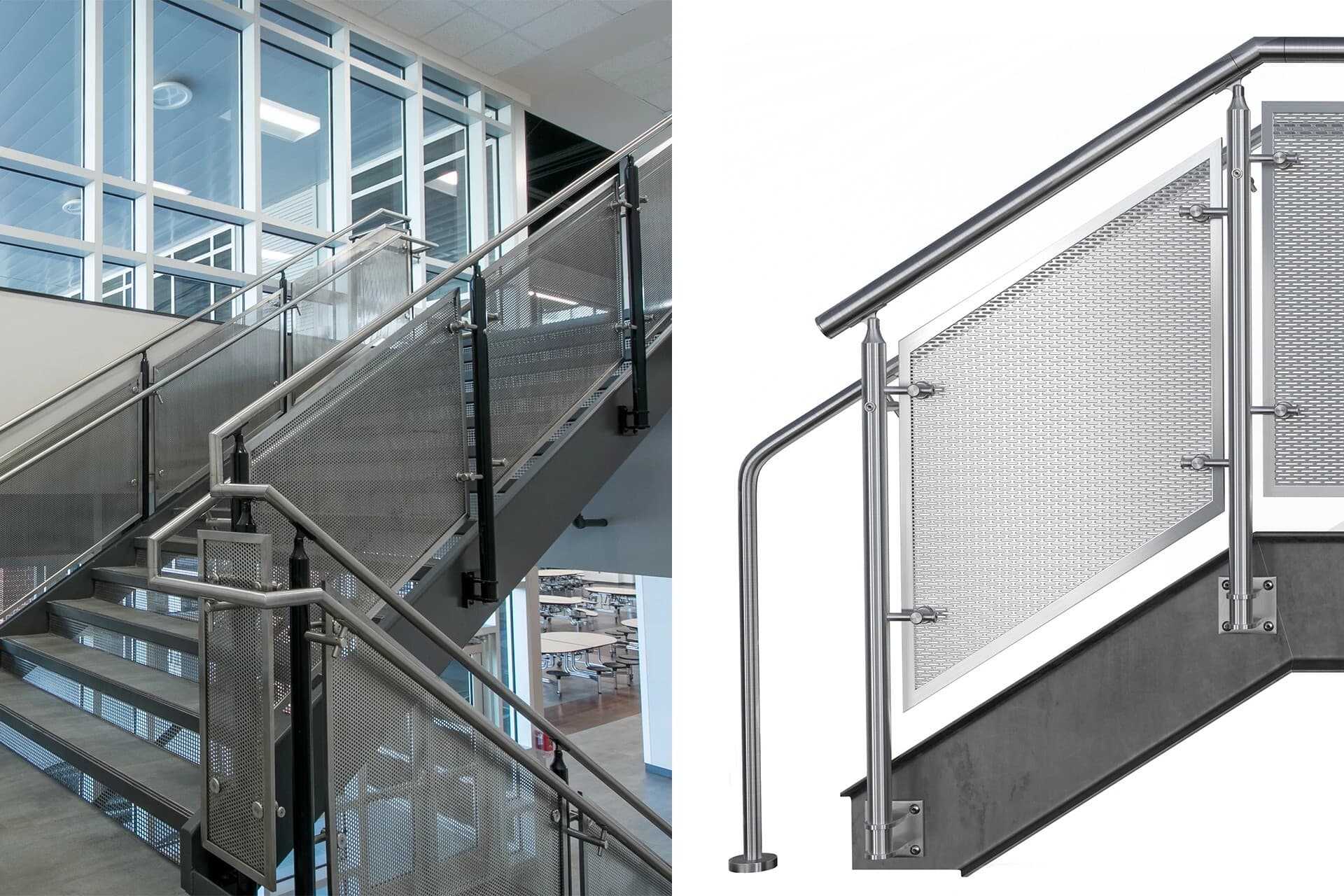 Featuring round tubular posts and infill mounted via fixed point holders, the CIRCA® Perf Railing System creates a simple yet timeless design. Rounded, slotted, or square motif options help save on energy as they block UV light and reduce noise.

BLADE® Perf Metal Panel Railing System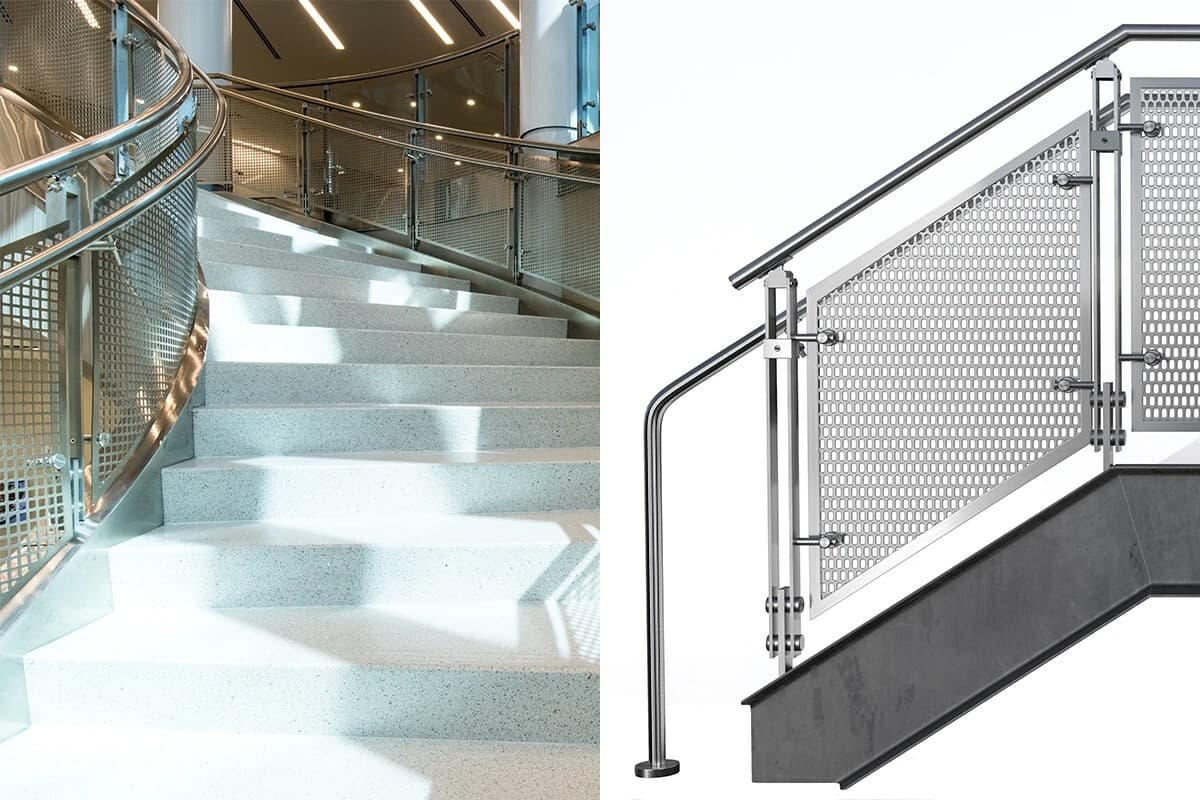 The BLADE® Perf Metal Panel Railing System is expertly crafted to make the infill patterns look like they are suspended in air. Along with a modern handrail design, the system also includes two 2" wide vertical bars, with a cube cap at the top and barrel bolts at the bottom.

STRUC Metal Panel Railing System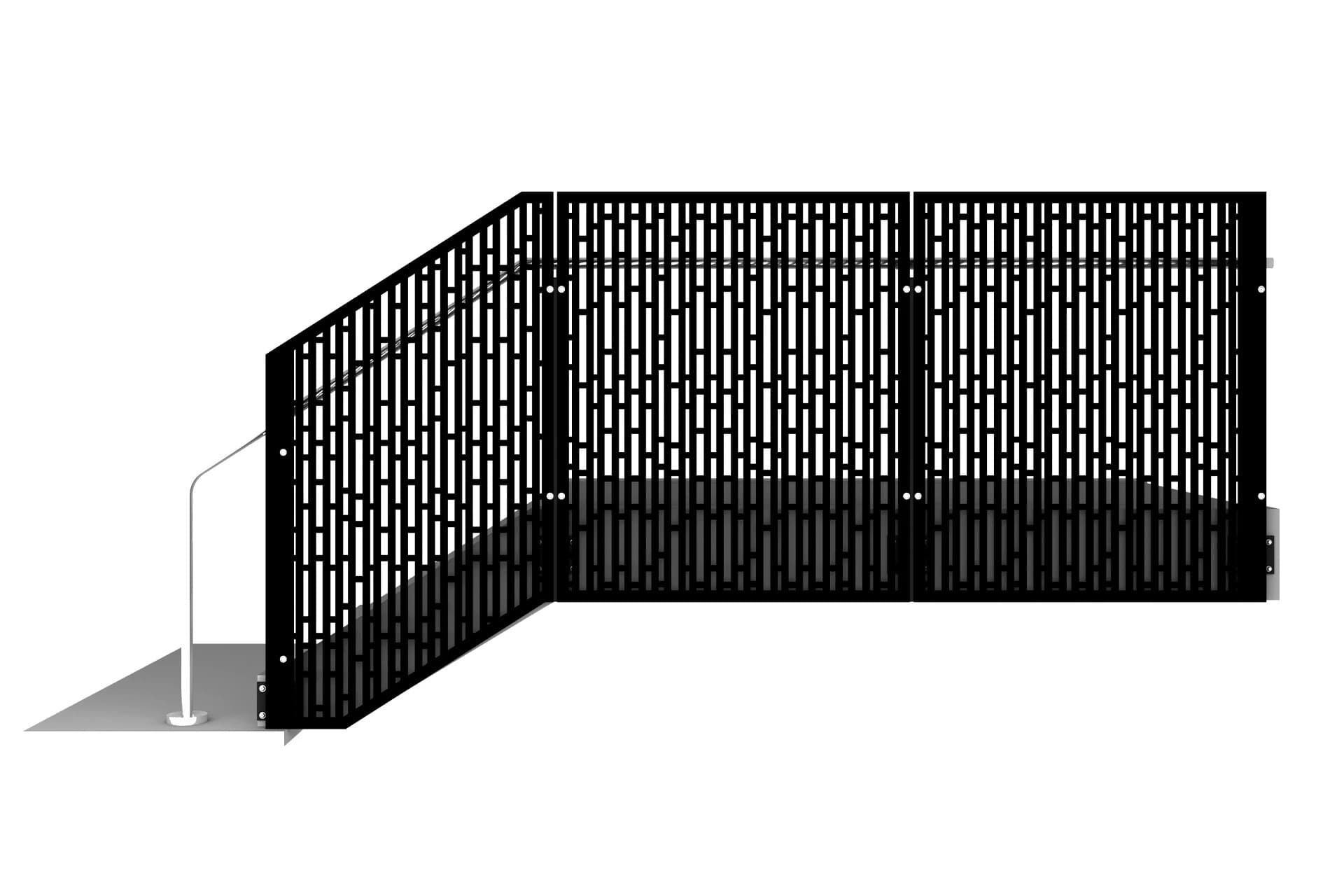 With a range of precut laser patterns as well as the option to cut a custom design, the STRUC Metal Panel Railing System offers lots of customization options. Whether you want an aluminum commercial deck railing or one made of steel, this system can meet your needs along with anodized or powder coating options.

3. CableNet Railing Systems

CableNet commercial deck railing systems are designed with a strong infill that provides high visibility while it also meets building code requirements. Lighted LED railing options can increase visibility and safety, and powder coating options allow you to customize the system to your design specifications.

BEACON CableNet Railing System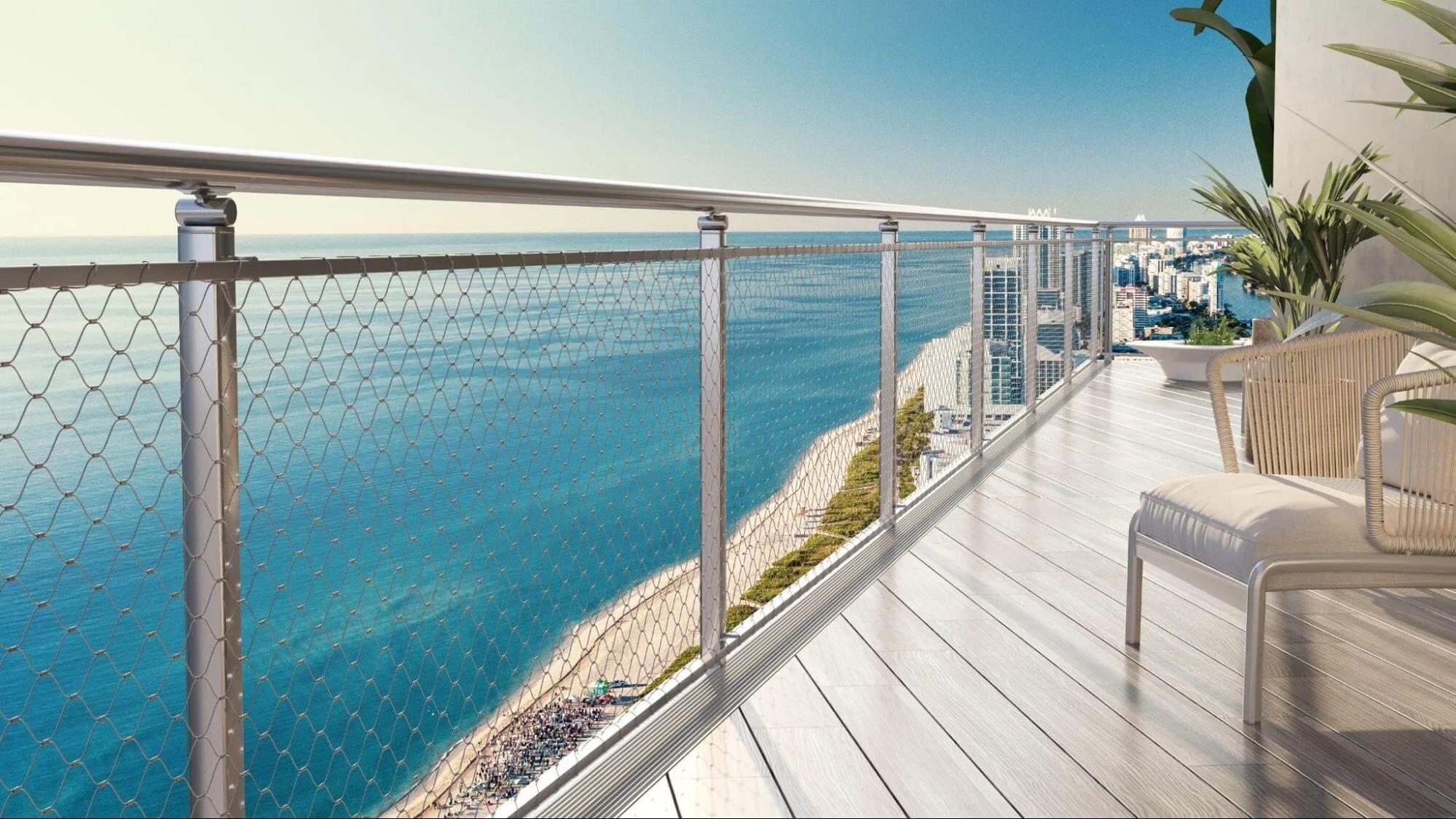 With single flat bar posts to minimize this railings profile, the BEACON CableNet Railing System is incredibly versatile. It can be installed in individual post-to-post frames or as a continuous run. The strong infill exceeds code requirements and is the perfect fit for beachside balconies or elevated walkways.

CUBE CableNet Railing System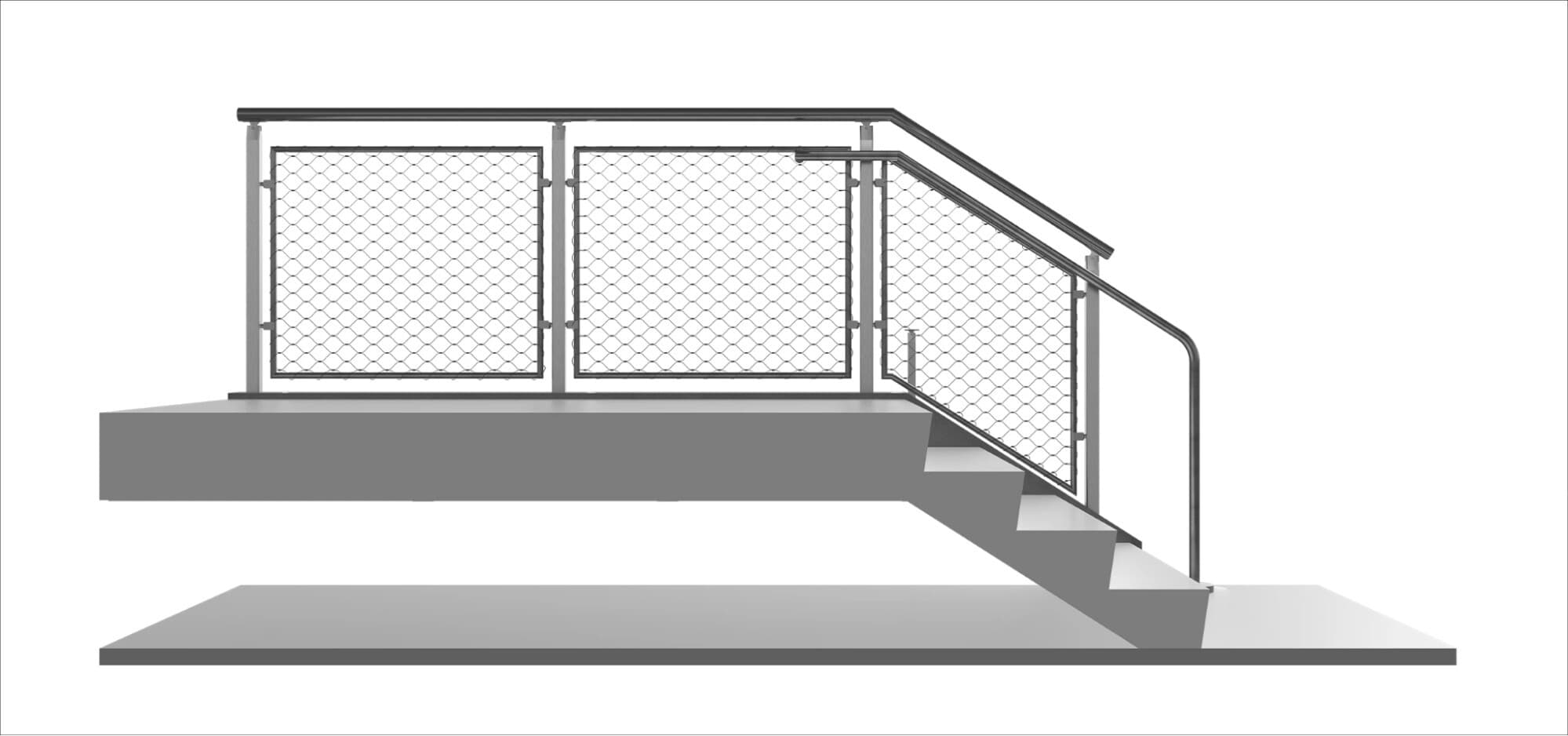 The contemporary look of the CUBE CableNet Railing System is the perfect fit for modern projects that require safety and style. The square posts and monolithic pyramid top caps support the framed cablenet infill for a versatile railing that is perfect for schools, balconies, and landscape applications.

Glass Railing Systems
Glass railing systems offer a modern aesthetic that allows for a continuous line of sight to make designing the perfect space possible. With many systems offering a choice of the laminated or tempered glass, and all systems allowing for frosted, patterned, or colored glass, you can create the ideal railing for your commercial deck.

4. ECO ELLIPSE Glass Railing System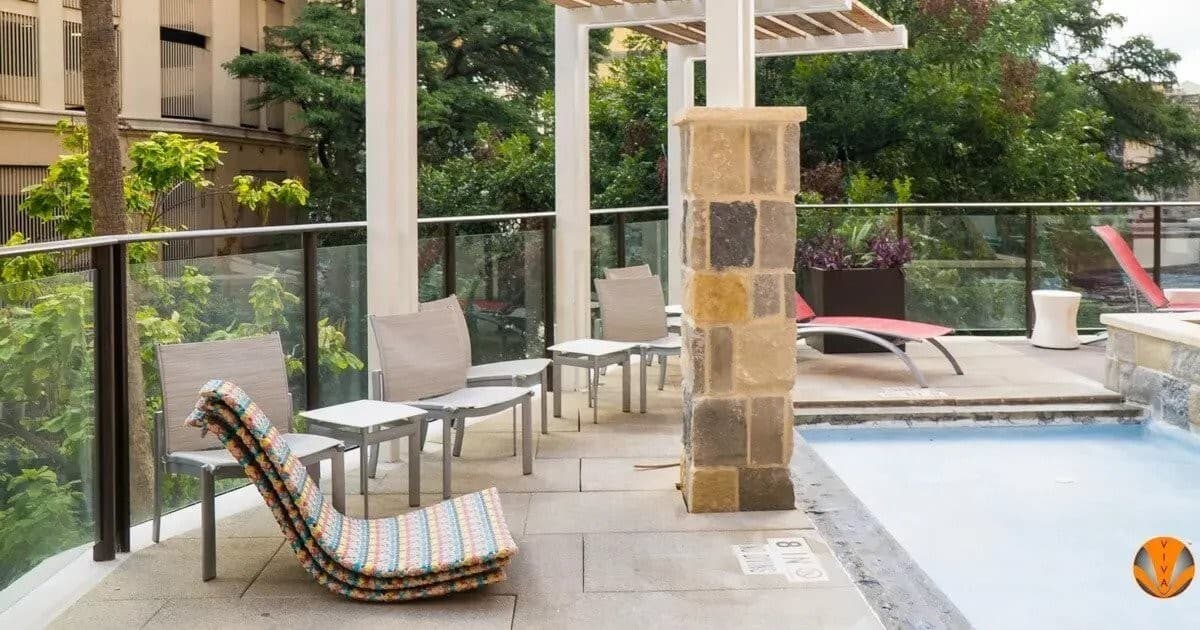 The ECO ELLIPSE Glass Railing System is the ideal, economically-conscious choice for large commercial railing projects. It can be used on its own as a guard, or you can add our FSR Free Standing Rail System to meet handrail requirements on stairs, ramps, and walkways.

5. SS WINDWALL Glass Screen System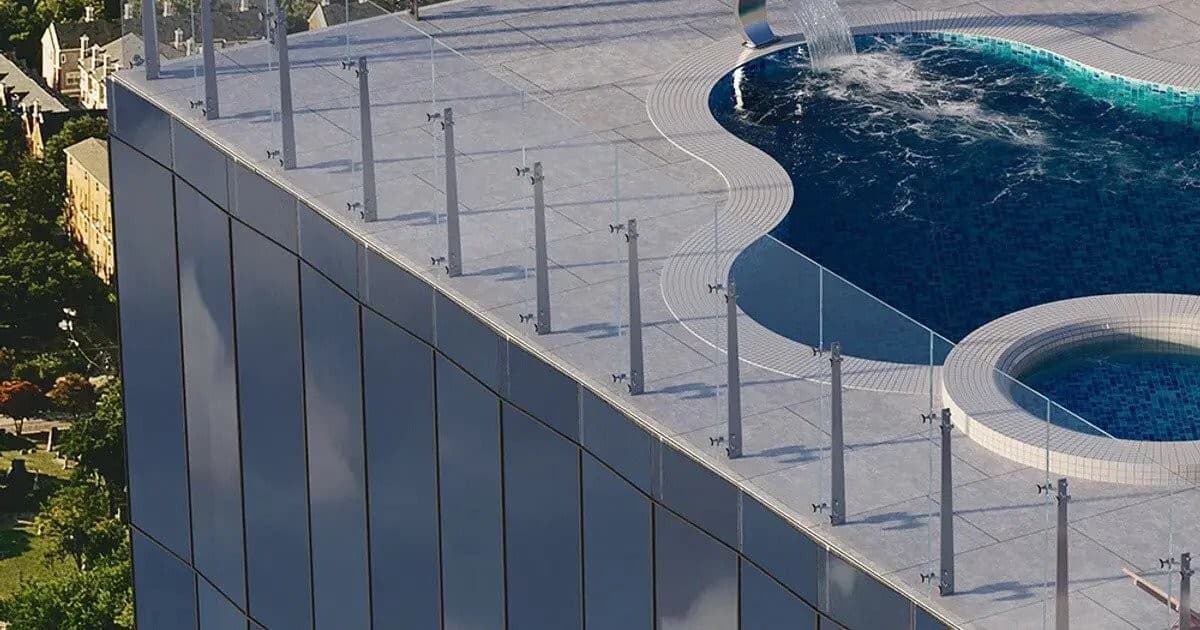 Rooftops provide excellent views and a way to enjoy the outdoors even in crowded cities. To create the perfect rooftop space, our SS WINDWALL Glass Screen System is engineered to provide safety on amenity deck levels in high rise residential projects. Each system requires custom engineering solutions to account for specific floor elevation, wind loads, layout, and location.

6. SOLO Glass Railing System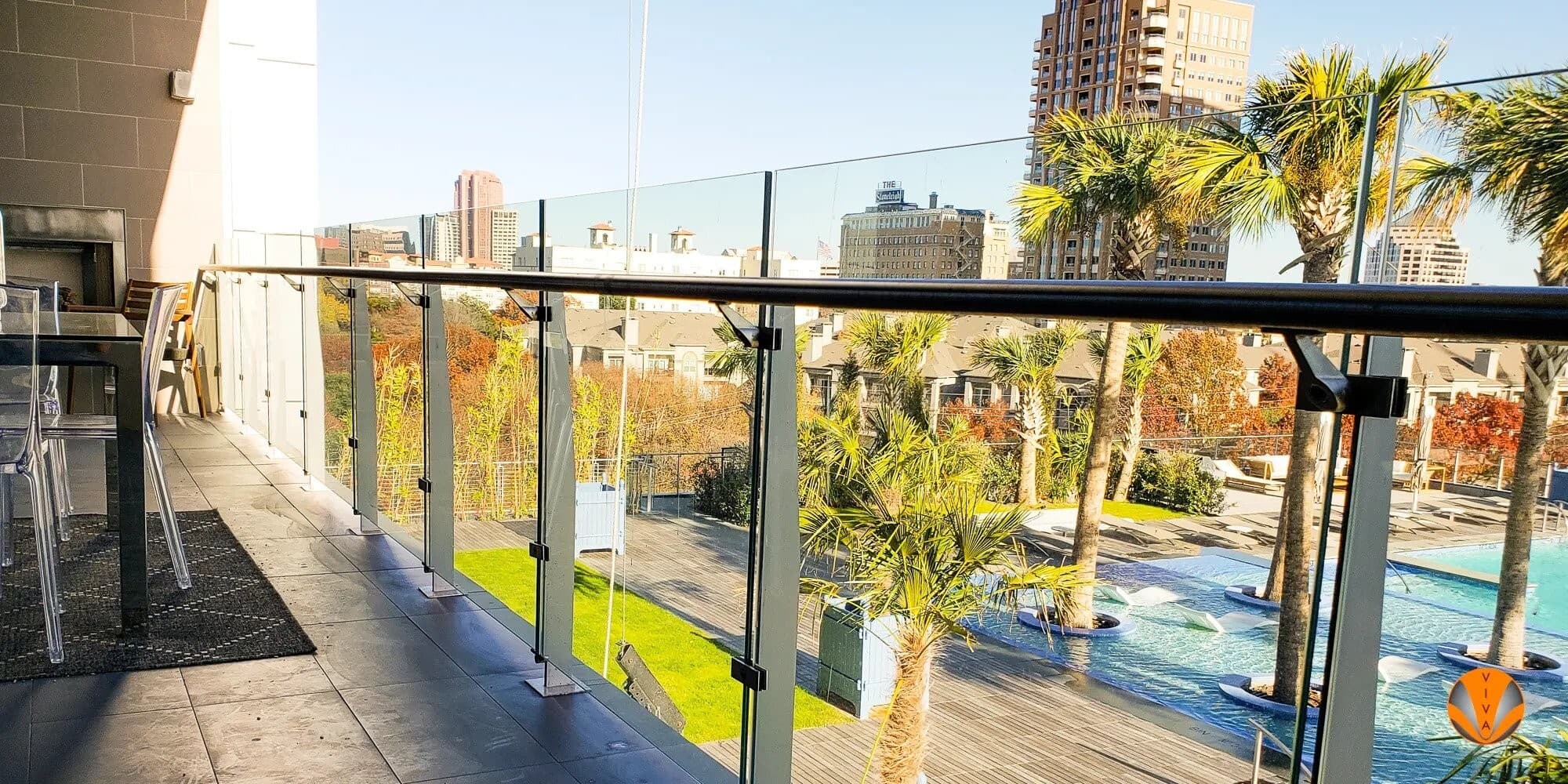 The different mounting options — top, fascia, or core mount — of our SOLO Glass Railing System support unobstructed views and contemporary elegance to help meet the needs of nearly any design. You can also choose from colored, patterned, or frosted glass and opt for tempered or laminated glass.

Create the Perfect Commercial Deck Railing with VIVA Railings
At VIVA Railings, we strive to engineer and manufacture commercial deck railings that meet all of your needs. Our railings are code compliant and there are a variety of customization options that allow you to create the perfect commercial deck railing system for nearly any project.

Contact the experts at VIVA today to explore our commercial deck railing options!