The Americans with Disabilities Act was signed into law in 1990 to prohibit discrimination against people with disabilities in various areas of public life, including employment, access to programs, transportation, and public accommodations, among other areas.
To ensure ADA standards for public spaces are being met, the Architectural and Transportation Barriers Compliance Board (ATBCB), or Access Board, issues guidelines for building materials and construction to ensure access to as many people as possible. These guidelines are intended to make public, or commercial, spaces safe and secure, benefitting not only those with disabilities, but the population as a whole, including children.
Commercial ADA handrail requirements fall under the General Site and Building Elements of the ADA Accessibility Standards and should be used in conjunction with the handrail requirements laid out in the International Building Code (IBC) and commercial ADA ramp handrail requirements as well as any requirements at the state or local level.

ADA Handrail Requirements

According to the ADA Accessibility Standards, handrails must:

Be provided on both sides of stairs and ramps

Be continuous within the full length of each stair flights or ramp run

Inside handrails on switchback or dogleg stairs and ramps must be continuous between flights or runs

The handrail height, measured to the top of the gripping surface, must be between 34 and 38 inches from the walking surface when measured vertically from the stair nosing and ramp surfaces. The height must be consistent for the length of the walking surface, stair nosings, and ramp surface.

Where children are the primary users, the handrails should have a maximum height of 28 inches above the walking surface. If there are two handrails, the clearance between the upper and lower handrails should be at least 9 inches.

Have a minimum of 1 ½ inches of clearance between the handrail gripping surfaces and adjacent surfaces.

Have a handrail gripping surface that is continuous along its length and free of obstructions on its top and sides. The bottom of the handrail gripping surface can't be obstructed for more than 20 percent of its length and any horizontal projections must be at least 1 ½ inches below the bottom of the handrail gripping surface.

Have a circular cross section that measures at least 1 ¼ inches and no more than 2 inches.

Non-circular cross sections must have a minimum perimeter dimension of 4 inches and a maximum perimeter dimension of 6 ¼ inches. The cross-section dimension must be no bigger than 2 ¼ inches.

Have surfaces that are free of sharp or abrasive elements and have rounded edges

Not rotate within their fittings

Include a handrail extension that:

Extends beyond and in the same direction as stair flights and ramp runs for at least 12 inches beyond the top and bottom of the runs

The top railing must extend horizontally above the landing for at least 12 inches and begin directly above the first riser nosing.

The bottom railing must extend at the slope of the stair flight for a horizontal distance at least equal to one tread depth beyond the last riser nosing.

Returns to a wall, guard, or landing surface or be continuous to the handrail on an adjacent run
VIVA Railings Provide ADA Compliance Anywhere You Need It

On Elevated Surfaces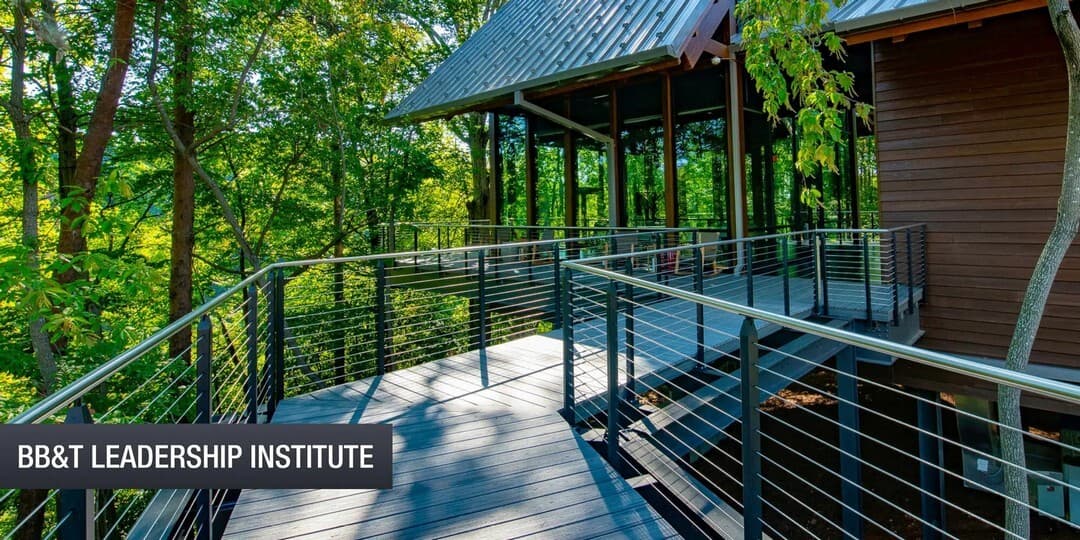 Safety and security is especially important on elevated surfaces. On this elevated walking surface, our CUBETM Cable Metal Railing System provides ADA compliance without obstructing the view of the surrounding trees. This design also incorporates our iRAILTM LED Linear Illuminated Railings for added visibility and safety at night.

At Hotels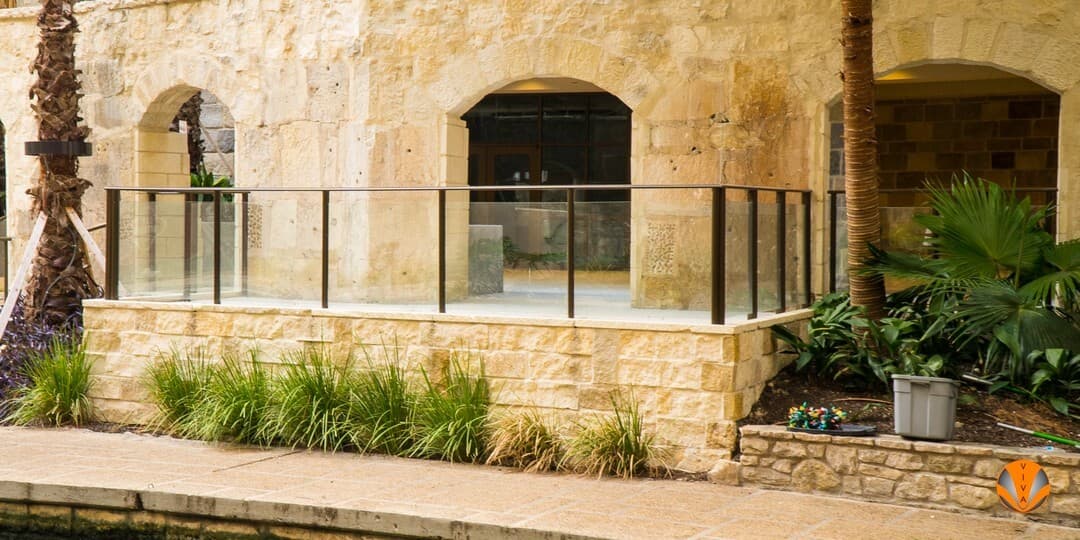 Hotels can host lots of visitors of varying abilities, so ADA compliant railings help to serve all of them by contributing to a safe space. Our ECO ELLIPSETM Glass Railing System is economically conscious and provides a fresh departure from bulky aluminum curtain walls. It is ideal for high traffic commercial and multi-family residential applications.

Along Balconies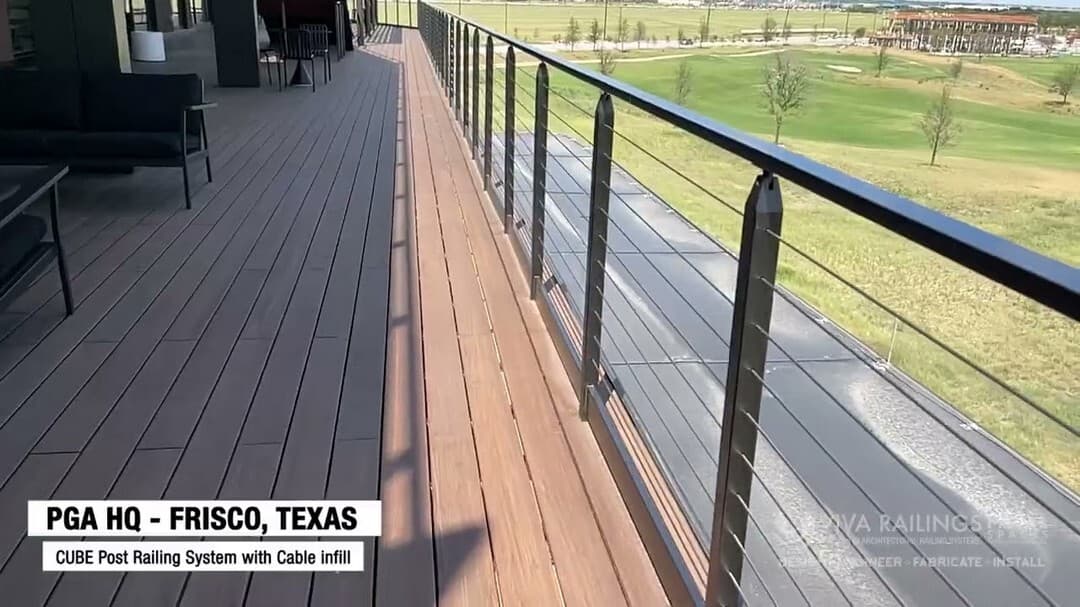 For balconies, guards are used, sometimes in conjunction with handrails, and are especially important to ensure the safety of all. Used in conjunction with ADA handrail requirements, the International Building Code requires that guards be used on surfaces that are higher than 30 inches measured vertically to the floor or grade below. The openings cannot allow a sphere 4 inches in diameter to pass through the infill. Our CUBETM Multiline Railing System adheres to these requirements and provides a contemporary look.

Around Pools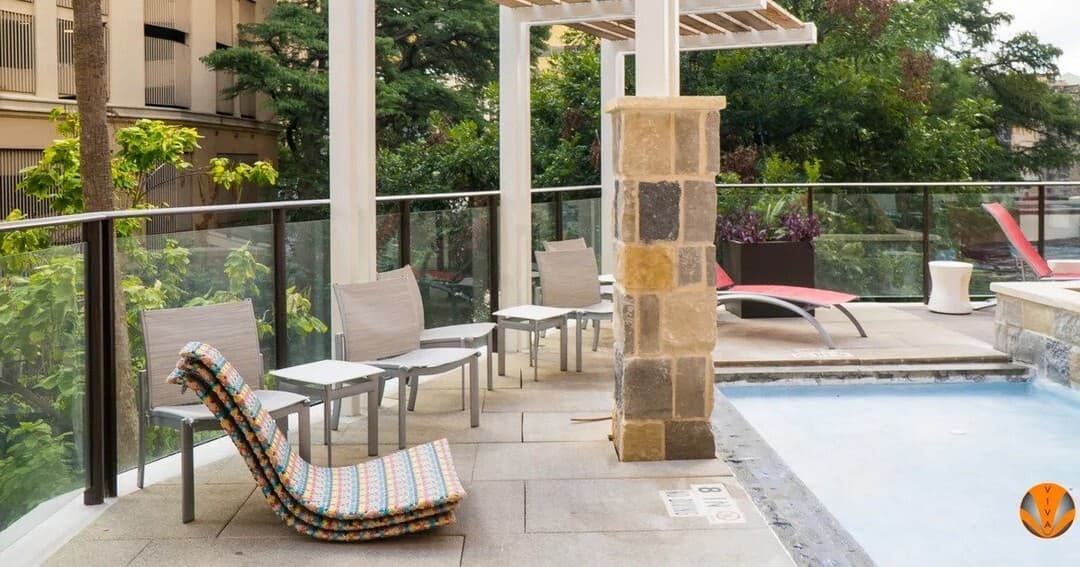 To keep the pool area safe and separated from other areas of a commercial space, the ECO ELLIPSETM Glass Railing System provides visibility along with its modern design. It acts as a guard to provide safety for those enjoying the pool.

On Rooftops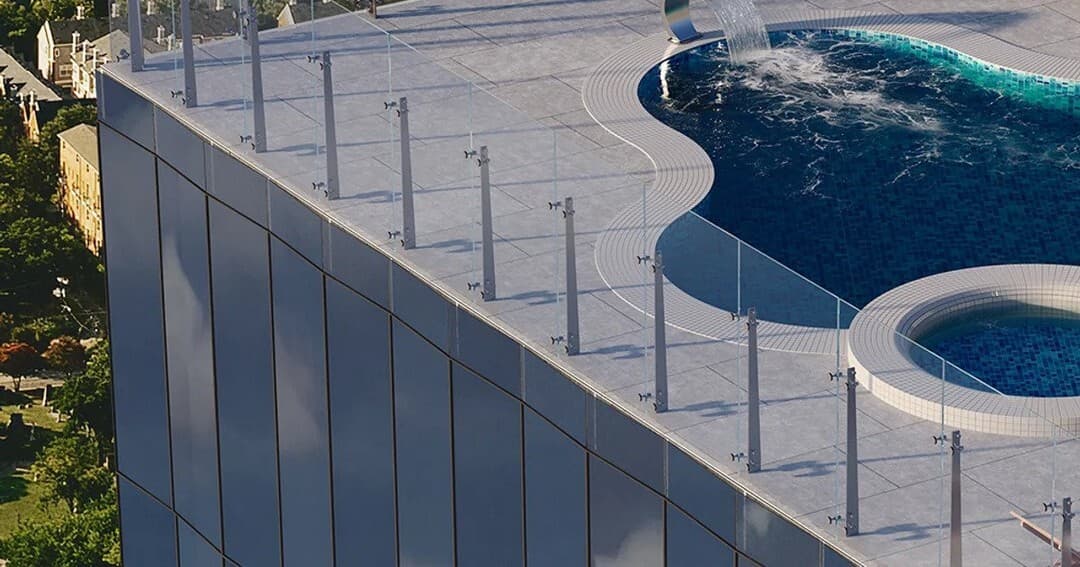 Using rooftop space to create an additional area for guests or residents is becoming more and more popular and it's important to take advantage of the views from the top. Our Stainless Steel WINDWALLTM Glass Screen System makes this possible while still complying with commercial ADA requirements. Each design is custom engineered to take into account floor elevation, wind loads, layout, and location.

To Create a View
One of the best parts of a beach vacation is the view, and our BEACONTM CableNet Railing System allows you to use the view to your full advantage with its modern design and clean lines. The single flat bar posts and cable net infill provides safety and stunning beauty that compliments the natural views.
Contact the experts at VIVA Railings today to see how our products meet commercial ADA handrail and ramp requirements!