Cable deck railings provide a modern spin on patio, porch, and balcony safety. Typically made from stainless steel, cable deck railings are a low-maintenance option that pair well with metal or wood posts depending on the desired aesthetic. Though they are a beautiful and durable choice, there are pros and cons of cable deck railings and knowing about them can help you make the best choice for your project.
Cable Deck Railing Pros
Modern Aesthetic
A deviation from traditional wood railings, cable railings help to create a modern aesthetic. They can also be paired with wood if you want to blend modern and traditional looks.
Low-Maintenance
Cable deck railings will need to be cleaned periodically, especially if they're exposed to salt water, but they don't require much else in the way of maintenance. Any railings that do break or get damaged should be replaced immediately.
Incredibly Strong and Durable
Even with little maintenance, cable railings will last for years and look great. They are incredibly strong and safe for even the highest balconies and decks.
Fully Customizable
Cable deck railings can achieve long runs and turn corners with ease, which makes it easy to customize the cable railing to your unique space.
Cable Deck Railing Cons
Not Always Permissible in the Building Code
The building code in some cities or municipalities doesn't allow horizontal cable railings. Be sure to check with your local building code authority or contractor before choosing cable deck railings.
May Cost More Than Wood Railings
Cable railings may cost more than wood railings, initially, but the added cost may be worth it in order to get the longevity of metal.
Time-Consuming Installation
Installation can be done by a homeowner or a contractor, but if you're not an experienced cable railing installer, it can take awhile to get the hang of it, and installation can be lengthy and repetitive. If you're in a hurry, this may fall into the "con" category.
Cable Deck Railing vs. Wood Deck Railing
Traditionally, wood has been used for deck railings and is often chosen for its availability and versatility. It can create a beautiful aesthetic and be stained to match the home's look. However, wood requires a substantial amount of maintenance over its life and should be restained and sealed every two to three years. It can warp over time, and boards can split or become loose. They can have a lower upfront cost than cable deck railings, but the cost to maintain wood railings adds up over time.
Cable deck railings don't require any maintenance besides periodic cleaning, and they will look stunning for years. Though their initial cost is higher than wood railings, you'll likely save money in the long run because they don't need to be stained or sealed. They can be installed by homeowners or professionals, though DIY installation will save on the initial cost.
Cable Deck Railing Design Ideas
Create an Outdoor Oasis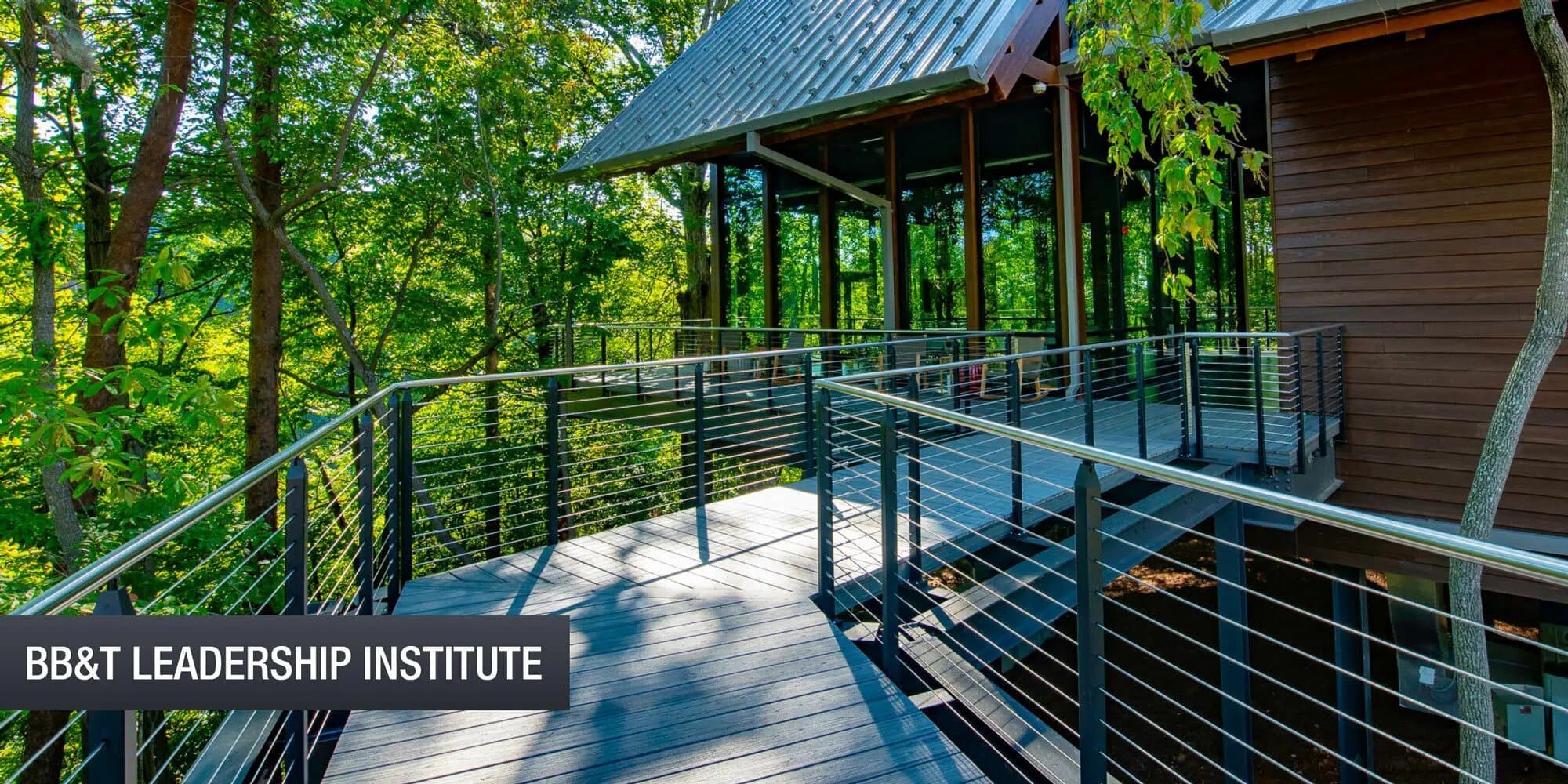 Creating this outdoor oasis with a walkway high above the ground meant choosing a railing that could stand up to exterior conditions while also providing safety and security. The CUBE™ Cable Metal Railing System handled the challenge with ease, by showing off its monolithic pyramid top caps and creating continuous clean lines along the length of the walkway.

Use Color to Achieve the Perfect Look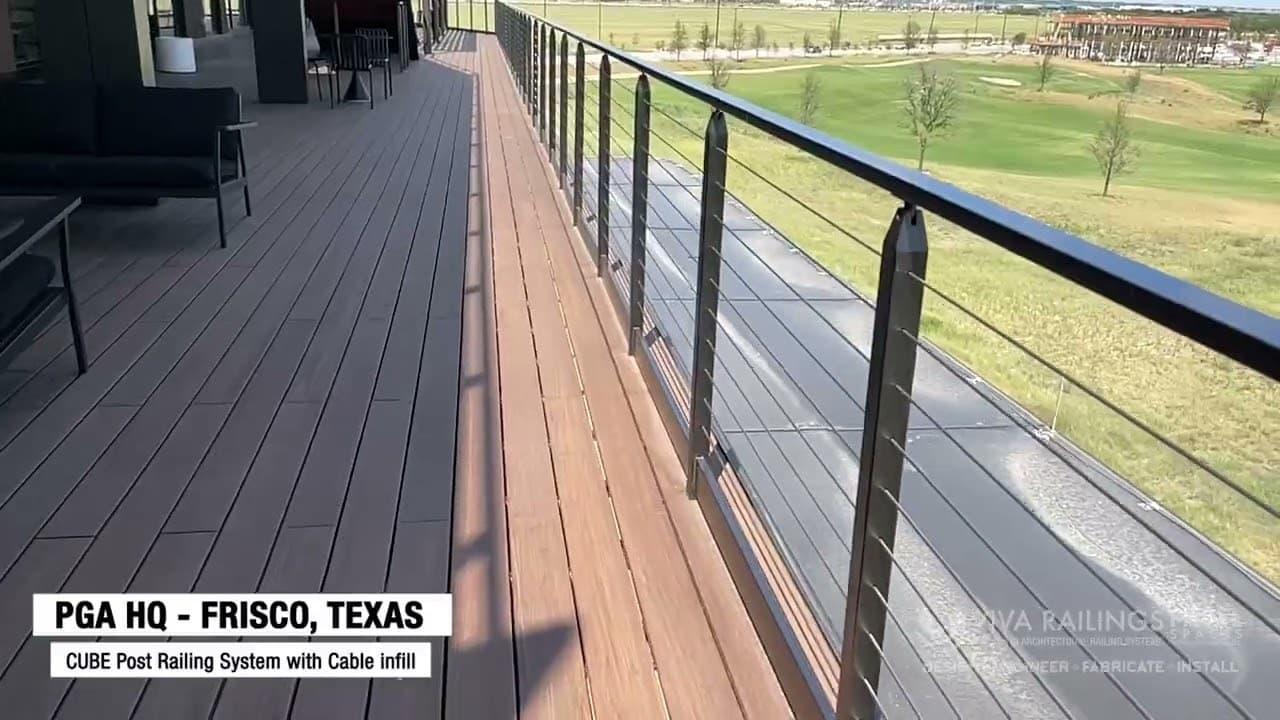 The metal posts of a cable railing system can be powder coated to achieve the perfect color and complete the look. Black creates a sleek sophisticated look while lighter colors like yellow or blue can add a fun and unexpected element to a space.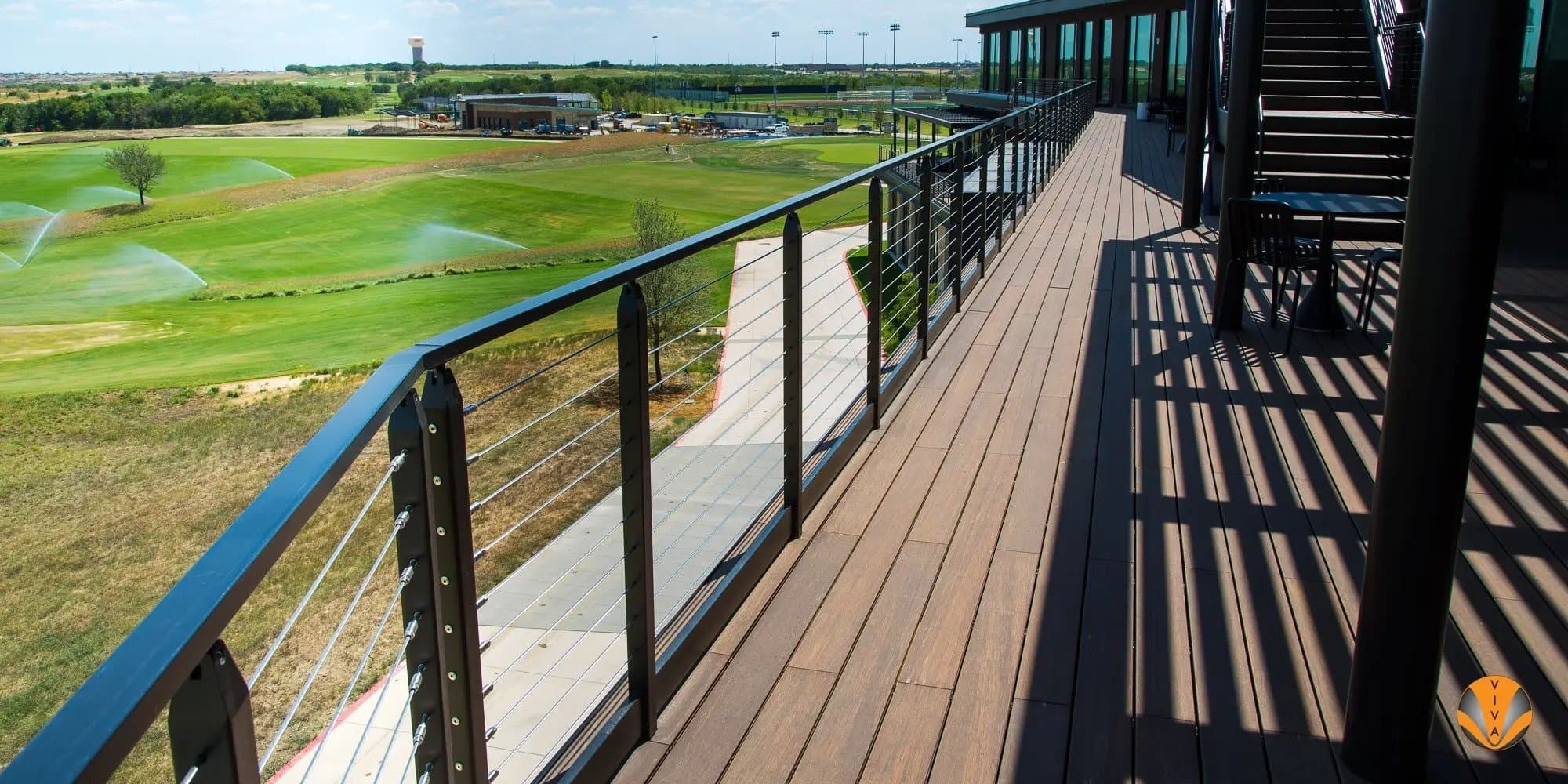 Go the Distance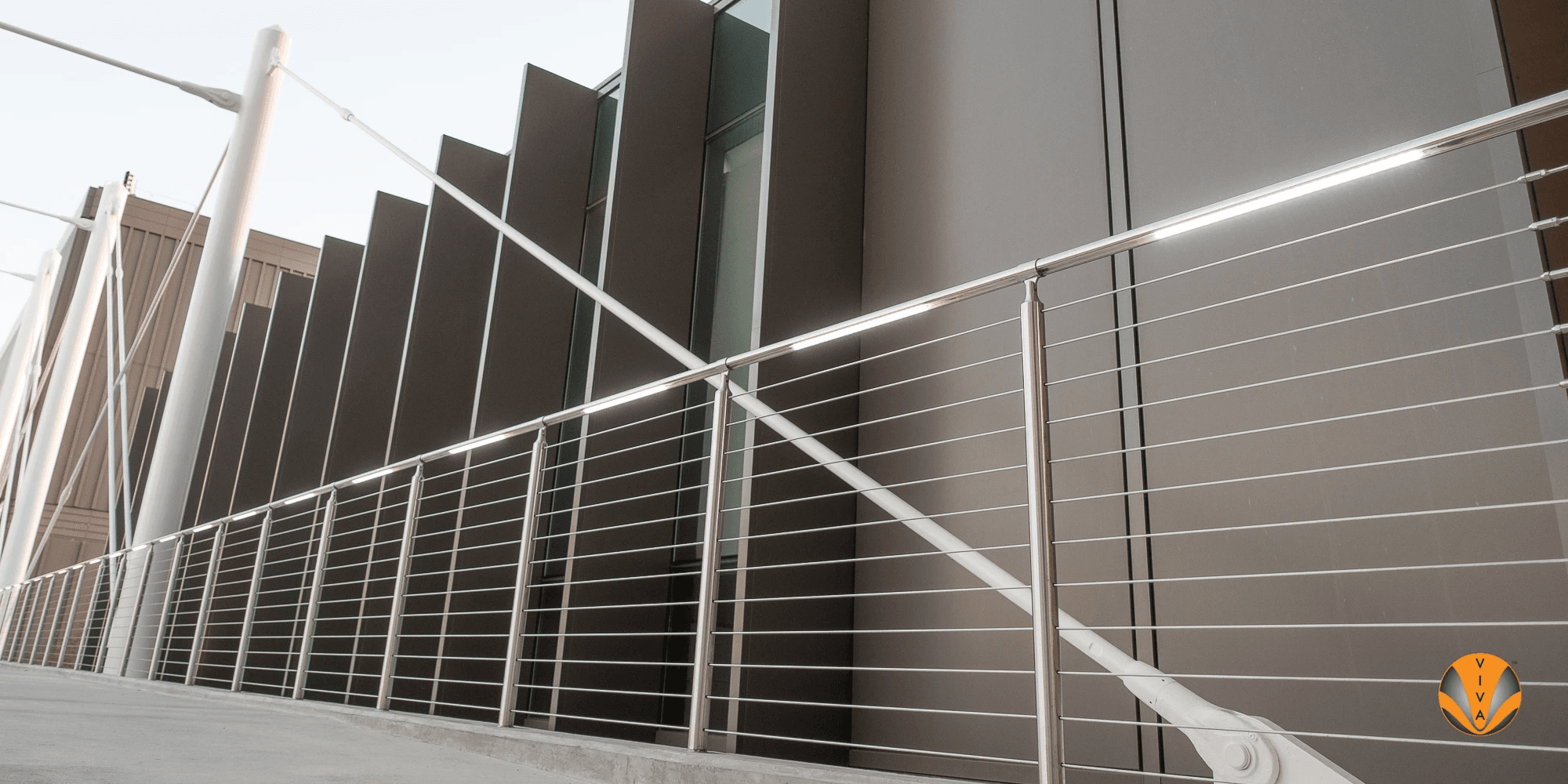 Cable railings look especially stunning when used on large projects with long spans of railings. A continuous cable railing on the length of this skybridge creates a safe space to travel between buildings while still achieving a modern and elegant design. The CIRCA™ Cable Railing System features round tubular posts and top railing that creates an easy gripping surface for even more stability and safety.

VIVA Cable Deck Railings Achieve a Modern Look Without Compromising Safety
Modern designs benefit from a modern railing. This look can be achieved with VIVA's cable railing systems, each of which features stainless steel cables with stylish and stunning top rails and posts.
CIRCA Cable Railing System
The CIRCA™ Cable Railing System is a simple yet timeless system that consists of round tubular posts and top rail with fixed point holders to mount the railing in-fill between posts.
BEACON™ Cable Railing System
The BEACON™ Cable Railing System features flat bar posts for an especially sleek look. The minimal profile will allow other design elements to shine while making its own statement.
TEE™ Cable Metal Railing System
The TEE™ Cable Metal Railing System is a unique structural "T" section that offers post stability against the tension from the cable strands while also concealing the cable mounting hardware. This system is available in top and fascia mount to achieve the ideal installation.
CUBE™Cable Metal Railing System
The CUBE™ Cable Metal Railing System has a robust contemporary look with the 2"x2" square post featuring monolithic pyramid top caps to create continuous lines throughout the components.
Contact the experts at VIVA today to discuss the best cable deck railing for your project!