Viva Railings has yet another mega public infrastructure project to add to its cap: the Albany Skyway.
2500 Linear Feet of Railings

Stainless Steel Post Railing System
Custom Wire Mesh Infill
Fully Compliant with BUY AMERICAN ACT
---

Built on the bones of the old Clifton Avenue, the Albany Skyway provides a scenic and safe walk to the Hudson River and the Corning Riverfront Path. Viva Railings were specified to install nearly 2500 linear feet of our CUBE Railing System with Wire Mesh Infill along the Albany Skyway. Our talented team of structural engineers and designers collaborated with the architects and came up with custom solutions to render and install this project to everyone's satisfaction.
The CUBE Wire Mesh Railing System lends strength and durability to the installation. Viva Railings has been a leader in railing systems and innovations, and we are proud to add the Albany Skyway to our long list of successful public projects.
The Albany Skyway was opened to great fanfare and was inaugurated by Governor Kathy Hochul in a ceremony on 29th April. The Albany Skyway was praised by citizens, citing its connectivity to the Hudson River, its contemporary architecture and its compliance with the Americans with Disabilities act as winning features. The Albany Skyway won the ACEC New York Diamond Award for its design in 2020.
CUBE Railing System with Wire Mesh infill:
The CUBE Railing System is a stalwart in the Viva Railings' product line, fabricated in-house in Lewisville, TX. The CUBE Railing System has undergone rigorous testing to ensure its endurance for public infrastructure projects.
Our CUBE Railing System incorporates the pure line of our stainless steel post railing systems with a classic, contemporary design. 2x2 square posts combine to form a monolithic pyramid top cap, blending definition and utility for a robust, modern look. The railing in-fill between the posts is mounted via fixed point holders and can accommodate any in-fill of your choice.
VIVA's wire mesh infill features an organic, interwoven fabric as an infill. Mesh infills are timeless and easy to maintain. The signature box frame completes the system for a clean, sharp look. Available in a wide range of standard designs, with custom design and materials options.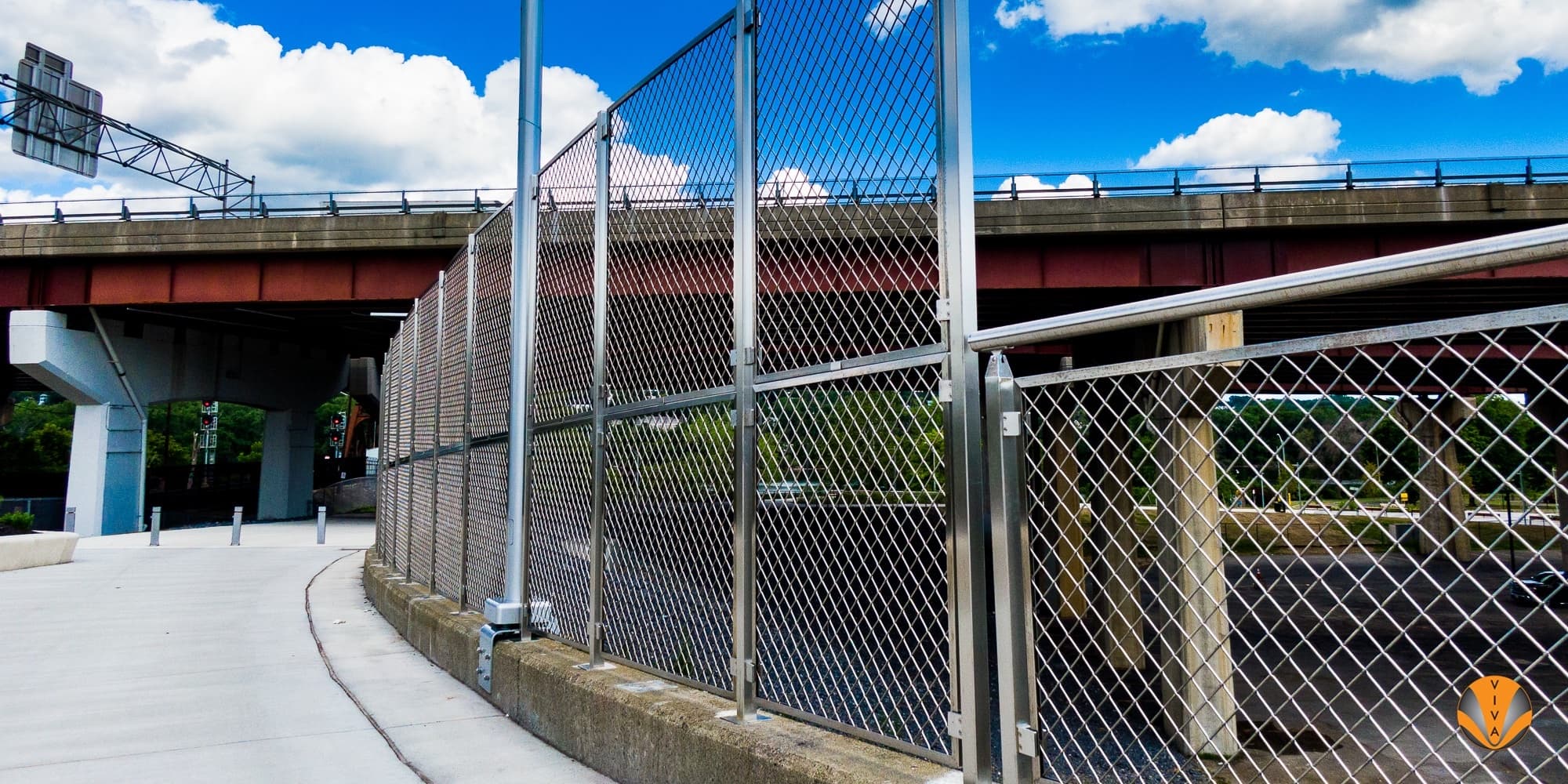 Project requirements:

A public infrastructure project requires meticulous attention toward maintaining safety standards as well as maintaining architectural aesthetics. The Albany Skyway overlooks the Hudson river and is a pedestrian walkway combined with cycling paths. The safety and durability of the installed railings were of foremost concern for us.
Compliance with the Americans with Disabilities Act is a challenging undertaking. We collaborated with Stantec Corporation to go over their vision and their commitment to designing safe and disability-friendly spaces.
The CUBE Wire Mesh Railing System seemed the perfect railing solution for the Albany Skyway, owing to its durability, ease of installation and contemporary lines.
The Project Team:

Stantec Corporation offers qualified consulting services in engineering, planning, architecture, landscape architecture, interior design, surveying, environmental sciences, and project economics.

With its recent merger with SHW Group, Stantec united over 10,000 employees to bring even more creativity and dedication to its clients. Stantec's dedication to the community brings out a more livable, resilient environment that everyone is proud to be a part of.

Project details:
The Albany project (a The Buy American Act project) was successful from start to finish. Viva fabricated the project in its entirety at our Lewisville, TX (DFW-Metroplex) facility. We came up with a great plan from the inception due to the tight timeline of the project schedule to have the material ready when needed.
The custom diamond mesh pattern chosen by the architects and owners was to emulate a chain link fence, but with a much more prestigious look. Viva's ability to bring their vision to life on the near 2500 linear feet of railings turned out successful. There were 8 feet tall sections that were made in separate 4 feet panels. Viva's design team drafted up connections to ensure the quality and safety of the railing were not compromised.
The entire job was fabricated from a survey and not actual field measurements. That being said, there were less than 2% remakes, and Viva's production shop was able to complete the entire project on time.
Our thoughts:
We at Viva Railings consider it a testament to our position in the industry to be taken on board an award-winning public megastructure project. We delivered what was asked of us, and that too in record time with only surveys to guide the installation. We came up with innovative solutions to the many conundrums efficiently. Accomplishing our project would not have been possible without our dedicated team of designers, fabricators, engineers and architects.
We believe in communication with the team, which is why we are a solid unit regarding our work. The Albany Skyway allowed us to highlight exactly why we are one of the leaders in the field when it comes to metal and glass railing solutions.